This "Burnt" Basque Cheesecake recipe is uniquely light, creamy, delicious, caramelized, and so easy to make that it's nearly foolproof!
avantis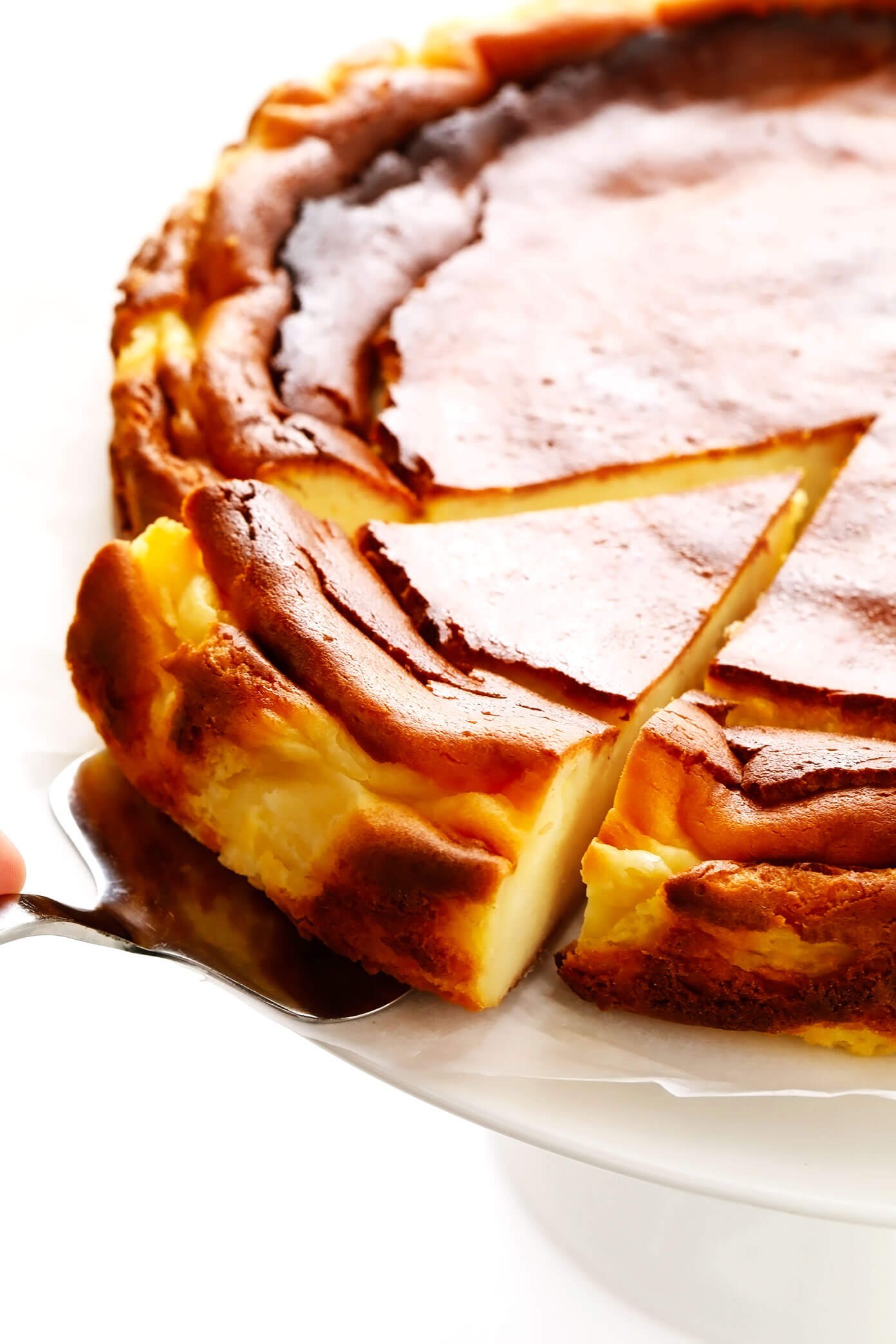 Basque "burnt" cheesecake definitely seems to be having its moment in the sun trending around the world right now.  But here in Spain, it has been a local fave for decades! ♡
Barclay and I finally got to try the real-deal, original, famous tarta de queso that inspired them all last year during a weekend getaway to San Sebastián.  We arrived in the city with a deliciously long list of recommended places to sample the various pintxos, txuletas, anchovies, cheeses, and wines for which this gastronomic capital of the world has become so famous.  But when it came to recommendations for where to try the Basque country's cheesecake, everyone agreed there was only one spot to go — La Viña.
This cozy local restaurant is credited with inventing Basque cheesecake back in the 90s, when chef-owner Santiago Rivera was looking for a new dessert to put on the menu.  By contrast to American-style cheesecakes that tend to be dense, firm, evenly-baked with (hopefully) zero cracks, and made with some type of cookie crust, Chef Rivera tweaked all of the proportions to create his own new style of Basque cheesecake that is uniquely light and airy, creamy yet a bit more egg-y, baked crustless in crisp parchment paper, rippling around the edges with beautiful cracks, and — famously — made with a deliciously "burnt" (more like caramelized) exterior.
It's a cheesecake that breaks all of the rules and is outrageously delicious.  And best of all for home cooks, it's insanely easy (arguably foolproof) to make with just a simple list of ingredients!  Chef Rivera generously shared his original tarta de queso recipe with the world years ago, which simply calls for cream cheese, eggs, sugar, flour and heavy cream.  But he encourages home cooks to put their own spin on the recipe as they see fit.  "If you want salt, add salt; if you want vanilla, add vanilla; some people add lemon zest."
All of our friends here in Spain are major fans of this cheesecake, so we've had fun over time tasting different versions and tinkering around with the original recipe here at home to serve for various parties and gatherings.  So for anyone interested, here's our favorite slightly-tweaked spin on Chef Rivera's tarta de queso recipe.  (We do, in fact, like to add vanilla and sea salt in our casa!)  As he said, though, feel free to experiment and have fun making it your own.  The rules are meant to be broken here, which I must say is a fun alternative to so many other perfectionist cheesecake recipes.
Let's make some Basque cheesecake!