distro
Hello! Welcome to the land of deliciousness where all you need is a few pantry ingredients, a jar, and your choice of anything to marinade in heavenly, smokey-sweet, savory flavor.
In our house we are now calling this The Everything Marinade!
The flavor is incredibly adaptable to whatever it is that you're serving it with – but my favorite is the most simple. I love just using it to make the main thing SING with smokey sweetness (even if the main thing is as humble as a block of tofu or some mushrooms), and serving it up with sides of green salads, mashed or roasted potatoes, and crusty no-knead bread.
Here's what you put in your jar that makes the base of this happen:
maple syrup (SWEET)
olive oil (SILKY)
soy sauce (SALTY)
balsamic (TANG)
smoked paprika (SMOKE)
And then finish with a few ingredients that make you go, gosh, that's good, what is that? Such as:
cumin
Italian seasoning
onion and garlic powder
salt and pepp
Get a lid on that jar and mix er up – takes all of about 5 minutes to measure and shake.
Now… just use it to marinate stuff you love to eat.
Like chicken. pork. veggies. portabello mushroom caps or a block of tofu (both my personal favorites). Dinner is almost done.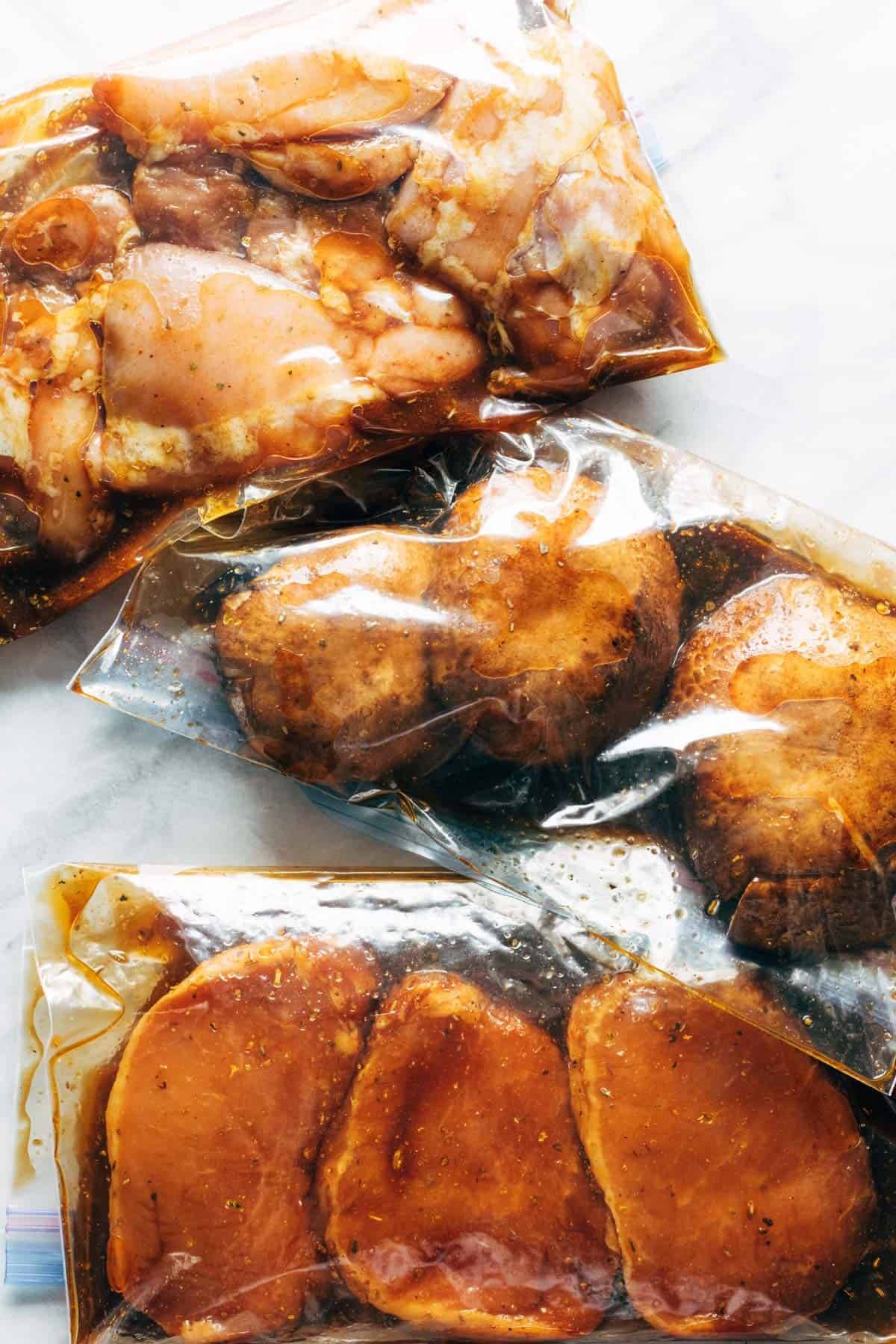 We've tried just about every marinade-able thing several times in our kitchen, and we put some timing and cooking notes (including notes about what we didn't like – looking at you, beef) in the recipe notes section so you know how long to marinate and how long to cook these guys.
IT'S THE EVERYTHING MARINADE!
The Everything Marinade is the thesis for why sauce week exists. One sauce, minimal energy, big flavor, all resulting in a beautiful, joy-bringing, proud-of-it meal. ♡
The Everything Marinade
---
Description
The Everything Marinade! All you need is a few pantry ingredients and a jar, and you've got heavenly, smokey-sweet, savory flavor that goes with just about any vegetable or protein.
---
Ingredients
1/4 cup

olive oil

1/4 cup

maple syrup

1/4 cup

soy sauce

2 tablespoons

balsamic vinegar

1 teaspoon

smoked paprika

1/2 teaspoon

cumin

1/2 teaspoon

Italian seasoning

1/2 teaspoon

onion powder

1/2 teaspoon

garlic powder
salt and black pepper (to taste)
---
Whisk all ingredients or shake in a jar until combined.
SO MANY OPTIONS. See notes for all the ways to use this magic.
---
Notes
The equipment section above contain an affiliate link to a product we use and love!
Pork: We used pork chops and loved it. Marinate for at least 1 hour, up to overnight. Grill, pan fry, do your thing, brushing the pork with a little reserved sauce during cooking to make it extra juicy and yummy.
Chicken: We used chicken thighs and loved it. Marinate for at least 1 hour, up to overnight. Pan fry, bake, or cook in the Instant Pot for 15 minutes. Shred or chop the chicken for a salad or add-in to another recipe, or just… eat the chicken thighs!
Tofu: We used extra firm tofu and loved it. For best results, marinate the intact block of tofu overnight. The next day, cut the block into cubes and pan-fry, brushing with reserved marinade.
Portobello Mushroom Caps: My personal favorite! Marinate for 30 minutes to 1 hour. Grill or pan-fry until nice and roasty and sticky and juicy. 
Veggies: Works great with just about any veggies, no instructions needed. 
Beef: This was the only thing we tried that we didn't love with this marinade.
Recipe Card powered by
The post The Everything Marinade appeared first on Pinch of Yum.