Easy recipe for Toasted Coconut and Banana Sourdough Pancakes. A great way to use up sourdough starter discard! Adaptable to gluten-free families, too!
distro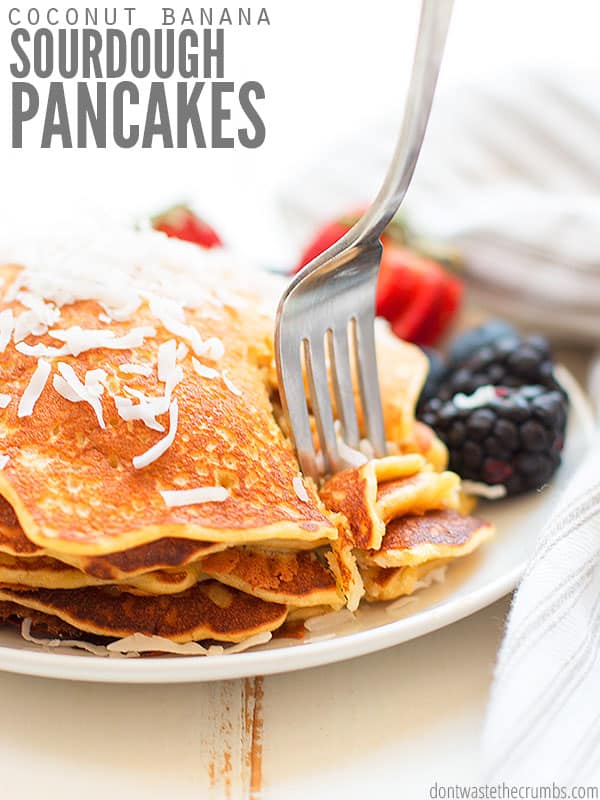 I have this thing with tropical flavors. I just can't seem to get enough of them!
My smoothies, our tacos, and now breakfast all seem to have a slight pina colada feel to them… You know, that lying-on-a-beach-with-the-warm-sun-beaming-on-your-body type of feeling. Sounds nice, right?
Toasted coconut and banana sourdough pancakes have rapidly become a favorite of both the kids and myself. I thought they wouldn't like the slight tang of the sourdough at breakfast, but boy was I wrong!
The first time I made them, the kids didn't even blink at the taste. Not only did they eat them, but they devoured them. They were so light and fluffy and there wasn't a single pancake left!
Ever since, I've been doubling this recipe and restricting pancakes to breakfast only, just so that they last beyond that first day… because a double batch of pancakes on one day really means less work on other days!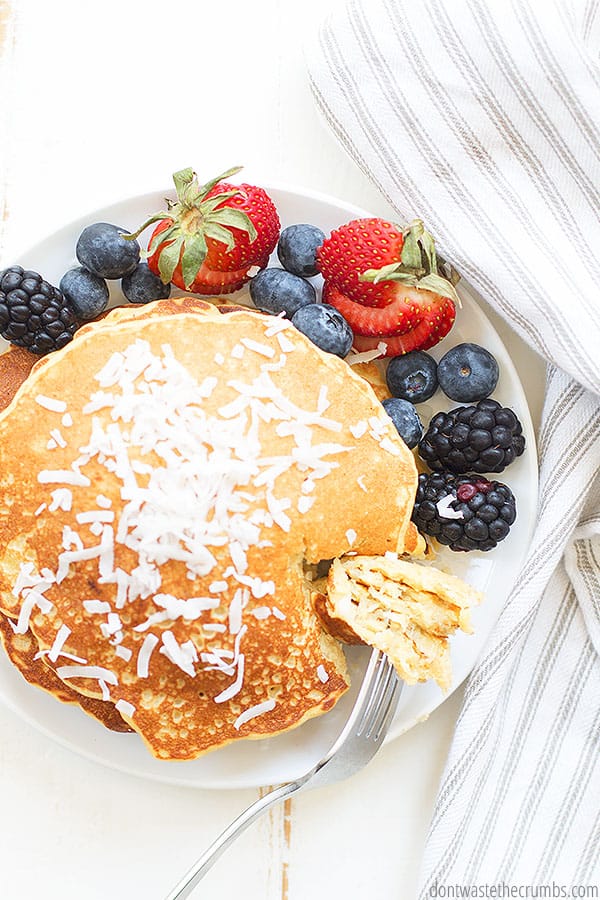 Toasted Coconut and Banana Sourdough Pancakes
Besides the fact that they're light, fluffy, and delicious, why make sourdough pancakes?
Health benefits. The health benefits of sourdough are outstanding. One of the main reasons I love sourdough is because your body can more easily absorb the nutrients in the grain. (Science-y people call that bioavailability.)
This recipe goes great with your existing sourdough starter. This recipe is truly ideal if you're actively working on or feeding your existing sourdough starter.
It feels like such a waste to pour excess sourdough discard down the drain, doesn't it? Instead, pour off the leftover sourdough starter discard into a 16oz glass jar (I like these or you can remove labels and repurpose). Then keep the jar in the fridge and when it's full, make pancakes!
Ingredients for toasted coconut and banana sourdough pancakes
What can I substitute coconut oil for?
Melted butter can be substituted for coconut oil if you have none available.
Can I make this sourdough pancake recipe without bananas?
Yes! We've also made this recipe with chopped apple instead of banana and it was just as delicious. In addition, mangos or peaches would also be an excellent choice!
Can I make toasted coconut and banana sourdough pancakes egg-free?
Yes! Just use 1 Tbsp of ground flaxseed meal and 3 Tbsp water in place of the egg.
How to make toasted coconut and banana pancakes from scratch
Toast shredded coconut
Preheat griddle
Combine dry and wet ingredients and slice in bananas, mix in shredded coconut
Add ¼ cup of pancake batter onto hot griddle, cook pancakes and flip
Serve warm with maple syrup or honey!
Can I make these sourdough pancakes in a sheet pan?
Yes, you sure can! Here is how to make these in a sheet pan! You can even double or triple the batch and freeze extras for later. Batch cooking is my lifesaver to get breakfast (or dinner) on the table fast.
Can I make plain sourdough pancakes?
Yes! Omit the flaked coconut and banana and you have a clean slate to experiment with.
How do I make this sourdough pancakes recipe gluten-free?
Well, I happen to have an option for a gluten-free sourdough starter! Trust me, the pancakes will be just as amazing!
Does my sourdough starter need to be fully active to make coconut and banana sourdough pancakes?
Nope! You can easily rack up a couple of cups of excess starter with a week and no feeding is required before using it in this recipe.
Just pull the jar of starter out of the fridge the night before you plan to make pancakes and let it sit on the counter at room temperature. This gives the yeast a chance to "warm-up" to the environment and do its job.
Personally, I've been feeding my starter with 1/4 cup of flour each morning and night and I've found that it's just the right amount for a double batch of pancakes on Monday and a batch of sourdough bread on Thursday.
If you want to be SUPER efficient, grind your own wheat berries (without a grain mill) on Monday while the pancakes are cooking. Store it in the freezer and use that freshly ground flour to feed your starter for the rest of the week!
More Sourdough Recipes
Freezer Cooking: Breakfasts
Sign up to get instant access to my Freezer Cooking: Breakfasts Plan, complete with recipes, supply list, and shopping list!
Toasted Coconut and Banana Sourdough Pancakes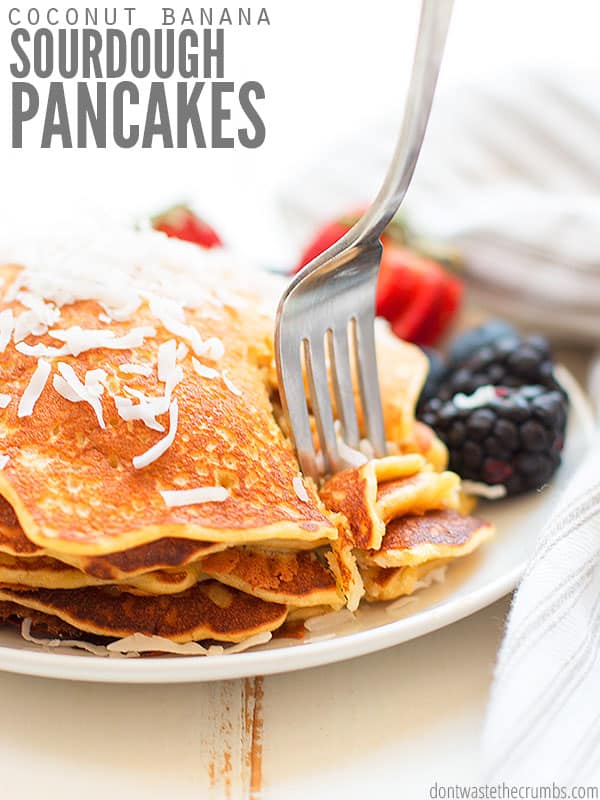 Easy recipe for Toasted Coconut and Banana Sourdough Pancakes. A great way to use up sourdough starter discard! Adaptable to gluten-free families, too!
Author:
Prep Time:

10 mins

Cook Time:

6 mins

Total Time:

16 minutes

Yield:

6-8 pancakes

Category:

Breakfast

Method:

Stovetop

Cuisine:

American
Ingredients
1 cup

shredded or flaked coconut, toasted (see recipe for directions)

2 Tbsp

coconut oil, melted

1

egg

1 tsp

baking powder

1 tsp

vanilla

3 Tbsp

honey

1

banana

2 cup

s sourdough starter
Instructions
TOASTING COCONUT
Spread shredded or flaked coconut on a single layer on a cookie sheet. Place in the oven and set the temperature to 350 degrees. The heat will cause the natural oils of the coconut to release and in turn toast the coconut. With a spatula, stir and/or shake the coconut every 1-2 minutes until coconut is light to medium brown. Note: Do not leave the kitchen while toasting coconut. Once the oils are released the toasting process goes very quickly. Brown coconut is good. Black coconut is not so good.
MAKING PANCAKES
While the coconut is toasting, preheat a griddle to 350 degrees or a skillet to medium. Melt coconut oil in a large mixing bowl. Add egg, baking powder, vanilla and honey and whisk thoroughly. Slice the banana into the bowl and combine well. If you prefer smaller pieces of banana in the pancakes, mash slightly while mixing.
Add toasted coconut when done and mix well. Finally, measure and add sourdough starter, mixing well into the batter.
Pour approximately 1/4 cup of batter onto the griddle or skillet. Cook pancake until it is bubbly on top and cooked on the edges, approximately 2-3 minutes. The edges will not necessarily turn brown.
Flip and cook the pancake for another 2-3 minutes, removing from the griddle or skillet when the bottom is golden to medium brown.
Serve with maple syrup or honey. Yields 6-8 pancakes.
Keywords: sourdough pancakes
Continue Reading…Toasted Coconut and Banana Sourdough Pancakes