This chipotle cheddar chopped salad recipe is full of the most delicious mix of crunchy greens, sharp cheddar, tender chicken, fresh herbs and veggies, and a creamy chipotle honey-lime dressing.
avantis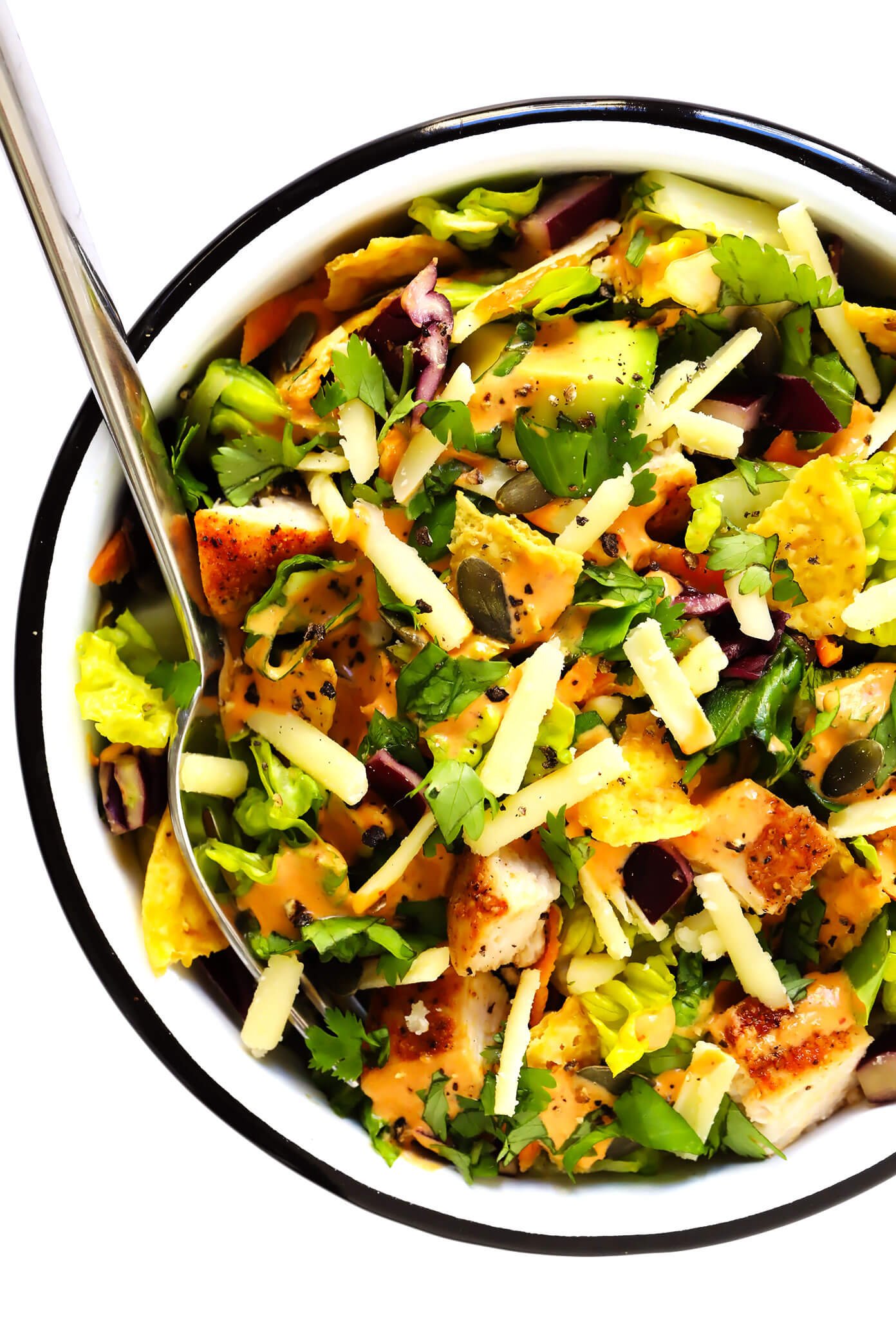 Today's recipe is a nostalgic shoutout to one of the American foods that I miss most living as an expat abroad — chopped salads.
Specifically, those magical, ultra-convenient, store-bought bags of chipotle chopped salads. ♡
Oh my goodness, I practically lived on those chopped salads back in Kansas City before we moved to Spain.  I would toss a bag or two in my cart every time I went grocery shopping, and then pull them out for quick weekday lunches, or sprinkle them on everything from tacos to burgers, baked potatoes, nachos and more.  And ever since we moved away, I have been missing them something fierce!
So over time, I have figured out how to make some of my favorites from scratch here in our Barcelona kitchen.  And while there's no matching the convenience of those bags of pre-chopped greens (something I will never take for granted in the States again, lol), I will go out on a limb here to say that I think my homemade version of this chipotle cheddar chopped salad is even more delicious than the original!
For starters, I always used to dice up an avocado to add to those bagged salad mixes back in the States, which is a non-negotiable in this homemade version.  I also occasionally like to add in some leftover diced chicken to add some protein, which you are welcome to take or leave.  But I've added in a few important flavor boosters here that kick this salad up a delicious notch, such as fresh cilantro, extra-sharp aged cheddar, crunchy red onion and crispy tortilla chips.  And best of all, I've tossed the salad with a simple, creamy, honey chipotle lime dressing that is absolutely dreamy.  (Like seriously, go ahead and plan to make a double batch because you're going to want to drizzle this dressing on everything!)
It's an insanely delicious salad that we go to the extra trouble (well not really, just 15 extra minutes of chopping) to make ourselves here in Spain because we love and miss it so much.  So if you also love a good chipotle chopped salad, I highly recommend giving this homemade version a try!