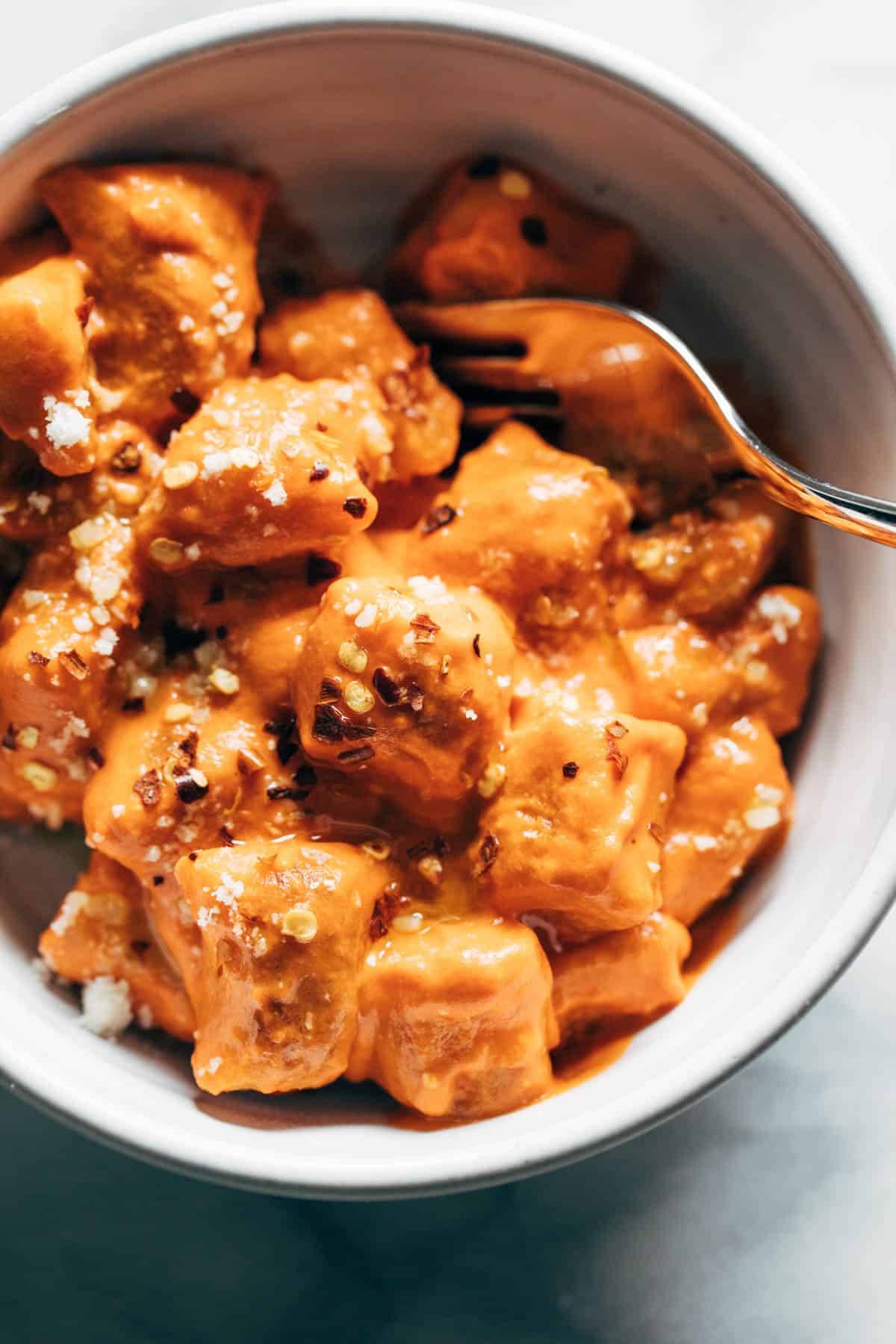 distro
Dear savory little nuggets of pillowy goodness known as cauliflower gnocchi, we are here for you.
Or more accurately, cauliflower gnocchi, you are here for us, and right now especially.
These long (I repeat: LONG) days at home are begging for a fun-but-simple three ingredient recipe that results in soft little pillows of delight with a low-key easygoing golden browned exterior that can be served with, honestly, like, any sauce you have.
Creamy tomato or vodka sauce? Come to me.
Ragu? Two thumbs up.
Pesto of some sort? Yes, please. (I recommend kale pesto.)
Straight up olive oil or butter with some garlic? A++.
This cauliflower gnocchi business is altogether healthy-ish, low-maintenance, seriously delicious, and fun. Let's talk about how to make this gem of a recipe.
How to Make Cauliflower Gnocchi
First, we're going to cook a bag of frozen cauliflower. Use fresh if you want – but in these strange times, I find that simply opening a bag of frozen cauliflower is a little more manageable than cutting a full head and ending up with the little cauliflower granules all over the floor. ANYONE? But either way.
Then the cauliflower gets rid of all its water thanks to a few good squeezes, and here we have the intentionally dry cauliflower blob that is left:
Which will soon be mixed with flour and salt to turn into the cauliflower gnocchi DOUGH:
Which will soon be rolled into ropes, cut up into bite-sized pieces, and browned up in a pan to crispy-soft perfection.
Now, the sauce, as discussed, is chef's choice!
Most of the times when I make this, I have it with kale pesto. Kale pesto is easy and healthy and… I don't know, it just works.
But AS YOU CAN SEE….
I also really have a weakness for a good creamy / vodka / luscious tomato sauce situation. With pillows of gnocchi. Made out of cauliflower. What is life.
This recipe is based off the How Sweet Eats cauliflower gnocchi! Jess knows her stuff and her recipe was the first one I tried. All credit to her for the original that inspired this version + method!

Homemade Cauliflower Gnocchi
---
Description
Three-Ingredient Homemade Cauliflower Gnocchi that is pillowy, crispy, and pairs perfectly with just about any sauce you've got. Easy, healthy-ish, and seriously delicious!
---
Ingredients
Cauliflower Gnocchi:
1

16-ounce bag frozen cauliflower florets (about

5 cup

s fresh works, too)

2/3 cup

flour

1 teaspoon

salt
---
Instructions
Bring a pot of water to boil over high heat. Add cauliflower and cook for 5-8 minutes, until tender. Drain.
Lay cauliflower on a clean towel and allow to cool for 5-10 minutes. Squeeze excess water out of cauliflower. (Squeeze more! We want all that water out.)
Place cauliflower in a food processor. Pulse until it makes crumbles. Add flour and salt. Pulse lightly until a soft, sticky dough forms.
Place dough on a floured work surface. Cut into 4 sections. Roll each section into a rope. Cut each rope into little gnocchi pieces.
Heat a large nonstick skillet over medium heat. Add a swizzle of oil and gnocchi and cook until browned. (You may need to do this in batches, depending on the size of your pan.) Add a splash of water at the end to steam – this ensures that the gnocchi will finish cooking through the inside.
Add your sauce to the pan with the gnocchi. Toss to combine. Mwah!
---
Notes
Sauce ideas: The sauce in these pictures is just jarred tomato / pasta sauce with a little bit of cream added to it! You don't even need a recipe. Kale pesto, as shown in the video, is also amazing! I also like a vodka sauce type situation. 
Boiling: I cut out the step of boiling! Deal with me. My gnocchi was REALLY good with exactly zero boiling, but I would still add a splash of water to steam everything at the end of your sauté time, just to ensure the flour fully cooks out of the center of each piece.
Recipe Card powered by
The post Homemade Cauliflower Gnocchi appeared first on Pinch of Yum.