My favorite recipe for homemade Alfredo sauce.  It's easy to make in just 15 minutes, full of the best creamy and garlicky flavors, and always ultra comforting and delicious.
distro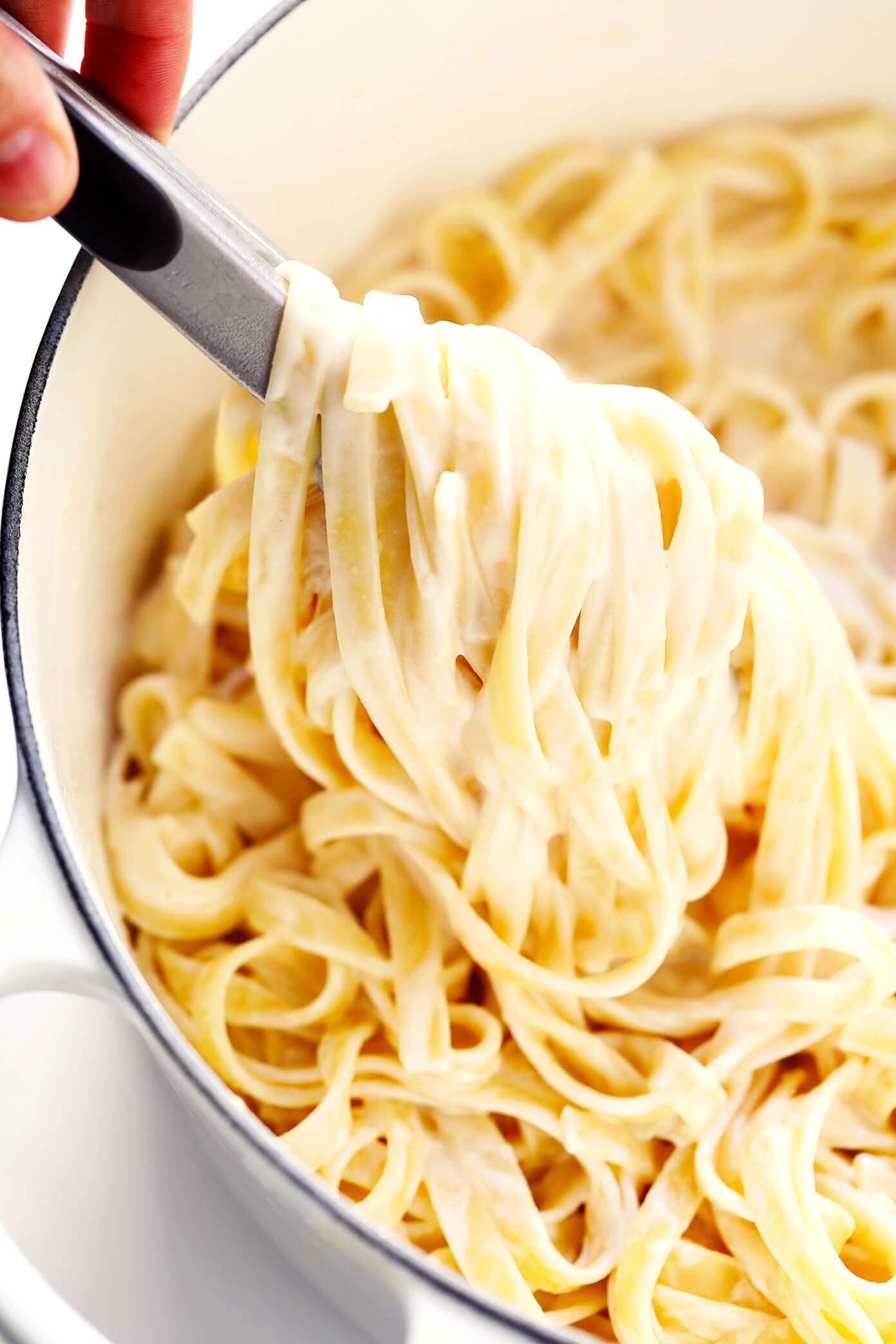 After sharing my favorite marinara sauce recipe with you yesterday, today I'm sharing my go-to recipe for its creamy, cheesy, ultra-comforting counterpart…
…my favorite homemade Alfredo sauce. ♡
Now I will be the first to note that this Alfredo sauce recipe is "American-style," a la the Olive Garden version that zillions of us grew up loving.  By contrast to its Italian-style origins, in which the sauce is said to have been created with just cheese, butter, salt and pepper (more similar to my cacio e pepe recipe), American-style Alfredo sauce is famously a bit more indulgent and complex.  Heavy cream and/or milk are typically added to make the sauce creamier, differing levels of flour are added to create a roux and make the sauce thicker.  And a number of different seasonings are often added (especially a hint of white pepper and nutmeg) to give it an extra flavor boost.
So while this may come as a surprise to some, the American-style version of this sauce would not be considered authentic to Italians.  But hey, I think we can all agree that the creamy version of this sauce has become an iconic favorite of its own. ♡
That said, though, all American-style Alfredo sauce recipes are definitely not created alike!  I don't know about you guys, but I have been served far too many Alfredos over the years that were gloppy and greasy and devoid of good flavor, which simply will not do.  (Especially when indulging in a cream sauce…I want it to be good!)  So today, I'm sharing the simple Alfredo recipe that I have tweaked over the years to perfection.
It's made with a base of half milk and half heavy cream, so that it's still rich and creamy but not overly so.  It's seasoned with plenty of garlic plus a hint of white pepper and nutmeg, which balance out all of those creamy flavors nicely.  It's just slightly thickened with a tablespoon of flour, which you are also welcome to leave out entirely if you prefer.  And best of all, it's made with lots and lots of freshly-grated Parmesan, which is the main flavor we all want and love here.
Oh and bonus?  The entire recipe is incredibly easy to make and comes together in just 15 minutes.  And, of course, tastes a million times better than anything that you can buy in a jar.  Perfect for tossing with pasta, topping grilled chicken, spreading as a white pizza sauce, mixing into lasagna and baked ziti, or whatever else sounds good.  This Alfredo sauce is always a winner.
Let's make some!