London Broil is a perfectly tender piece of meat after being marinated in a liquid mixture with spices and seasoning then broiled in the oven. A decadent dinner made easy!  
Steak is always a  favorite of mine with so much flavor and easy to make for those special occasions. If you are looking to impress your family try this Best Ever Beef Wellington Recipe, Garlic Butter Herb Prime Rib Recipe or Garlic Herb Butter Beef Tenderloin.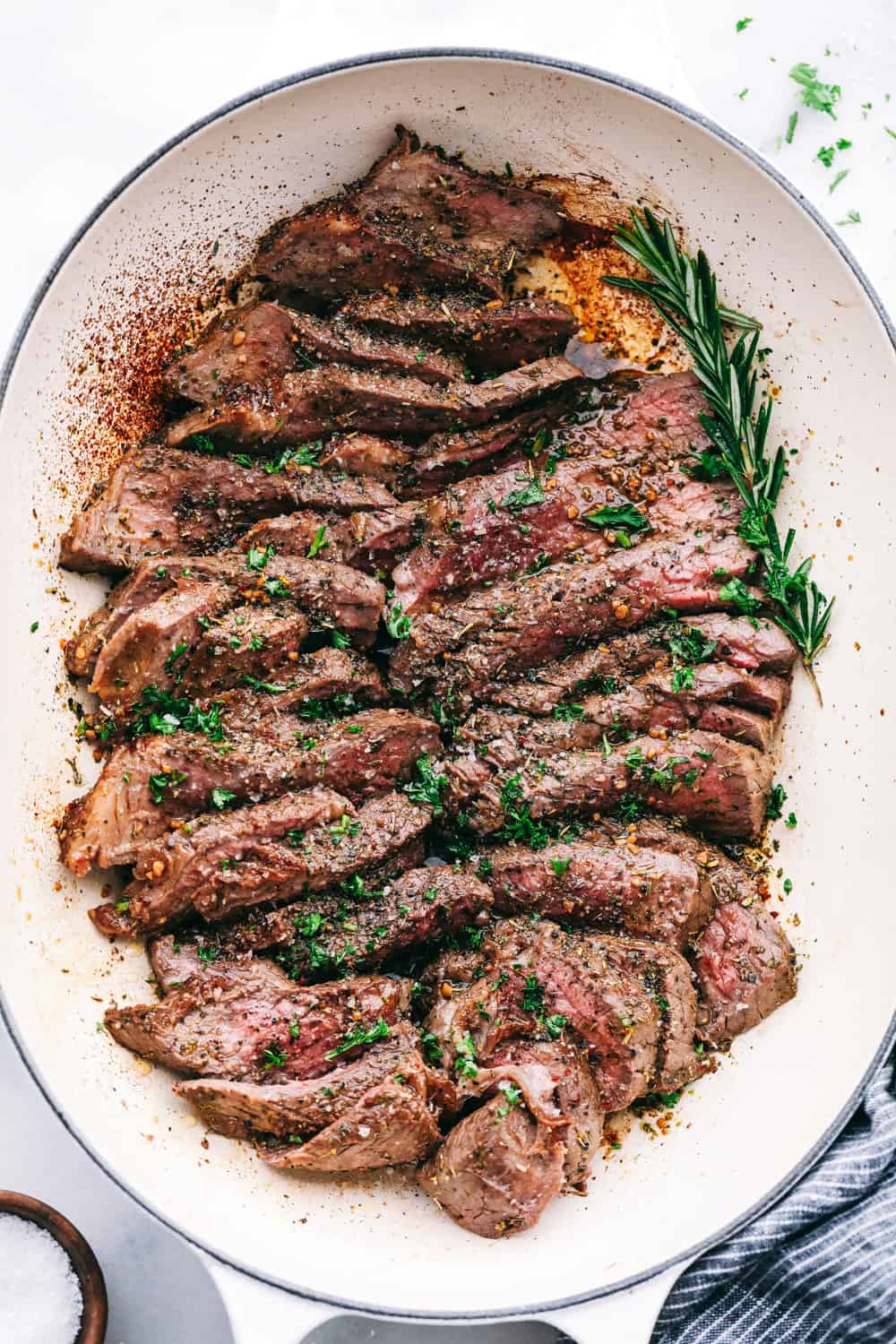 Perfectly Tender London Broil
Impress your family with this decadent, tender and juicy London Broil. You can't go wrong with this beautiful displayed piece of meat. It is marinated in a sweet, salty with a hint of spice that will break through the toughness of the meat and infuse the meat with SO much flavor. This London Broil is so simple to make and comes together quickly.
London Broil is known to be broiled hence the name however it is not always the type of meat. When purchasing your London Broil ask your local butcher or search for the name tag for a London Broil round steak. This steak will seem to be tough but it will tenderize while being marinated. Once you marinate the steak you will broil the steak on high in the oven for a few minutes at time, flipping it in between. Let it rest before slicing then slice against the grain of the meat for easier slicing.
This London Broil recipe is so simple to make and only takes a few minutes to cook on each side. This can be made into a complete meal with green beans and potatoes. Your family will fall in love with this decadent perfectly tender London Broil on the first bite. It is a tried and true favorite!
What cut of meat is used for London Broil?
London Broil is not necessary the type of meat it is but the way you cook it. It is usually known as flank or top round steak that is marinated over night and then broiled on a high temperature in the oven. Flank or top round steak is known to be a tougher piece of meat but when marinated and broiled under high heat it is tenderized and cooked perfectly.
London Broil Ingredients:
All the ingredients whisked together into one sauce to marinate in is just that simple for this steak broiled recipe.
Soy Sauce: A sweet and salty liquid sauce that adds so much flavor to this .
Lemon Juice: Sweet and juicy add in.
Olive Oil: Helps add the olive flavoring but also soaks in the steak.
Worcestershire Sauce: Flavored with various seasonings mixed with a vinegar base.
Garlic: minced
Italian Seasoning: A mixture of basil, marjoram, oregano, rosemary, and thyme.
Pepper and Salt: Just a pinch!
Red Pepper: Add some a little spice to you marinade.
London Broil Round Steak: A tougher meat that will be marinaded and tenderized before being broiled.

How to Cook London Broil:
Whisk Together Marinade: Prepare the steak marinade by adding soy sauce, lemon juice, olive oil, Worcestershire sauce, garlic, Italian seasoning, and salt and pepper to a large gallon bag. Add the steak and let marinade for 2 hours or overnight.
Broil on high: Preheat the broiler to high heat. Remove the steak from the marinade and put in a baking dish. Broil for 5-6 minutes and then flip to the other side and broil for 3-4 minutes until it reaches an internal temperature of 125 for medium rare.
Rest before slicing: Let the steak rest for 10 minutes and slice
What Temperature to Cook London Broil:
The internal temperature on a London broil should read 135 degrees for medium rare and 145 degrees for medium to well done. Before cutting the steak let it rest for 5 to 10 minutes before slicing into pieces. This will help it savor the juices and cut easier.
What to Serve with London Broil:
Impress your family with this beautiful cut of meat! When making this steak add Garlic Parmesan Green beans with Bacon, Dad's Famous Mashed Potatoes and Perfect Soft and Buttery Rolls for a complete meal.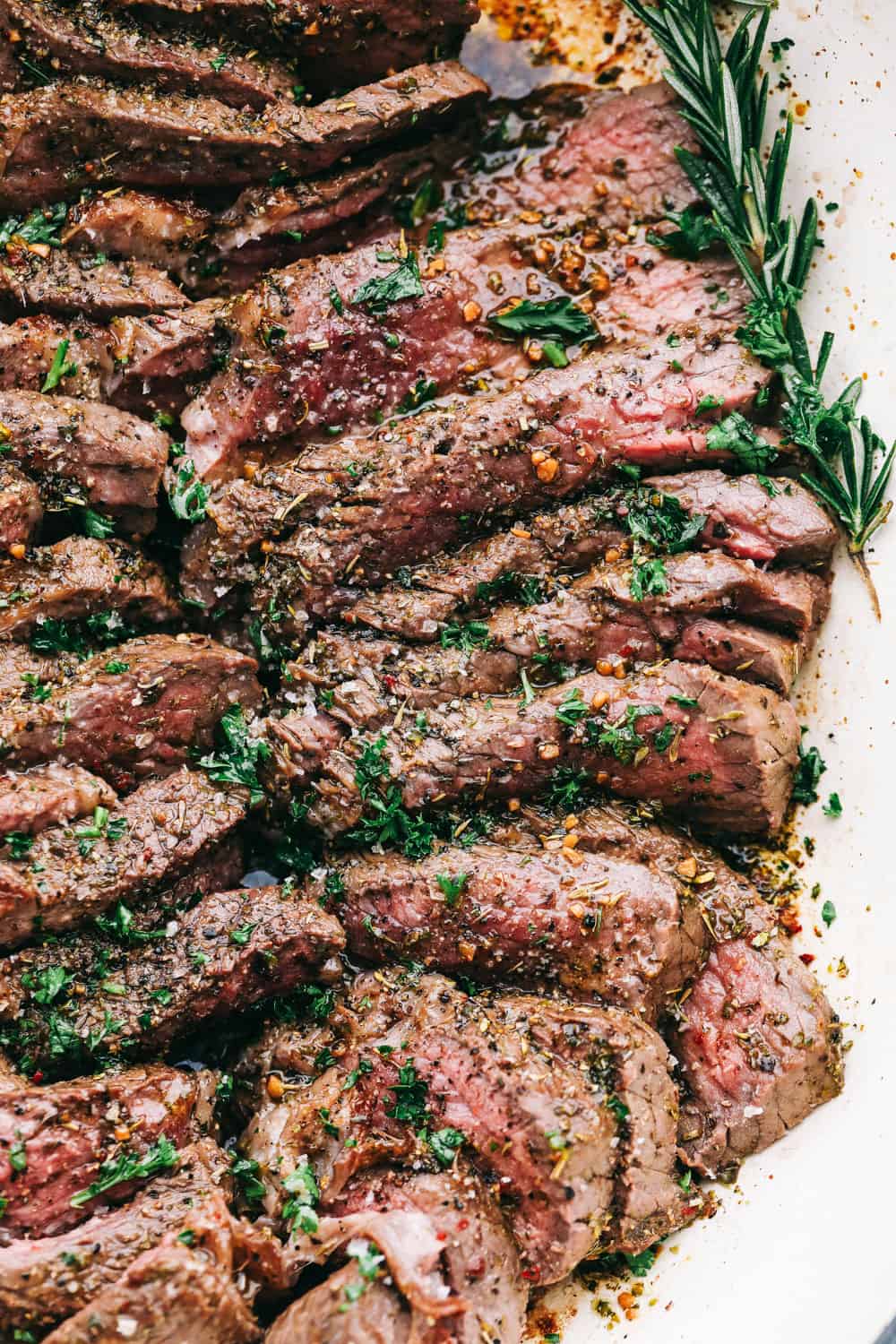 More Delicious Steak Recipes: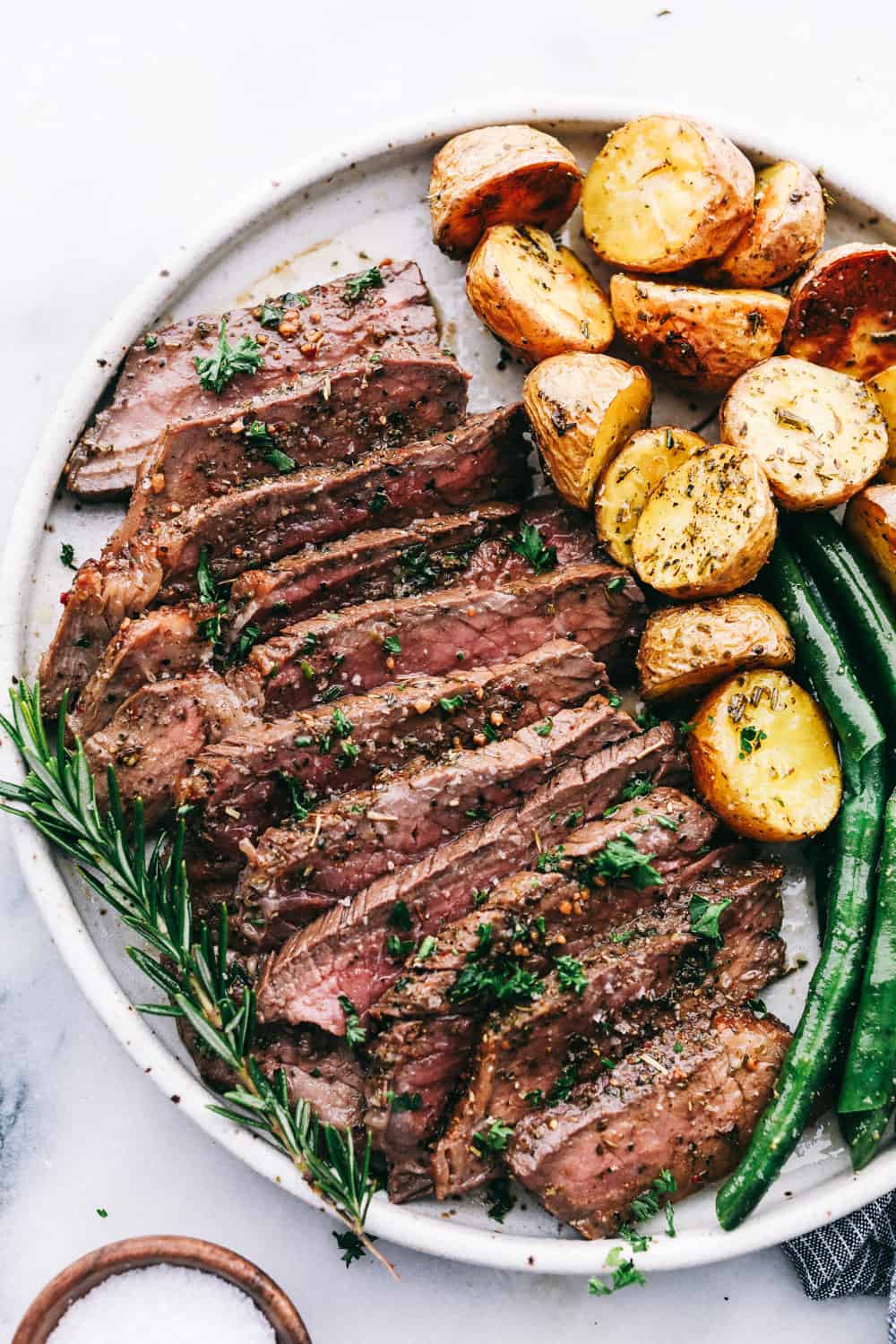 Perfectly Tender London Broil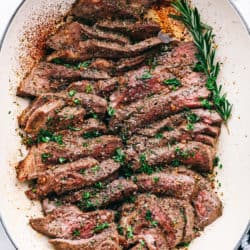 London Broil is a perfectly tender piece of meat after being marinated in a liquid mixture with spices and seasoning then broiled in the oven. A decadent dinner made easy!  
1/3 cup soy sauce
1/3 cup lemon juice
1/2 cup olive oil
1/4 cup Worcestershire sauce
1 Tablespoon minced garlic
2 Tablespoons Italian seasoning
1 teaspoon pepper
1/2 teaspoon salt
pinch of red pepper
1 2 pound London Broil Round Steak
Prepare the steak marinade by adding soy sauce, lemon juice, olive oil, Worcestershire sauce, garlic, Italian seasoning, and salt and pepper to a large gallon bag. Add the steak and let marinade for 2 hours or overnight.
Preheat the broiler to high heat. Remove the steak from the marinade and put in a baking dish. Broil for 5-6 minutes and then flip to the other side and broil for 3-4 minutes until it reaches an internal temperature of 125 for medium rare.
Let the steak rest for 10 minutes and slice