This 5-Ingredient Burst Tomato Spread recipe is super easy to make and tastes amazing served warm with crusty bread.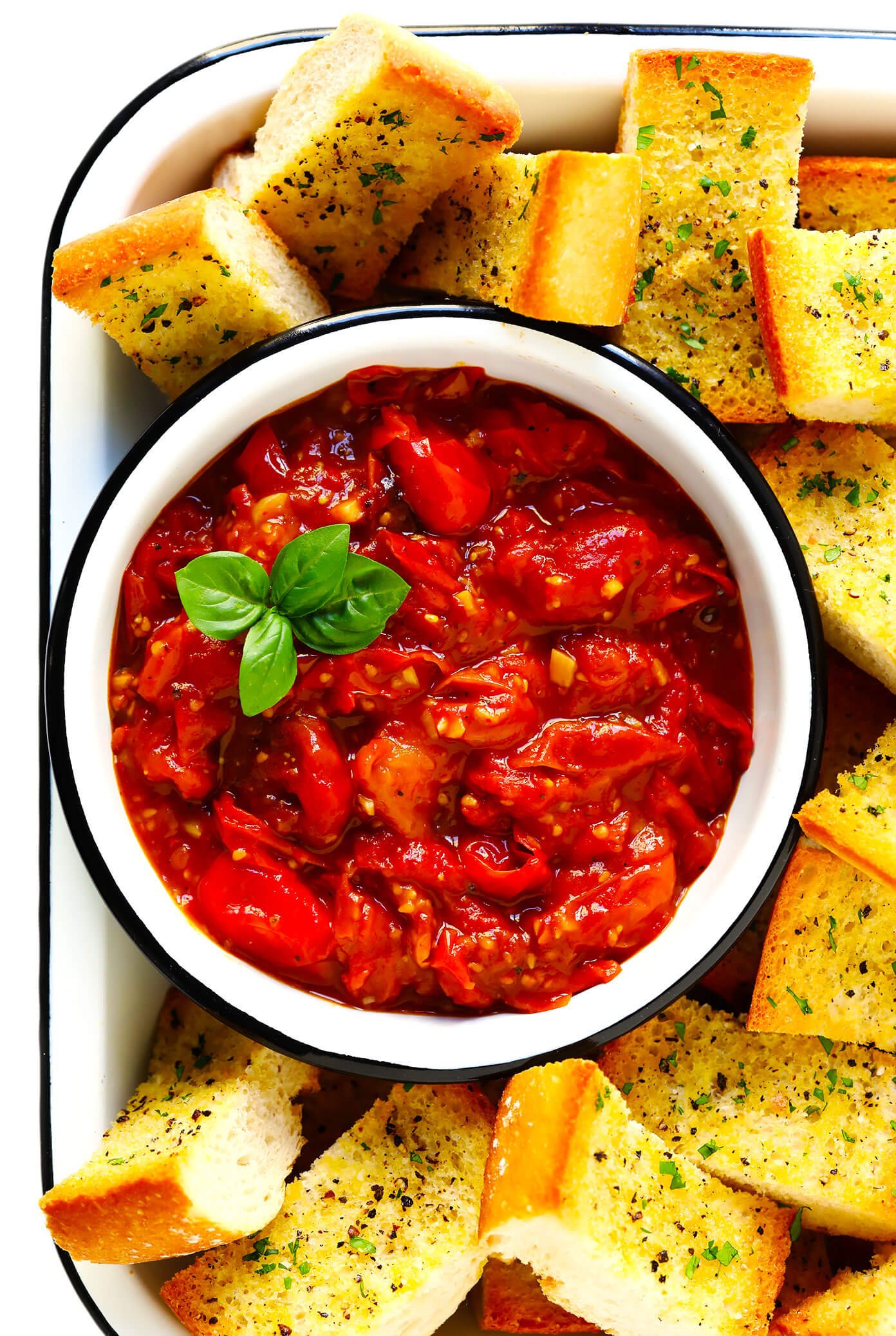 Oh my goodness, you guys, my mom made the most amazing tomato spread last week. ♡
I happened to be back home in Wichita visiting my family for the weekend.  And per usual, my mom knocked herself out cooking up a gorgeous welcome home dinner for all of us to enjoy together out on the back patio on a warm summer night.  But of all the delicious dishes she made, this magical tomato appetizer ended up being the dish that absolutely stole the show.
I couldn't quite tell what it was at first glance — was it a sauce, or a spread, or a filling, or a compote, or a dip?!  Technically, I suppose it could be served any number of ways, but Mom introduced it that night as a warm tomato spread.  And we quickly found that when served atop a slice of crusty bread — kind of like a warm bruschetta — this spread was downright irresistible!
Naturally, I immediately asked my mom for the recipe and was surprised to learn that she had made it with just 5 easy ingredients — olive oil, garlic, cherry tomatoes, balsamic vinegar and a tiny pinch of crushed red pepper flakes.  The tomatoes are simmered down in a sauté pan until they work their magic and eventually burst to turn into a rich, warm, soft tomato sauce.  Then when seasoned with lots of garlic and a splash of balsamic, and reduced until the sauce has thickened into a luscious spread, I'm telling you — it's absolutely amazing how flavorful these five simple ingredients can be!  That said, you're more than welcome to toss some fresh Italian herbs into the mixture if you would like.  Or my mom also recommends adding in a teaspoon of sugar if you would like a slightly sweeter spread.  Up to you!
However you make this spread, I can just promise that it is a fantastic way to put a harvest of ripe summer tomatoes to use.  Let's make a batch!
(more…)