This Thai Basil Beef Noodle Stir-Fry recipe is easy to make and tossed with the best savory Thai basil sauce.  Feel free to sub in chicken, pork, shrimp or crispy tofu in place of the beef if you would like!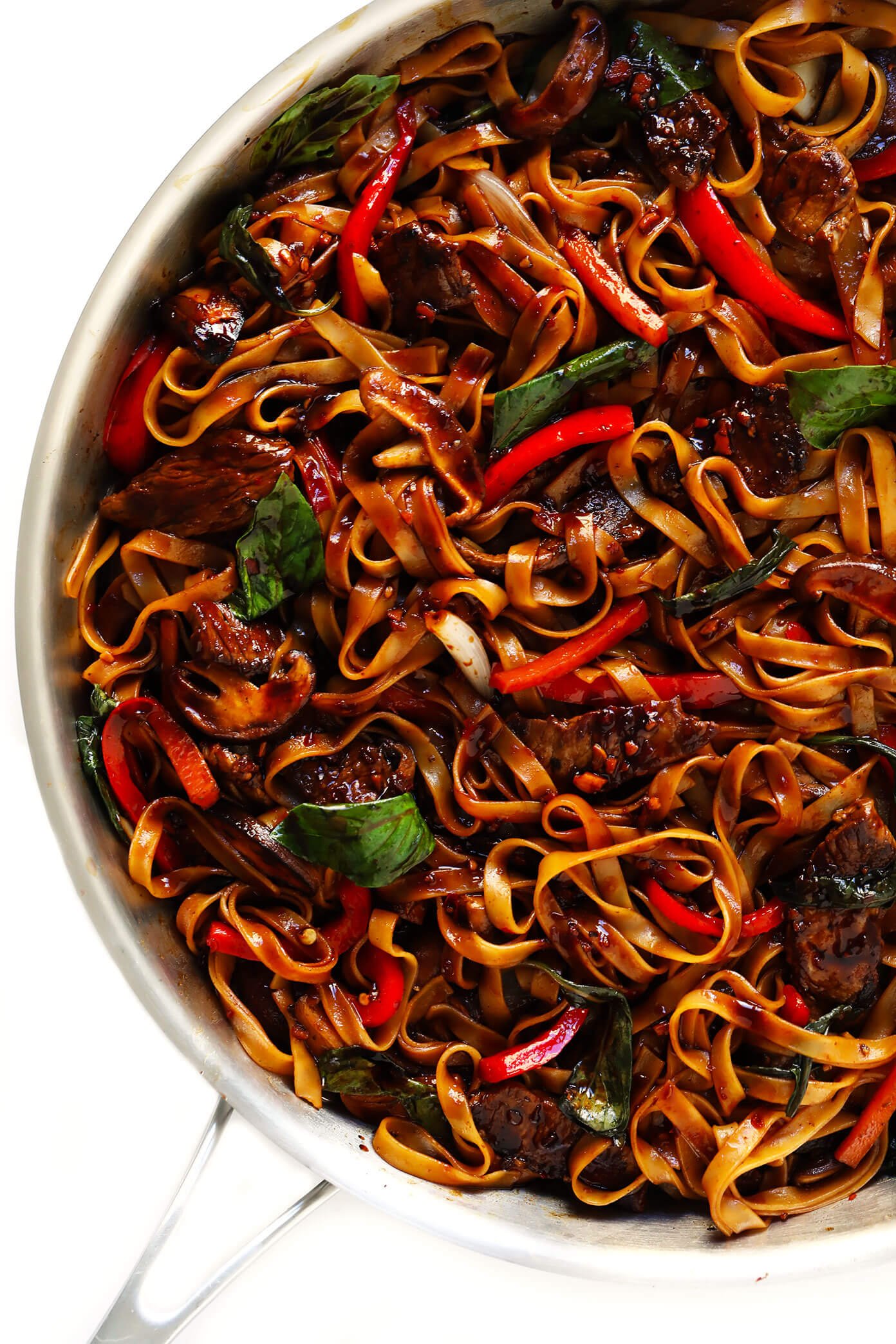 Breaking news out of Barcelona — you guys, I finally tracked down a place to buy fresh Thai basil in this city!
For nearly two years, I've been having to make do with Italian basil in my favorite Thai recipes because I simply could not find its irresistibly savory, slightly spicy, anise-y cousin anywhere in Barcelona.  But earlier this month, I happened to be passing by an Asian market in a different part of town and decided to pop in to pick up a few things.  And lo and behold, there it was — all the fresh Thai basil a girl could ask for!  ♡
Naturally, I brought home an enormous bouquet and set right to work cooking up all of my favorite Thai basil recipes.  And one evening in particular — when my vegetarian husband was out for the night — I ended up throwing together a quick Thai basil beef and noodle stir-fry that ended up being so good that I had to share it with you.
It's basically a slightly-simpler version of my favorite drunken noodles recipe, made with lots of tender steak, al dente rice noodles, a few quick veggies, and a savory stir-fry sauce (featuring lots of Thai basil).  And it absolutely hit the spot.  It's full of the bold savory flavors that I love in a good stir-fry.  It's easy to whip up in just 30 minutes or so.  It's easy to customize with whatever veggies and protein (such as chicken, pork, shrimp or crispy tofu) that you happen to have on hand.  And I can vouch (ha, as the sole meat-eater in this house) that it also makes for fantastic leftovers.
If you love a good stir-fry as much as I do, I already know you're going to love this one.  Let's stir-fry!