This Crispy Baked Fish Tacos recipe is made with the yummiest panko-crusted fish, zesty cilantro-lime slaw, a super-simple chipotle crema, and whatever other favorite toppings (hello, avocado) you love most.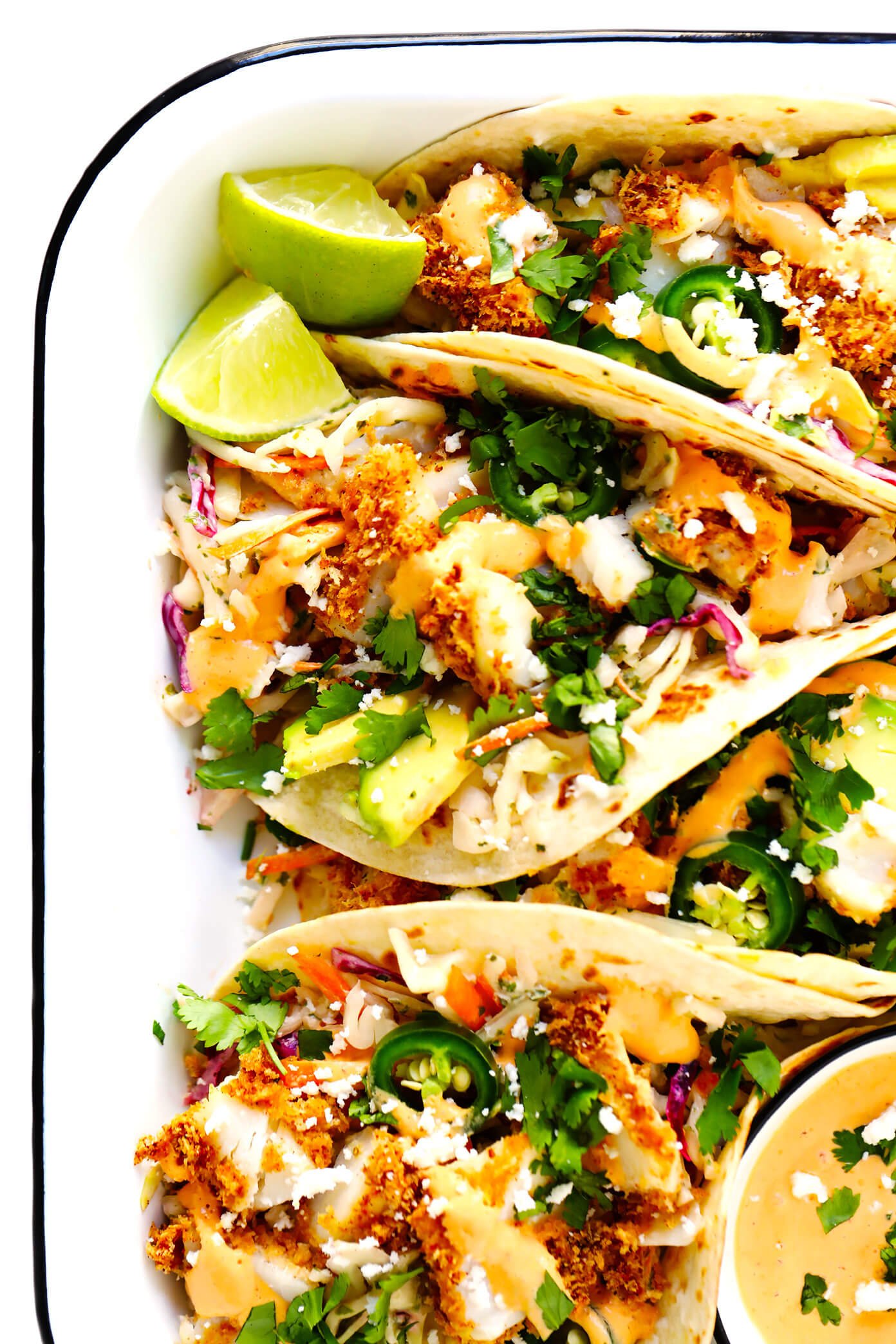 So here's the thing.  I love a classic beer-battered, deep-fried, ultra-crispy-and-crunchy fish taco as much as the next girl.  But most of the time when I opt for fish tacos, I'm going for something lighter and healthier!  You know, a fish taco that's big on fresh flavors, but mercifully low on the grease factor (and accompanying stomachache).  A fish taco that's perfectly balanced with all things hot and cool, crispy and tender, smoky and citrusy, saucy and herb.  A fish taco recipe that's naturally mild enough for everyone at the table to enjoy, yet can easily also be kicked up a spicy notch for those who like extra heat.  A fish taco that's legit do-able in my own kitchen, yet rivals the authentic taco shop just down the street.  This is the kind of fish taco I crave.
Specifically — these fish tacos. ♡♡♡
We are completely obsessed with these tacos in our house, and I sincerely hope that now you're going to love them too!
They are made with the the four main components that I believe are essential to the best fish tacos.  First — good-quality fish, coated in a zesty toasted Panko crust, and baked in the oven (not fried) to crispy perfection.  Second — that cool and crunchy and irresistibly delicious Cilantro Lime Slaw recipe that I posted yesterday.  Third — a super-quick 4-ingredient blender chipotle sauce for drizzling on top.  And last but not least — all of your favorite fresh toppings piled high on top which, for the record, I sincerely hope includes lots of avocado.  Altogether, these tacos add up to taste ultra-fresh and flavorful, yet they still feel nice and light and healthy, which I love.
Also, while the instructions are a bit long in writing, this fish taco recipe is actually quite easy to make.  If you have all of your ingredients ready to go, they can easily be made in less than 45 minutes (or 30, if you're moving quickly).  These fish tacos can also easily be adapted to be gluten-free or dairy-free, if you would like.  And everything except the fish can be prepped in advance, if you're planning to make them for a crowd.
Clearly, I'm a big fan.  So if you love fish tacos as much as I do, I hope you'll give this one a try!