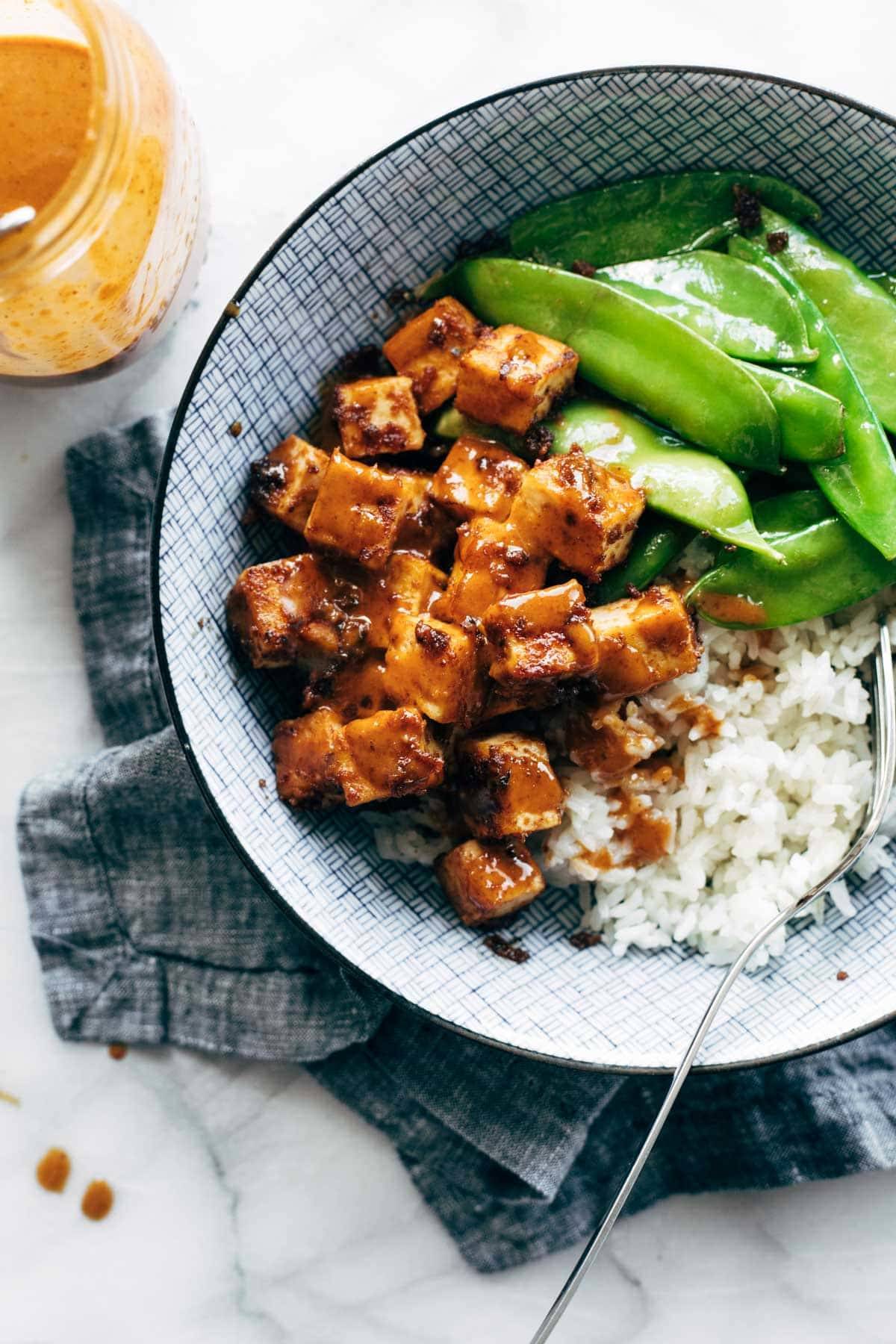 Consider this your official welcome to Sauce Week!
distro
Yes, Sauce Week.
I scream, you scream, we all scream for… easy delicious sauces for summer!
Let's get real for a second. When it's summer and you're grilling more and going to the farmer's market sometimes and getting gifted things from neighbors gardens or CSA boxes, sometimes "regular meal prep" doesn't cut it. Sometimes what you really need is just a good sauce or two to get you through the week – be it for dipping, drizzling, salading, spreading, or dunking with all your freshly grilled, roasted, or chopped up summery stuff.
This week we're going sauce-wild. I'm giving you five – 1, 2, 3, 4 5 – easy sauce recipes that are all vegan, gluten free, dairy free, and ready in five minutes. OH AND SUPER DELICIOUS.
That's Sauce Week! Buckle up!
Kicking us off: this peanut sauce. Er, excuse me. The Very Best Peanut Sauce.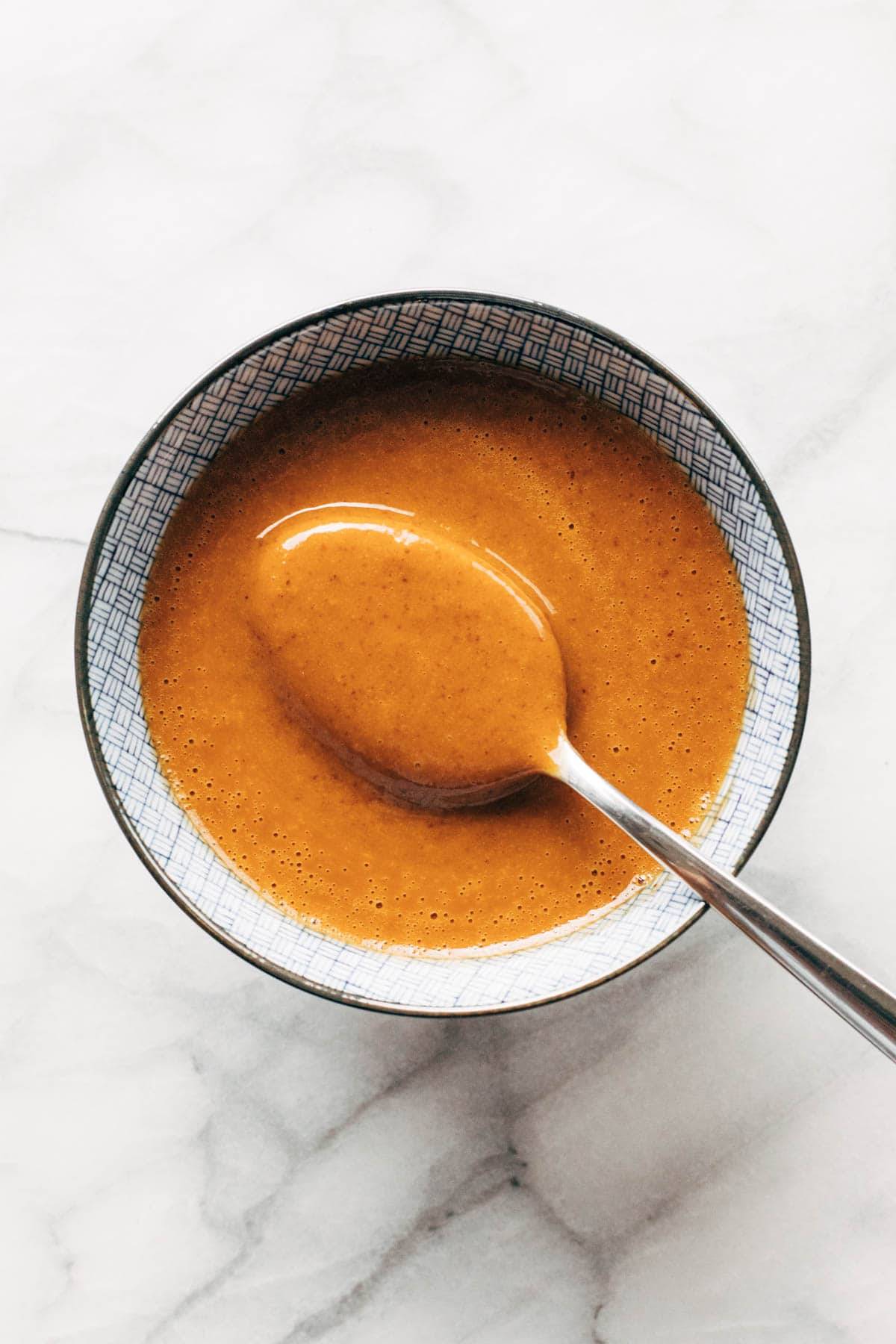 This peanut sauce. Wow oh wow oh wow.
It * is * the * very * best. Did I already say that?
This peanut sauce has been around the block a few times here on Pinch of Yum – it started with these zoodles, re-purposed its way into these firecracker lettuce wraps, and resurfaced briefly for a dressing application in that quinoa crunch salad. Over the last few years it has become THE ESSENTIAL PEANUT SAUCE of this blog and/or my life.
What's different about it from normal peanut sauce:
It's smooth and drizzle-able.
No, but seriously. This is important. It's NOT thick and gloppy. No peanut sauce glops allowed!
It uses fresh garlic and ginger, yes, but most notably, it features a hefty pour of sesame oil! which makes the flavor, well, the very best.
Everybody goes in: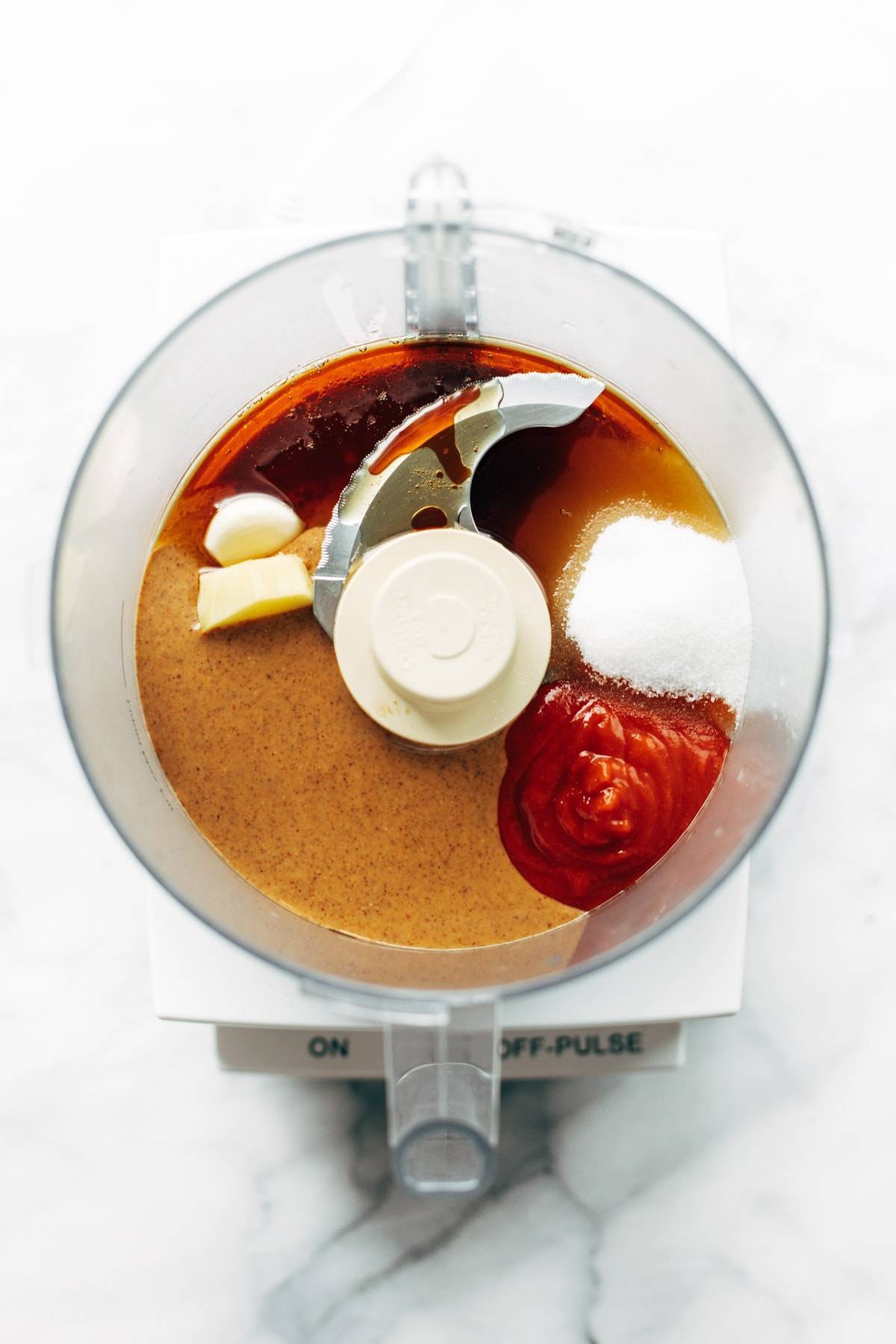 And the very best peanut sauce comes out: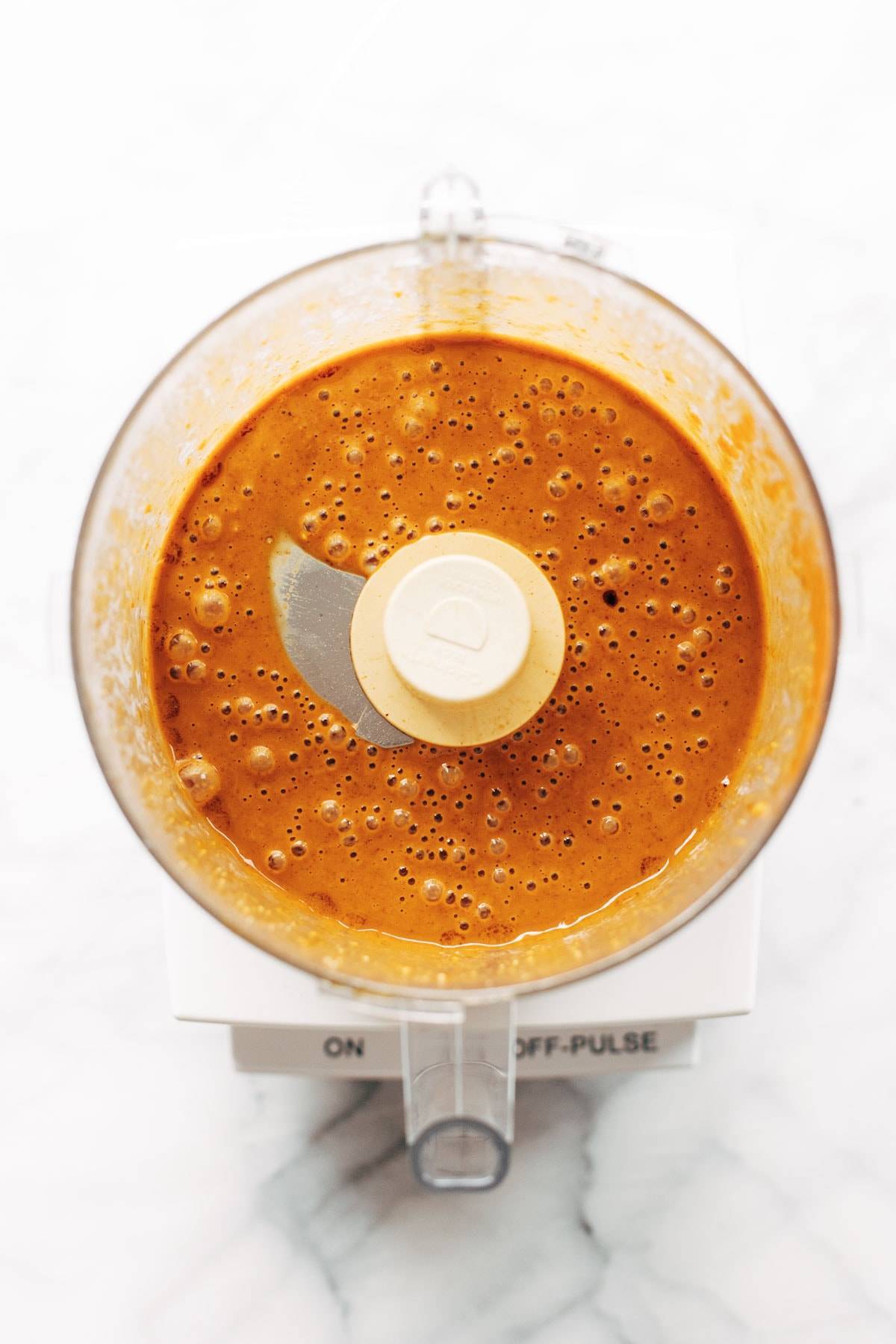 Ways I love to use this sauce:
Noodles
Rice Bowls
Grilled Chicken
Sauteed Tofu
Salad Dressing
Dipping Sauce
Just try throwing some in a skillet with some chicken or tofu for a little trick. The way it gets browned and crispy and beautiful (like what's in the pictures here)?
YES. You are right to think that it's life-changing.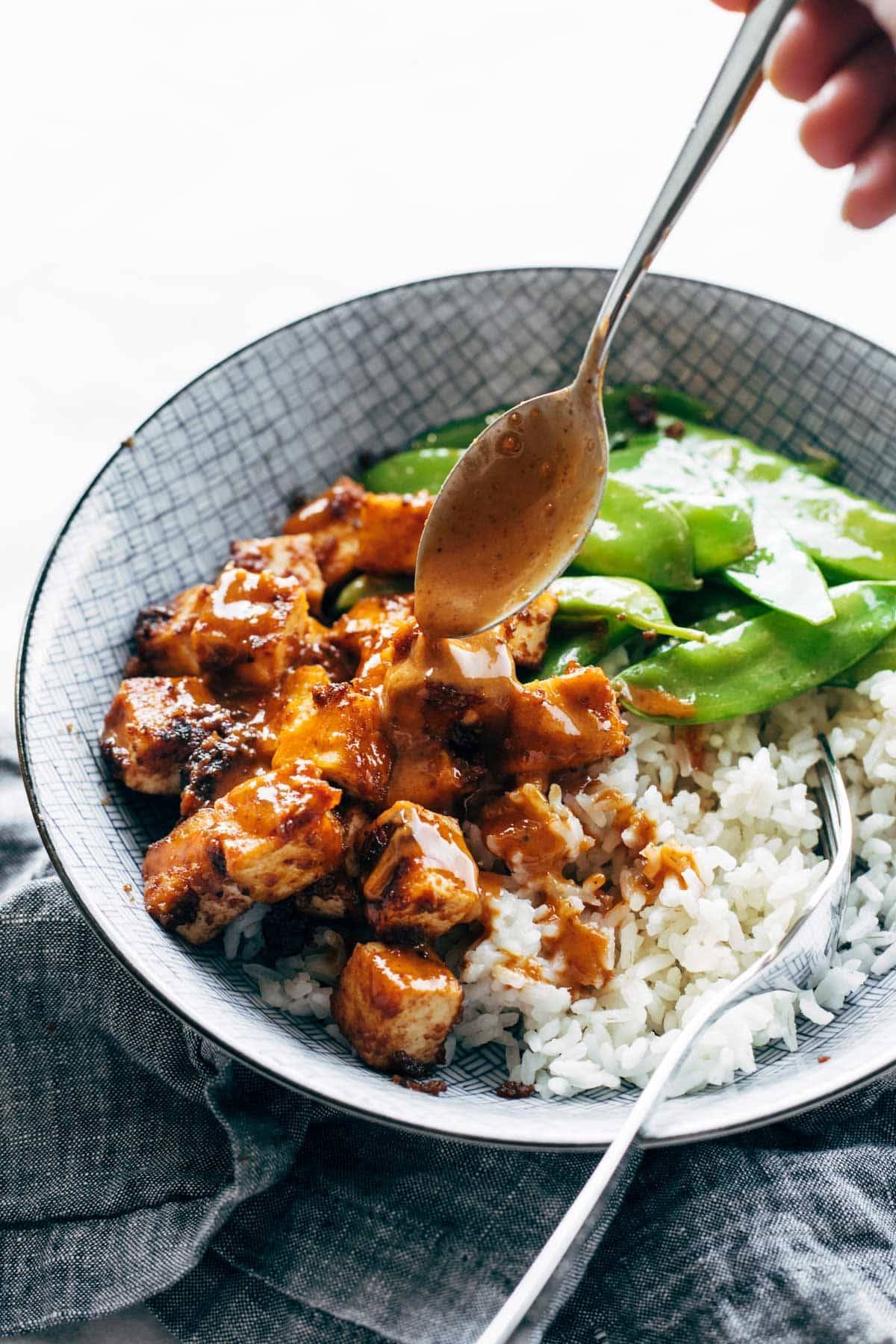 The Very Best Peanut Sauce
---
Description
The Very Best Peanut Sauce! Smooth, drizzle-able, garlicky, and gingery with a good spicy sesame kick. Perfect for noodles, salads, protein, or as a dipping sauce!
---
Ingredients
1/2 cup

 peanut butter

1/3 cup

 low sodium soy sauce

1/3 cup

 sesame oil

1/4 cup

 rice vinegar

2 tablespoon

s chili paste (sriracha works, too)

2 tablespoon

s sugar
a small knob of fresh ginger, peeled
a clove of fresh garlic, peeled
---
Instructions
Blend all the sauce ingredients together in a small blender or food processor until smooth and creamy.
Notes
FREEZABLE: Yes!
KEEPS IN THE FRIDGE: About 1 week.
CAN I SKIP THE SUGAR: Sure. I prefer it with sugar but you can skip it.
VEGAN: No adaptations needed.
GLUTEN FREE: Use tamari or coconut aminos in place of soy sauce.
Recipe Card powered by
The post The Very Best Peanut Sauce appeared first on Pinch of Yum.