A quick recap of our five days on the Amalfi Coast, including all of our best travel tips for where to eat, stay and visit.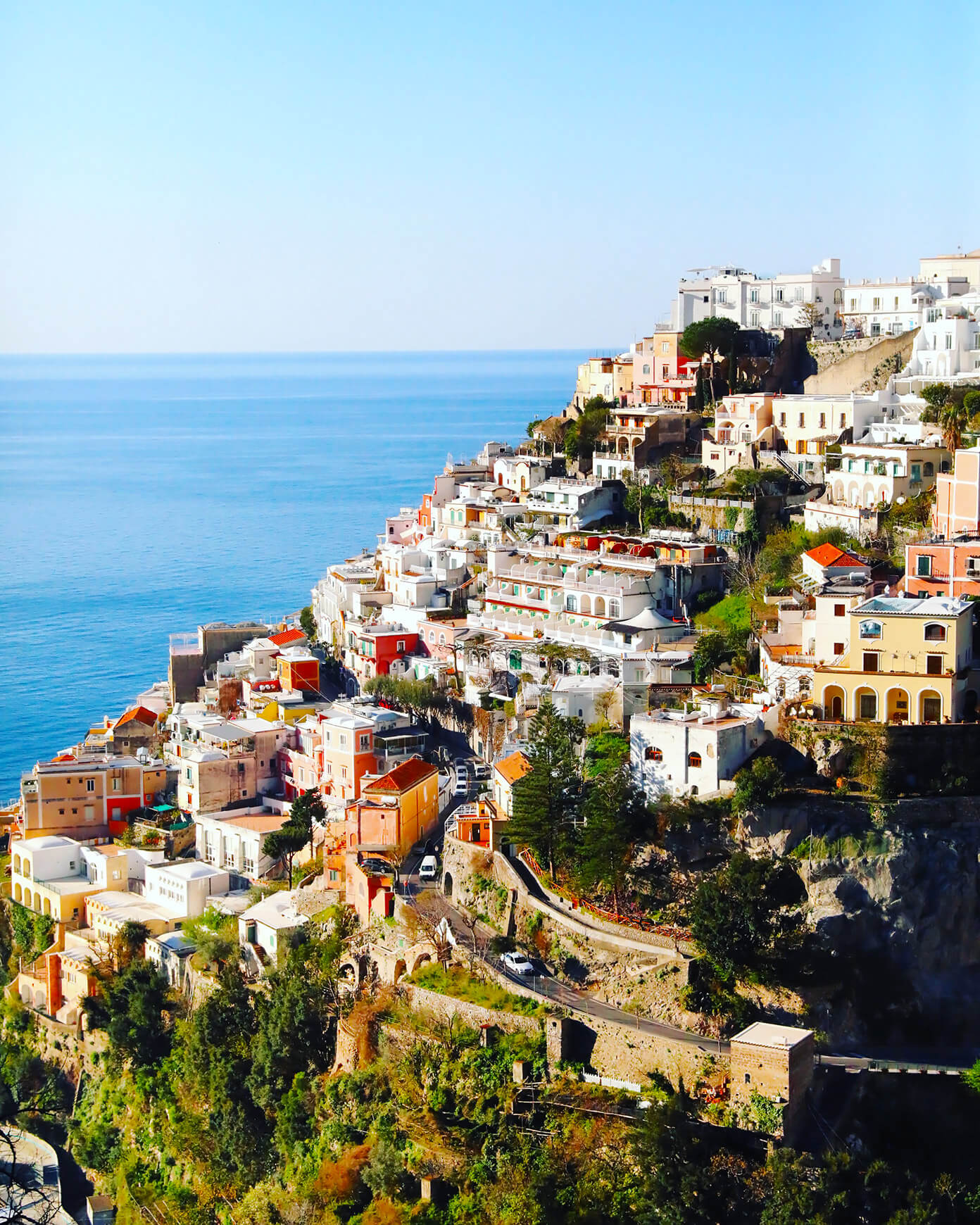 Somebody pinch me — how is this our life right now?! ♡
A few weeks ago, Barclay and I realized that we had one free weekend left before all of our springtime visitors would start arriving in Barcelona to come stay with us.  So we decided to hop onto Google Flights to see what cheap flights might be available for a last-minute trip.  And right off, we happened to spot some 29€ round-trip tickets to Naples — which immediately made us think of our friends' Alex and Sonja's trip to the Amalfi Coast last summer.  I still vividly remember all of the dreamy photos and stories that they shared from their time traveling around Positano, Ravello and Capri.  And the more we thought about the possibility, the more Barclay and I liked the idea of a sunny destination with lots of hiking available, especially since it was still going to be too chilly to swim anywhere in Europe in early April.  Also, neither one of us will ever turn down a chance to eat more Italian food.
So — we booked it!  Well actually, my finger miiight have slipped and gone ahead and booked us two extra nights while we were at it, turning our spontaneous little weekend trip into a full five-night vacation in Positano.  And oh my goodness, you guys.
We absolutely loved the Amalfi Coast.
I mean, Italy will forever and always be one of my places to visit, period.  But this romantic part of the Western coast — with its picturesque villages carved up into the hillsides, brilliantly blue Mediterranean waters below, flowering wisteria and vibrant lemon trees everywhere you turn, dramatic cliffs and hidden grottos and world-famous hiking trails waiting to be explored, Caprese salads and fresh seafood pastas and lemon everything waiting to be tasted, plus some of the most charming locals you will have the chance to meet — the Amalfi Coast is just magic.
We chose to plant ourselves in Positano for the duration of our stay, and then took day trips from there, including one full day spent in Capri, one full day hiking the world-famous Path Of The Gods, one day combining visits to both Amalfi and Ravello.  And then — as we love to do when we can — we also had one 100% down day, where we basically just read books and went for walks and took naps and lingered for hours at cafés.  (Basically my dream kind of day!) Oh, and we also stopped for lunch in Naples on the way to Positano at our favorite pizzeria in the world, which I highly recommend doing if you are flying in through that airport.
In writing, it all sounds like a lot.  But in reality, the pace of the trip was actually super easygoing, and we agreed it was one of the most relaxing and restorative vacations we have taken this year.  Also, one of the most delicious.
That said, we didn't realize until we arrived in Italy that the beginning of April is still technically the off-season there.  So most of the recommended restaurants that we had on our list were still closed for the winter — whoops.  On the flip side, though, we were able to enjoy the coast before the throngs of tourists arrived.  Which meant that the towns were all blissfully tranquil, the hotels were much more affordable and discounted for the season (which we realized after the fact), and we were easily able to get into all of the restaurants that were still open for the season.  The off-season definitely has its perks too.
Anyway, we had an amazing time.  And while we were there, I received soooo many messages from you all asking about our hotel and various travel recommendations.  So if you happen to be one of the lucky ones traveling to the Amalfi Coast this coming year, or if it's on your bucket list for someday, or if you just want to see 4.3 million photos of our trip, here's my full trip report from our five days on the Amalfi Coast.
We feel so incredibly lucky to have had the chance to go back to Italy again, and hope that it won't be our last!