This healthier flourless chocolate chip cookie recipe is quick and easy to make, full of great flavor, and naturally (both) gluten-free and vegan.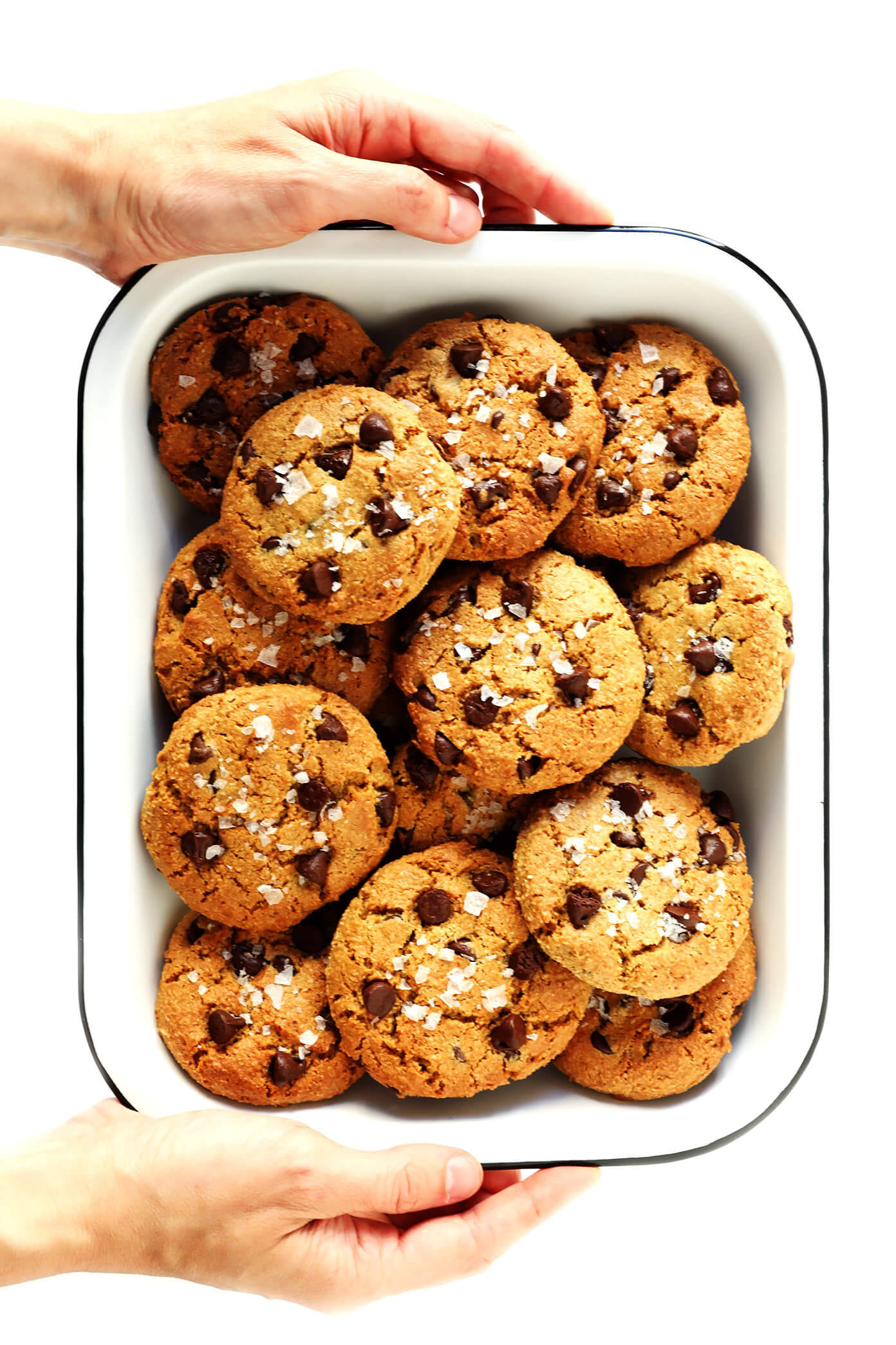 For all of you who have requested a gluten-free or vegan chocolate chip cookie recipe over the years, I have good news for you today.
This chocolate chip recipe is both!
These CCCs are super quick and easy to make in just one bowl (no mixer required).  They are made with almond flour (which you can either buy store-bought or make yourself), making them naturally gluten-free.  They can also be made with a flax egg or a regular egg, depending on whether you would like to make the cookies vegan.  The recipe also contains impressively minimal oil and sweeteners.  But these easy chocolate chip cookies are just as chocolatey, sweet, and satisfying as ever!
And the credit for them goes entirely to my good friends, Jeanine and Jack, of the blog Love & Lemons.  This recipe was one of the very first that I made from their hot-off-the-press new cookbook, Love & Lemons Everyday (affiliate link).  But judging by the zillion or so dog-eared pages in my book, it clearly won't be the last.  You guys, this book is such a gem.  It's full of Jeanine's trademark beautiful, healthy, and legit-simple recipes, that are sure to bring some fresh inspiration to anyone's kitchen.  But I especially love this book because it is so dang helpful.  Each chapter is chock-full of useful cooking and meal-planning tips, from exactly how to roast or grill each vegetable from A-Z, to how to use "scrap parts", to how to pickle various veggies, to how to freeze herbs and quinoa, to fun variations for scrambled eggs and fruit crumbles and 5-ingredient salad dressings and so much more.  This book is a wealth of cooking information and inspiration, and it's beautiful design will look great on any countertop or coffee table.  I wholeheartedly recommend that you check it out.
And of course, make these chocolate chip cookies stat.  ♡