This Everyday Thai Red Curry recipe is super quick and easy to make, naturally gluten-free, and totally customizable with whatever veggies, proteins or noodles you happen to have on hand.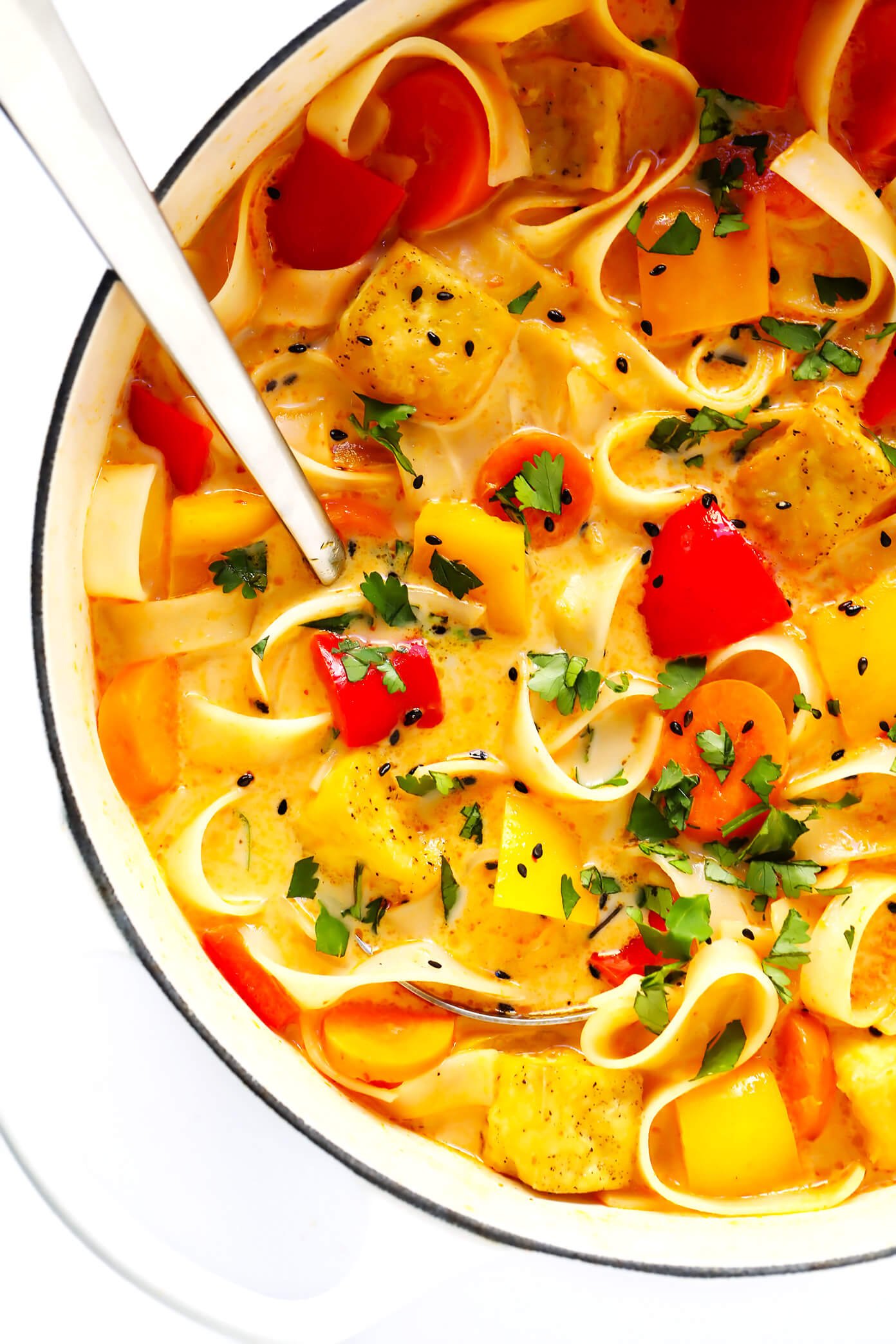 Who's ready for a cozy bowl of curry? ♡♡♡
After many requests from those of you who have spied and asked about our favorite Thai red curry recipe on Instagram this past winter, I decided to snap a few pics of our most recent batch and share the recipe with you today.
This Thai red curry is basically just a riff of our favorite Thai green curry recipe, made with slightly-milder red curry paste instead of its fiery green counterpart.  And over the past year, it has inched its way to the very top of our regular dinner and meal-planning rotation in our house.  We can't get enough of this curry!!  We now tend to make this one more often because Barclay has found that he prefers the red curry paste to green, since he doesn't love spicy food quite as much as I do (although he jokes that his palate keeps heating up the longer he lives with me).  But I'm always happy to go red because those bold, savory and slightly-sweet red curry flavors always taste soooo cozy and comforting.  Plus, this curry makes for the best leftovers.
We usually whip up a quick batch once a week or so with rice noodles, tofu, and whatever leftover veggies happen to be in the fridge that day.  But it also tastes great served over noodles, rice, quinoa, or whatever else may sound good.  And of course, you're always welcome to sub in any other proteins that you love (such as chicken, beef, pork, or shrimp), and adjust the recipe to be as spicy, mild, soupy, sweet, or creamy as you prefer.
Basically, this recipe is super-duper flexible, quick and easy to make, and fantastic for packaging up for lunches later in the week. So if you also happen to be on Team Red Curry, grab some curry paste and let's make a big batch together!