This Mushroom Lovers Pasta recipe is tossed with the most heavenly balsamic butter sauce, a generous handful of Parmesan, and whatever kinds of mushrooms you love most.
distro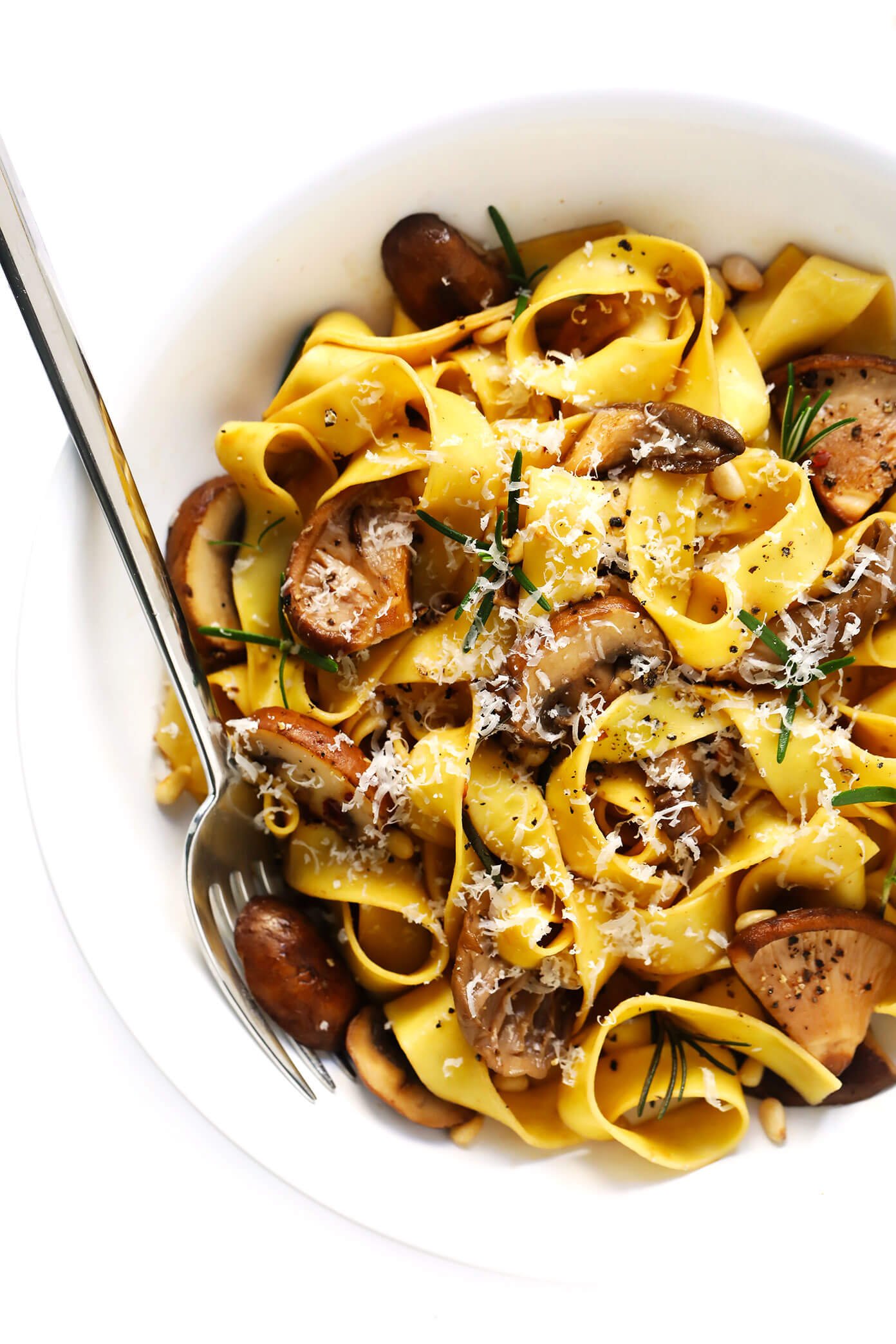 Have any fun plans for Valentine's this year?
I'm going to be living vicariously through all of you Americans on Instagram tomorrow, because Valentine's Day isn't really celebrated here in Barcelona.  Instead, they have Sant Jordi Day — a holiday here in April when everyone gives each other books and roses and celebrates the story of a princess who was rescued from being eaten by a dragon, no less!  So we have that to look forward to.  (Can't wait!)
But otherwise, tomorrow will probably just be a regular day here in Spain.  I've got work, a haircut, and Spanish class on the agenda.  Then we'll probably settle in for a low-key date night here at home afterwards with some Netflix.  And, of course, pasta and chocolate.  Because no Valentine's is complete in my book without some kind of indulgent pasta and chocolate for dessert. ♡♡♡
So to that end, I'm planning to make another round of these Dreamy Chocolate Lava Cakes and some kind of big green salad.  And then for our main course, my husband has requested this pasta.  We've been making various versions of it this past year, especially since good mushrooms are in such abundance here in Spain.  And oh my goodness, it hits the spot every time.
I love it because we use twice the amount of mushrooms as pasta in the dish, which adds tons of flavor and makes it nice and hearty.  (Feel free to use whatever kinds of mushrooms you love most.)  But this savory sauce — simmered with rosemary, white wine, garlic, balsamic, veggie stock, crushed red pepper flakes — is absolutely divine.  It's total vegetarian comfort food.  And if you're looking for a showstopper of a dish this Valentine's Day, we can't recommend it enough.
So gather up all of your favorite kinds of mushrooms, and let's make some pasta!
(more…)