This homemade hummus recipe is quick and easy to make, super-smooth and creamy, and tastes so fresh and flavorful!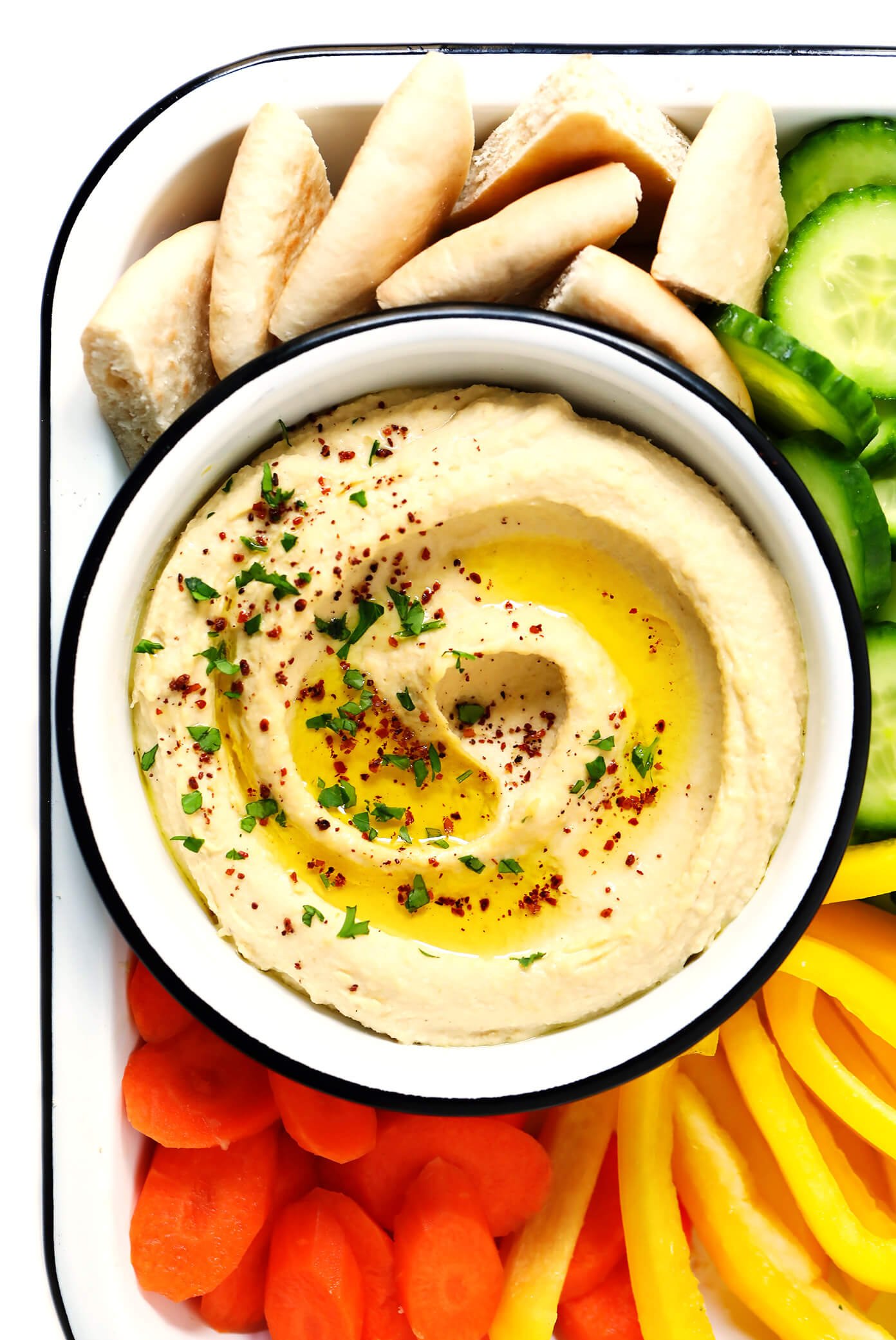 This past month, I've been on a mission to improve my hummus game.  ♡
I've had a basic hummus recipe here on the blog that I've made and enjoyed for years.  But while it was good — I have to admit — it wasn't knock-your-socks-off great.  And ever since we became regulars at this little falafel joint here in Barcelona that introduced us to the creamiest, dreamiest, smoothest, most-flavorful hummus ever, I knew that I needed to go back to the drawing board and kick my old hummus recipe up a notch.
And thus — the hummus testing began.
My first mission was to improve the flavor of my hummus, which was actually a piece of cake.  More tahini, more lemon juice, more garlic, and more salt instantly livened and brightened up the flavor of this dip.  Plus a generous sprinkle of ground sumac on top (the preferred spice of our falafel spot), or maybe some paprika if you prefer.
My second mission was to improve the texture of my hummus and make it as silky-smooth as possible, which ended up being a total recipe-testing rabbit hole.  Turns out that the internet is full of opinions about exactly how to achieve the perfect creamy texture, most of which have to do with how to cook your chickpeas.  So in the quest for killer hummus, I put on my Ali's Test Kitchen hat and tried 'em all.  From Solmonov's famous method of soaking dried chickpeas overnight and then boiling them until they are overcooked in baking soda, to Epicurious' shortened method of just boiling a can of chickpeas in water for 20 minutes, to Melissa Clark's scratch Instant Pot hummus, to the Washington Post's super-speedy method of pureeing the hummus for a full 3 minutes in the food processor, to various tips from around the internet to incorporate aquafaba, use a blender, and (ugh) individually peel every one of those little chickpeas — well, let's just say it's a good thing that Barclay and I love hummus because we're nearly twenty batches in this month (and counting).
Our conclusion?
I hate to say it, but the difference between most of these methods was pretty microscopic.  From the way that people talk online, I was expecting pretty dramatic differences between the various methods once we lined our batches of hummus up side by side for round after round of blind taste-testing.  But most of our conversations ended up being like, "Dang, I don't know, I mean maybe batch three is a teeny bit smoother than batch four?!"
In the end, the most game-changing factor for us ended up being the easiest, quickest, almost-hate-to-admit-it-after-all-of-that-testing step of all — simply pureeing your hummus an extra few minutes in the food processor.  I know, it seems so obvious.  But giving the food processor a few extra minutes to work its magic seemed to be the key factor in achieving that perfectly creamy, light, whipped texture that we were going for.
That said, yes, the flavor and texture may have been a tiny bit better with boiled-from-scratch chickpeas, either made on the stove or in the Instant Pot.  Or yes, if you're using canned chickpeas and have an extra 20 minutes to boil them before pureeing, the texture may be just a tiny bit creamier.  But honestly, after blitzing our final three batches for 4 full minutes in the food processor — one with chickpeas boiled from scratch, one with canned chickpeas boiled for 20 minutes, and one with chickpeas just straight outta the can — Barclay and I couldn't even reach an agreement with blind taste-testing about which one was the smoothest.  Those extra few minutes in the food processor seemed to even them all out!
Anyway, I know that hummus-making opinions on the internet are very passionate.  So to each hummus maker, his or her own.  But if you'd like to try the recipe and method that we landed on in our house after our hummus-a-thon, here it is!