This Sesame Beef and Cabbage Stir-Fry recipe is quick and easy to make, tossed with a sesame ginger stir-fry sauce, and absolutely delicious!  Meal prep tips included too.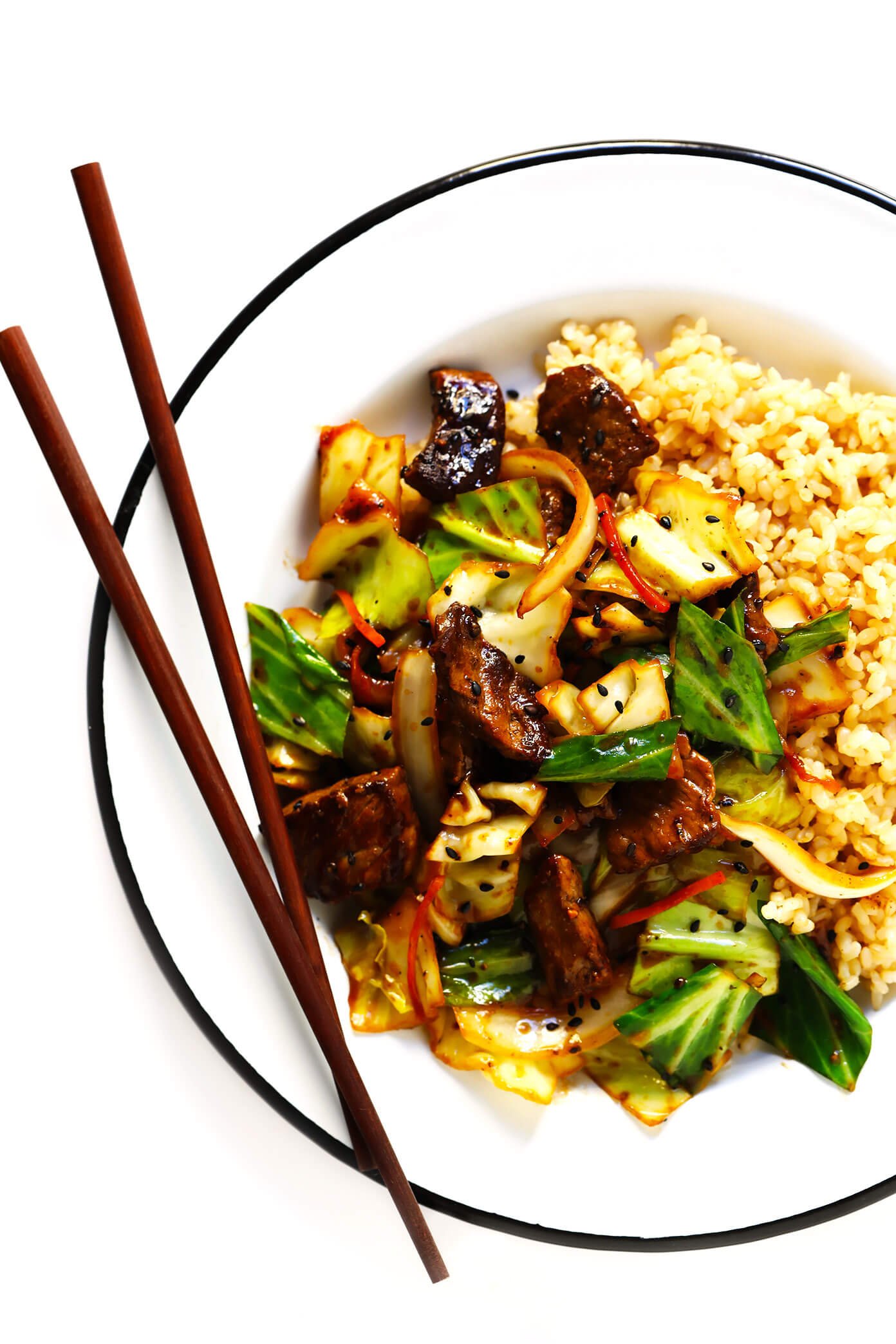 Beef (stir-fry)…it's what's for dinner!
Or at least, it's what's been on the menu for lunch around here this past week.  ♡
Now that Barclay has switched to officing out of a coworking space here in Barcelona, I'm back on my own here for lunches again.  So I've been getting back into the meal planning groove to try and prep some healthy meals each weekend for the week ahead.  And now that I'm back to just cooking for myself, I'll be the first to admit that the very first ingredient I reached for at the store without even thinking was — yep — a nice, juicy, organic steak.  Ha, I promise that I genuinely have been content switching to a mostly plant-based diet ever since I married this vegetarian husband of mine.  But every now and then, this Midwestern girl still misses her steak!!
Sure enough, this beef stir-fry totally hit the spot.  It's loaded up with tons of cabbage, which keeps the dish feeling nice and light and not too heavy.  It's tossed in a yummy sesame ginger sauce, which you can double if you would like the stir-fry to be extra saucy.  It can be served up with rice, noodles, quinoa or any other grains that you prefer, or it can also stand solo.  It'll be ready to go in just 30 minutes, making it perfect for meal prep or a quick weeknight dinner.  And best of all — it's absolutely delicious.
So for any of you out there who also might have a steak craving this week, pick up a head of cabbage and let's stir-fry!
(more…)