All of our best travel tips for where to eat, stay and visit in Lisbon, Portugal.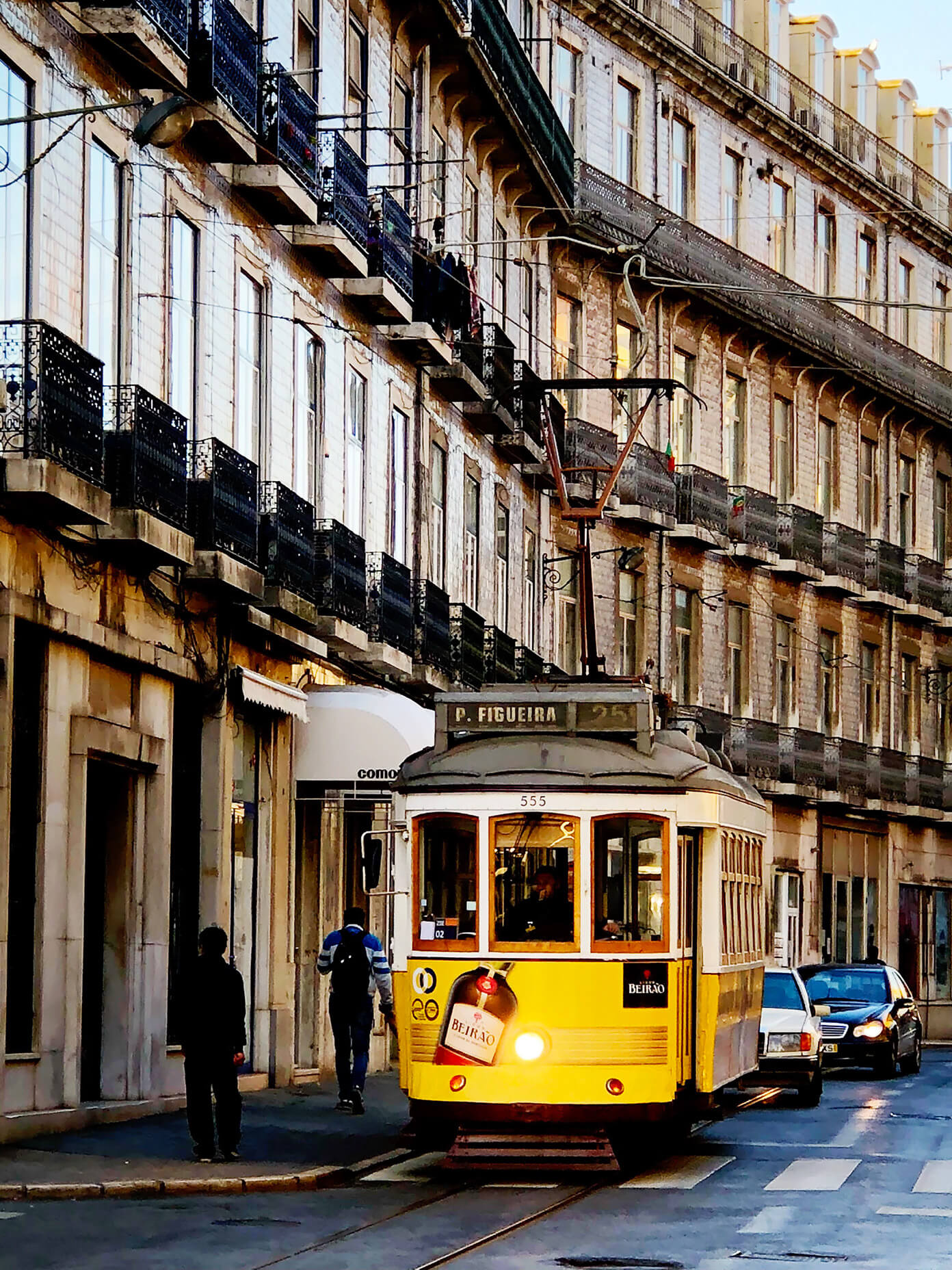 Well, I think this officially wins the award as the latest trip recap I've ever posted.  (Whoops, my apologies to those of you who keep asking for our travel recs!)  But this week, I finally finished editing our photos and travel notes from our trip to Lisbon and — wow — I was reminded all over again what a fantastic trip this was.
Our time in Lisbon actually was actually a spur-of-the-moment weekend getaway for us, thanks to some $30 round trip airline tickets that we happened to spot online a few days beforehand.  (Still can't get over these European airline deals!)  But Portugal had been at the top of our traveling bucket list ever since we had moved abroad, and we had a free weekend ahead.  So even though it was a bit chilly at the time in mid-October, we decided to do what all of our European friends are teaching us to do and just go!
Sure enough, Lisbon did not disappoint. ♡
From its laid-back, gorgeous, history-meets-hipster vibe, to sparkling mosaic streets, to legendary Fado and hole-in-the-wall live music venues, to the iconic bright yellow trams, to sampling all of the tinned fish, caldo verde, salted cod, Ginjinha, vinho verde, and pastel de nata a girl could ask for — we fell hard for this beautiful city and its rich culture.  We also really enjoyed learning more about the country's development over the past few decades after transitioning into a democracy.  (Interestingly, Portugal was liberated from their dictatorship in '76, just a year after Spain in '75.)  So as you can imagine, all of the locals we talked to had fascinating stories to tell about these past few decades, especially about how the rise in tourism has completely changed their everyday lives, naturally both for better and for worse.
Without a doubt, though, our main takeaway from our trip was just how much pride the locals had in their beautiful culture.  Everyone we met couldn't wait to introduce us to their favorite bottle of wine or local cheese, or direct us where to find the best live music in the neighborhood, or explain in detail exactly why pastel de nata is the best dessert in the world, or add to our ever-growing bucket list of other places in the country that we needed to visit.  Which — of course — just made each experience all the more special.  We loved how much everyone there loved Lisbon, and really hope to return someday!
That said, if you've been thinking about making a trip there yourself, I would totally say go now if you can before it gets even more inundated with tourists.  (The city felt comfortably full of tourists while we were there in October, but everyone we talked to there was expecting tourism to rise exponentially in the next few years — oof.)  We are hoping to pop back over this year when it warms up to balance out our Lisbon experience with a visit to the beachy side of Portugal, working our way up the coast to Porto.  So hopefully, more Portuguese travel recs to come soon.
But for today, here are all of the best places we went in Lisbon!  As always, most of these recommendations came directly from your messages, so thank you for helping make our trip all the more delightful and delicious!  If you have any additional recommendations, please leave them below for future travelers.  And if you happen to go and use this guide, I would love to hear how your trip goes!
Alright, without further ado, here's Lisbon!