The BEST Puppy Chow (Muddy Buddies) recipe and it's SO easy to make! You will love this decadent chocolate peanut butter cereal treat! It is the perfect party recipe and always a hit during the holidays.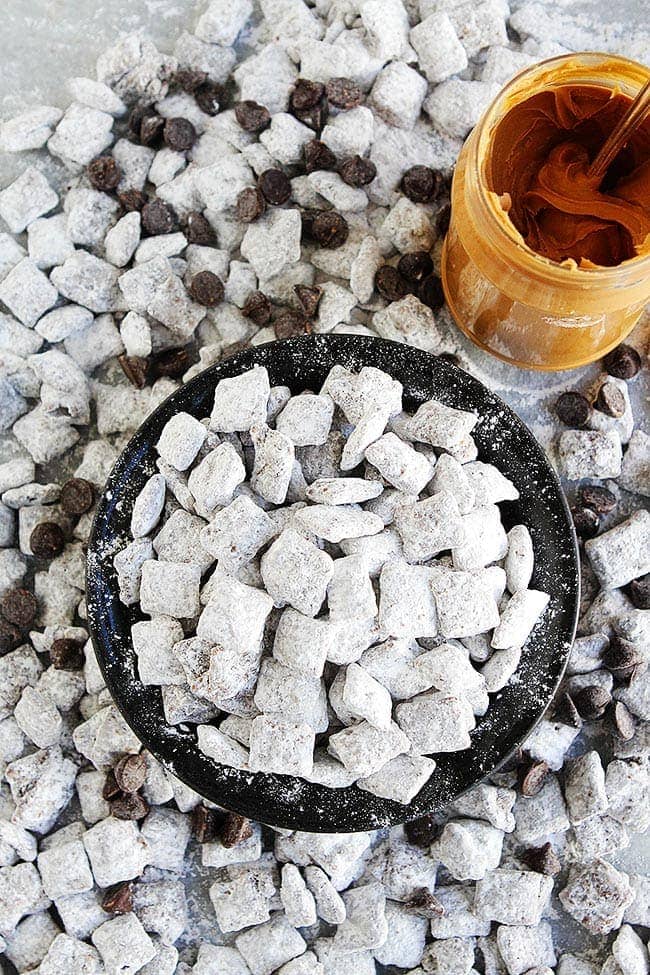 What is Puppy Chow?
Puppy chow is one of my all-time favorite treats, and I am not talking about dog food. I promise I haven't lost it:) I am talking about the decadent chocolate peanut butter cereal treat that is covered in powdered sugar. It's kind of like dessert Chex Mix. I grew up making and eating puppy chow, it was a staple at our house especially during the holiday months.
So why is it called puppy chow? Well, because it kind of looks like real puppy chow…ha! But don't worry it is SO much better, not that I have tasted real dog food:) Just make sure you don't give this recipe to your dog, it has chocolate, which isn't safe for dogs, but it is very safe for humans. This is human chow:)
If you have made puppy chow, you know it is one of the best treats of all-time. And if you haven't made it, you are in for a real treat because you are going to LOVE this easy recipe!
Puppy Chow or Muddy Buddies?
So there is a little debate about the name of this popular treat. Some people call it Puppy Chow and some call it Muddy Buddies. General Mills, who makes Chex cereal, started making and selling Muddy Buddies in stores and that is their official name for the snack. I grew up calling it puppy chow so that is what we are going with today, but Muddy Buddies is perfectly fine too. And I have also heard it called Reindeer Chow, Muddy Munch, and Monkey Munch. You can call it whatever you want, it will still be delicious! I mean, people LOVE it and it's called puppy chow, so you KNOW it is good:)