Meet…the absolute BEST chocolate chip cookies recipe.  They're perfectly soft and chewy and buttery, loaded up with chocolate chips, easy to make, and downright delicious.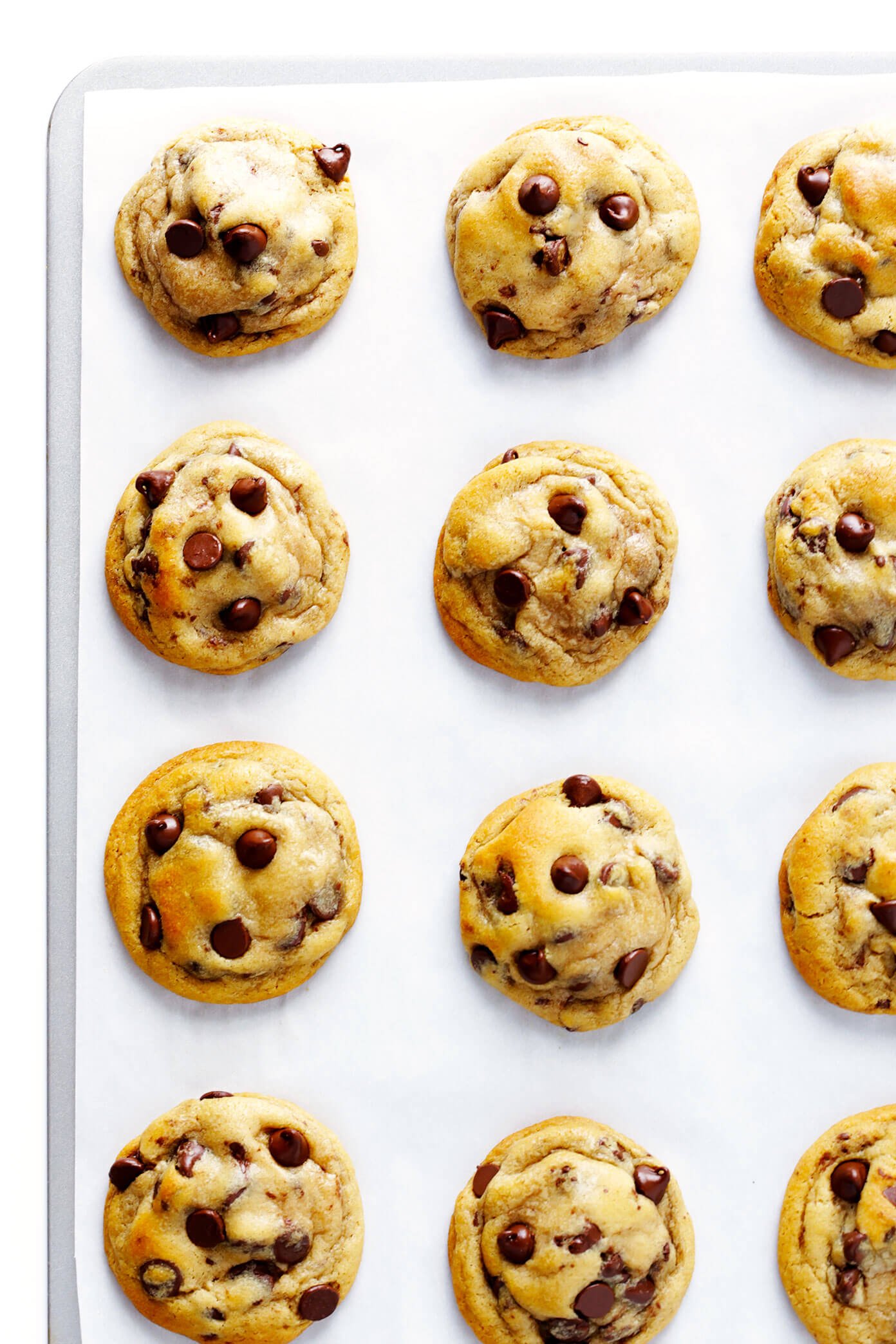 Breaking news here from our tiny little kitchen here in Spain…
…we have a brand new oven!!! ♡
Notably, we have a brand new oven that actually works.  You know, one that doesn't shut off in the middle of cooking, that actually heats to the correct temperature, that that doesn't char the tops of everything…it's nothing fancy, but after having had to put up with a wildly-dysfunctional oven for over a year, this simple new addition to our casita feels like a total game changer.  For the first time since moving to Spain, I actually feel excited to bake again.  And the timing couldn't be better with the arrival of holiday cookie baking season!
So to celebrate this month, we've promised to bake up a sampler of all of the most classic American cookies here for our European friends to try.  (Which has been super fun so far…they absolutely adore American cookies!)  And here on the blog, I thought that I would circle back with a week full of my favorite cookie recipes for anyone else around the world who's in the mood for some holiday cookie baking!  I've lined up seven of my most classic faves for you, complete with some new photos and updated baking tips.  And today, there of course seemed like only one proper way to kick things off.
Meet…my all-time favorite recipe for the softest, chewiest, dreamiest, hands-down best chocolate chip cookies.
I first shared this chocolate chip cookie recipe on the blog a few years ago.  And years later, it is still my go-to, and I'm happy to report that it has now become so many of yours as well!  These chocolate chip cookies are super-soft and chewy, they're perfectly buttery and vanilla-y, they're loaded up with as many (or as few) chocolate chips as your heart desires, and in my cookie-loving opinion, they are simply the best.
So if you're looking for a few chocolate chip cookie recipe to try this season, bookmark this one and give it a try.  It's a keeper!
The BEST Chocolate Chip Cookie Recipe | 1-Minute Video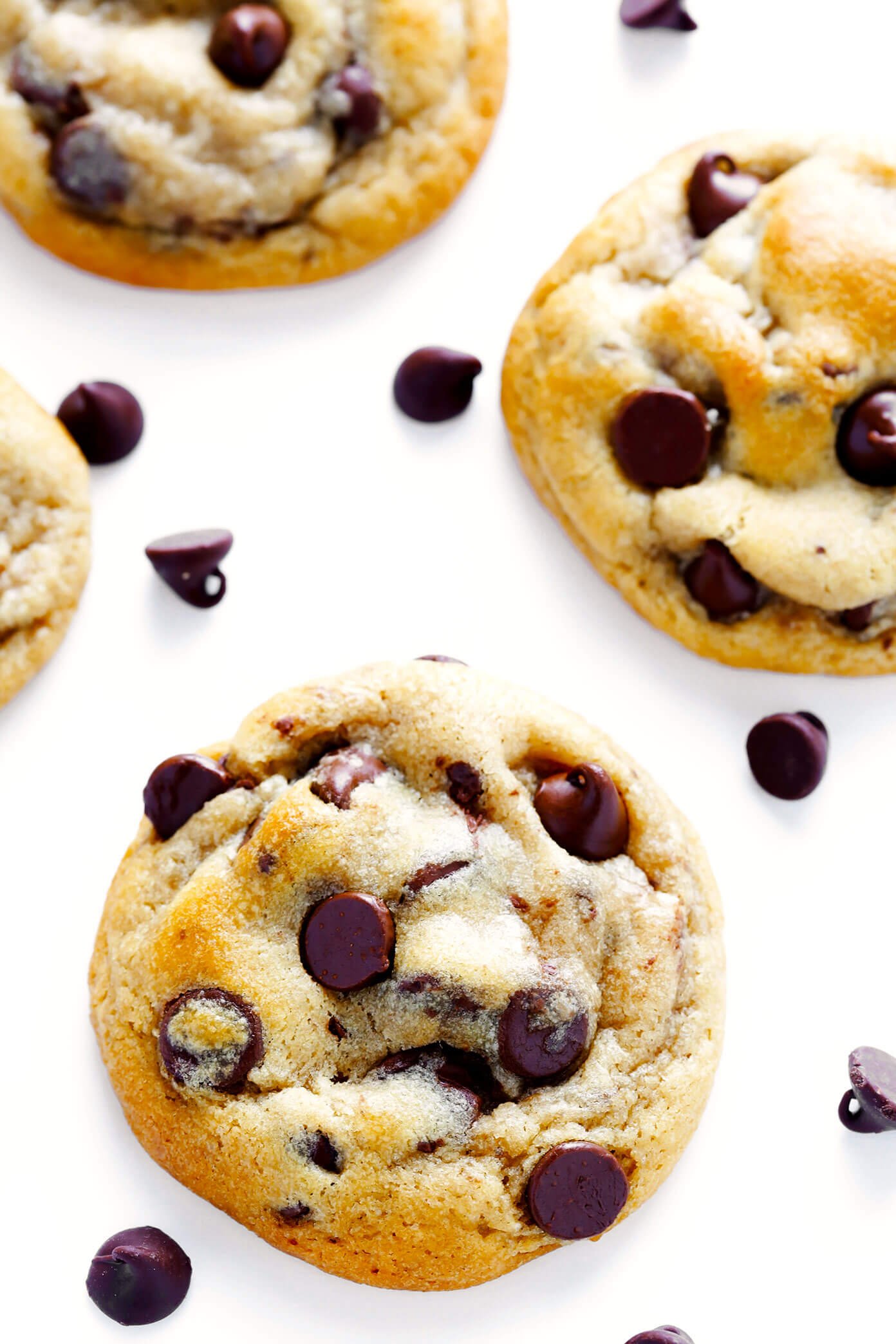 Tips For The Best Chocolate Chip Cookies:
So what is it exactly about this classic chocolate chip cookie recipe that makes it such a winner?  Here are a few key CCC factors and tips that I've learned over the years…
All butter, all the way: I grew up making chocolate chip cookies with a half-shortening, half-butter base.  Then over the years experimented with using coconut oil, to olive oil, to vegetable oil, to melted butter, and everything in between.  But at the end of the day, when I'm craving a classic old-school chocolate chip cookie, I come back to this all-butter cookie recipe every time.  That buttery taste is just unbeatable, and yields the most soft and delicious cookie a girl could ask for.  They key is just to make sure that your butter is legit room-temperature so that it will cream correctly with the sugars.
Use both brown and white sugar: On that note, we will also be using two different sugars in this recipe — classic white granulated sugar and brown sugar.  Because we're goin' for it.
Extra vanilla: My dad taught me the secret when we were kids to always (always) use two full teaspoons of vanilla per batch of dozen cookies.  And I'm convinced it's the small secret that makes these cookies extra delicious.
Add cornstarch: Yep, sounds strange, but I learned from Anna Olsen years ago that adding a hint of cornstarch is the secret to making your cookies extra chewy.  It really works!
Refrigerate your dough: To help prevent your cookies from spreading, refrigerate your entire batch of dough for 2 hours before baking.  (This will help the butter firm back up, so that it doesn't melt and spread instantly in the oven.)  Or to speed up the process, go ahead and form your dough balls and place them on a baking sheet.  Then refrigerate the entire baking sheet for 20 minutes or so, until the dough balls are nice and chilled.  Then…
Don't forget those extra chocolate chips: Food stylist's secret — to make your cookies look extra delicious, poke a few extra chocolate chips into your dough balls just before baking.  That way the chocolate chips will be nice and visible, and also, who can argue with some extra chocolate in their cookies?
Bake on parchment: Always bake on parchment or a silicone baking mat for the perfect cookies.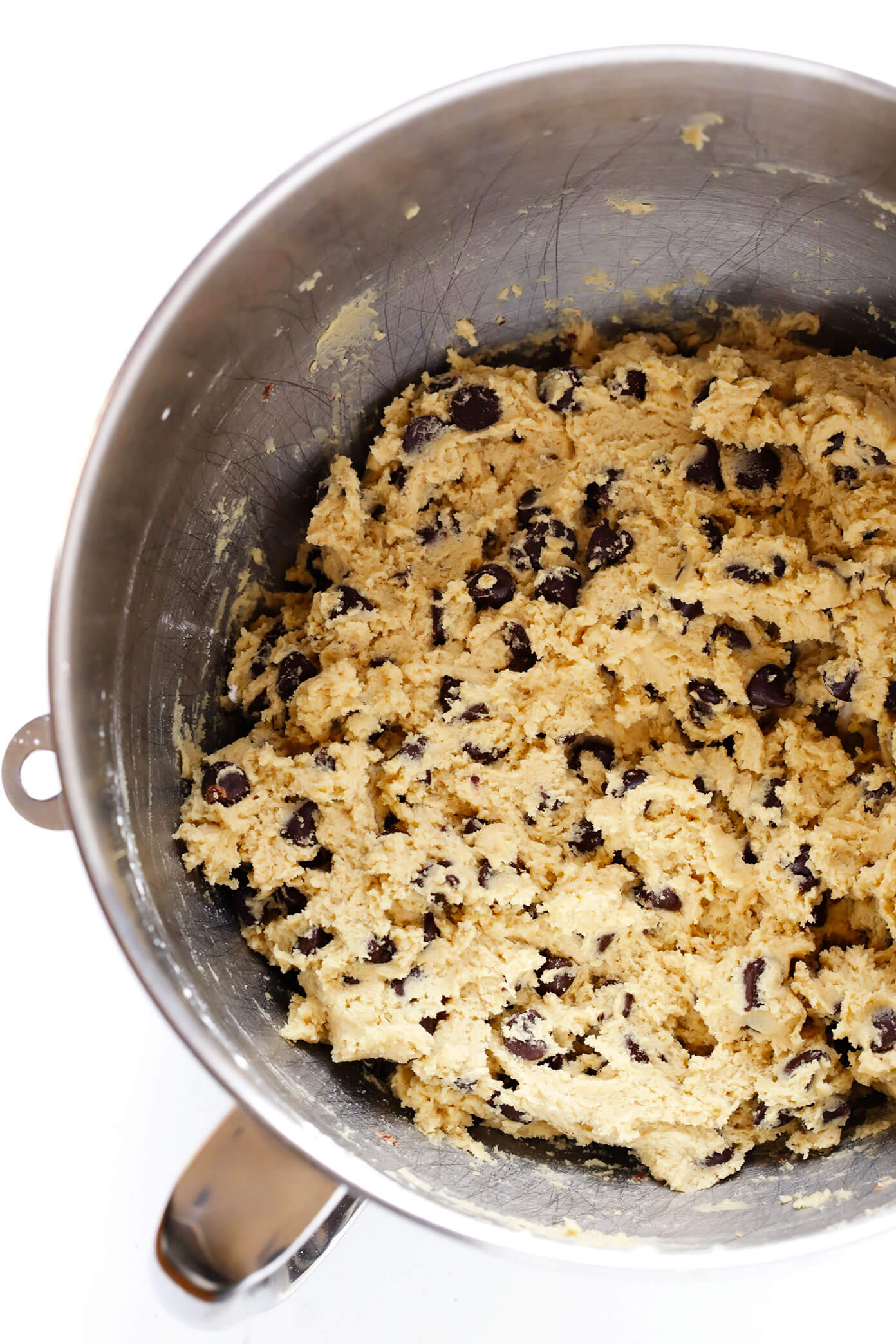 Chocolate Chip Cookie Ingredients:
Alright, now that you know the tips, let's make our ingredient list!  To make this chocolate chip cookie recipe, you will need:
Butter: Softened to room temperature.  It's very important that the butter is not too hard, and definitely not melted, for it to cream properly with the sugars.
Sugars: I like a blend of 2/3 brown sugar (for that delicious molasses flavor) and 1/3 white granulated sugar.  But feel free to experiment with different ratios if you prefer.
Egg: Just one. 🙂
Vanilla extract: Either store-bought or homemade.
All-purpose flour: As I said, when I'm craving this classic recipe, I unapologetically go for the old-school AP flour, butter and sugars.  But if you would like a slightly healthier alternative, I have also made this recipe multiple times with white whole wheat flour, and it also bakes up nicely.
Cornstarch: To help make the cookies extra chewy.
Baking soda: Be sure that your box of baking soda is fresh and not expired.
Salt: We will add some to the dough itself, but I also love sprinkling some flaky sea salt on top of the dough balls (or on top of the cookies after baking) for an extra crunch and bit of saltiness.
Semisweet chocolate chips: I usually use standard-sized semisweet chocolate chips, but feel free to use mini semisweet chips or whatever other flavors you like.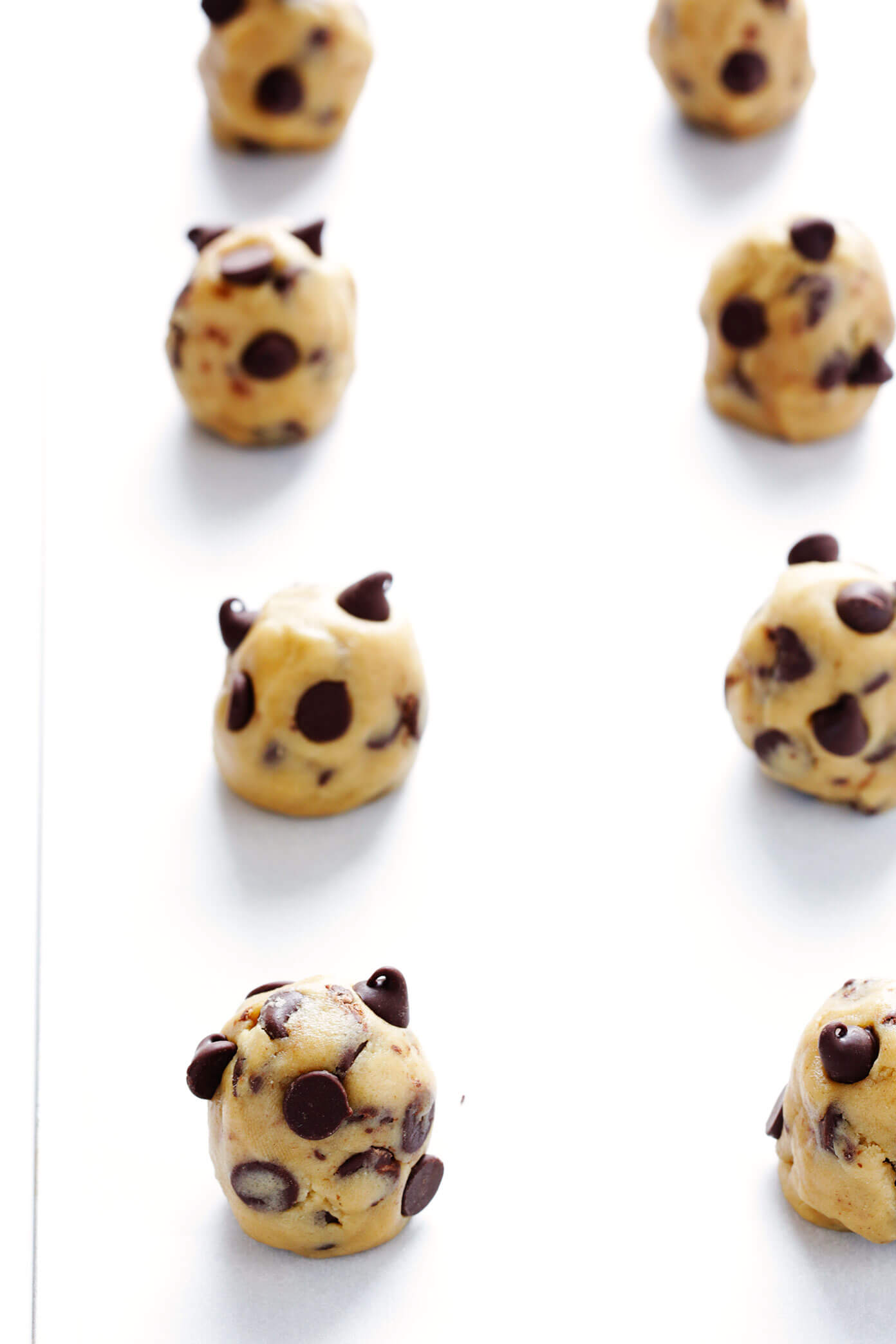 How To Make Chocolate Chip Cookies:
asdf
asdf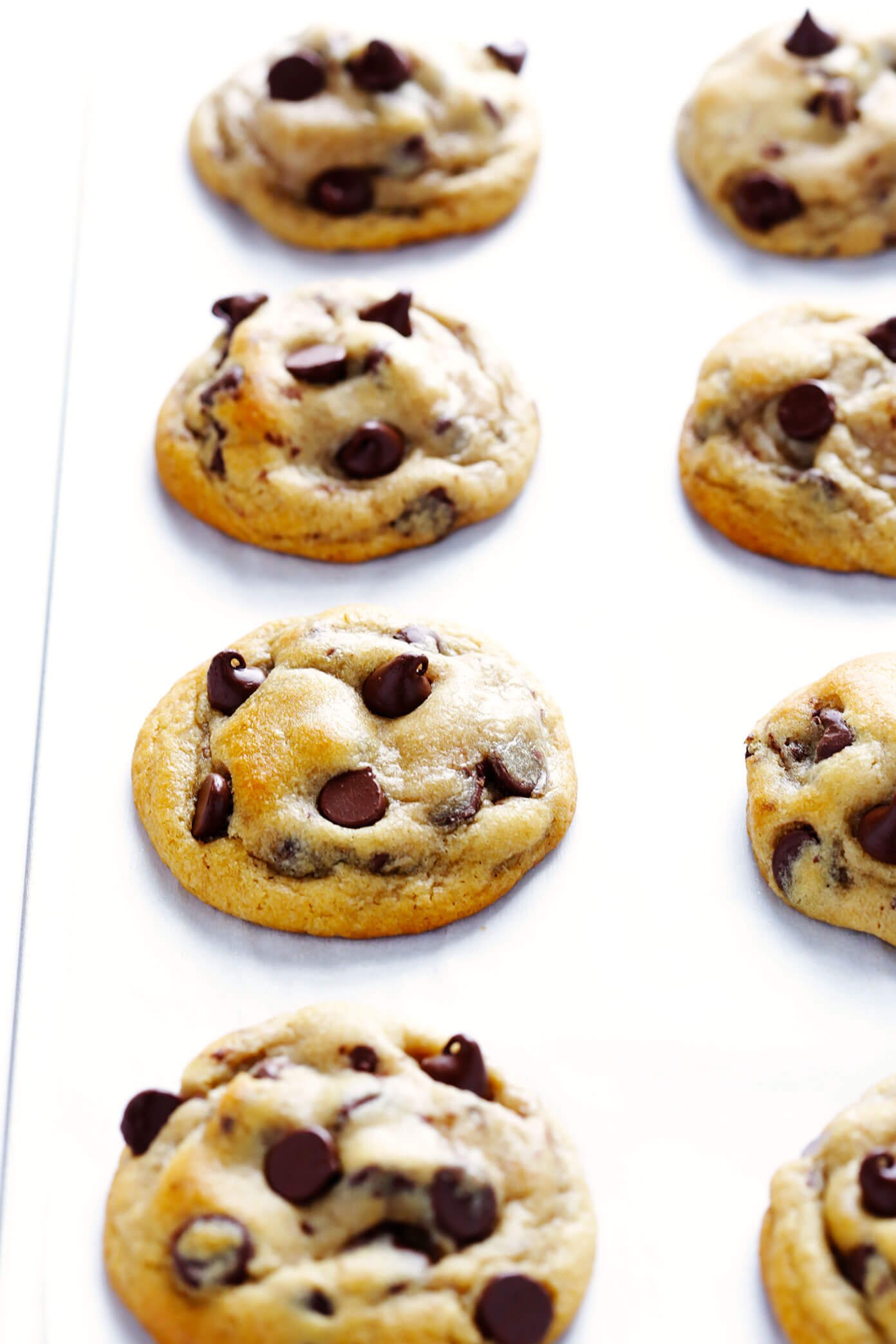 Possible Variations:
asdf
asdf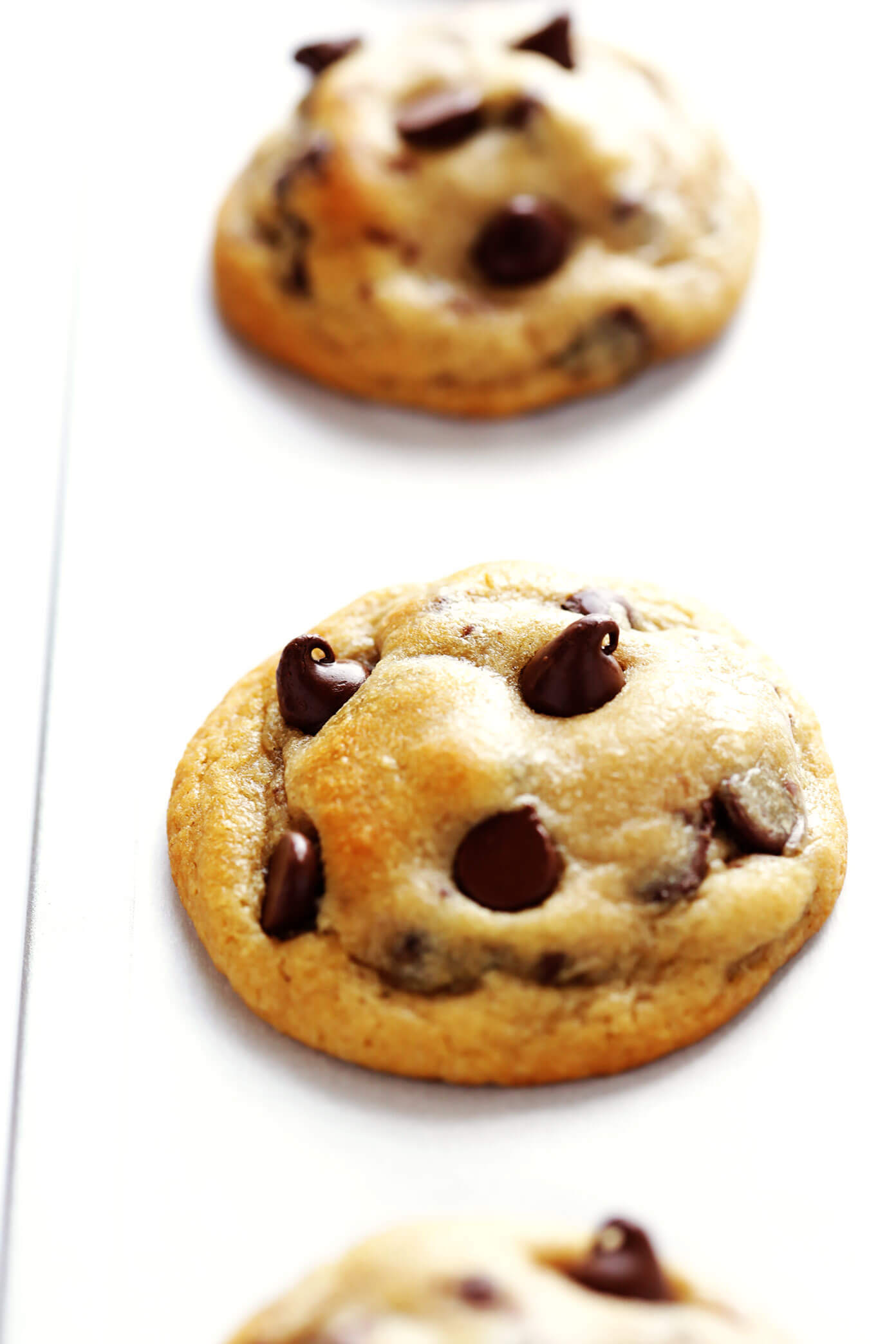 How To Store / Freeze These Cookies:
asdf
asdf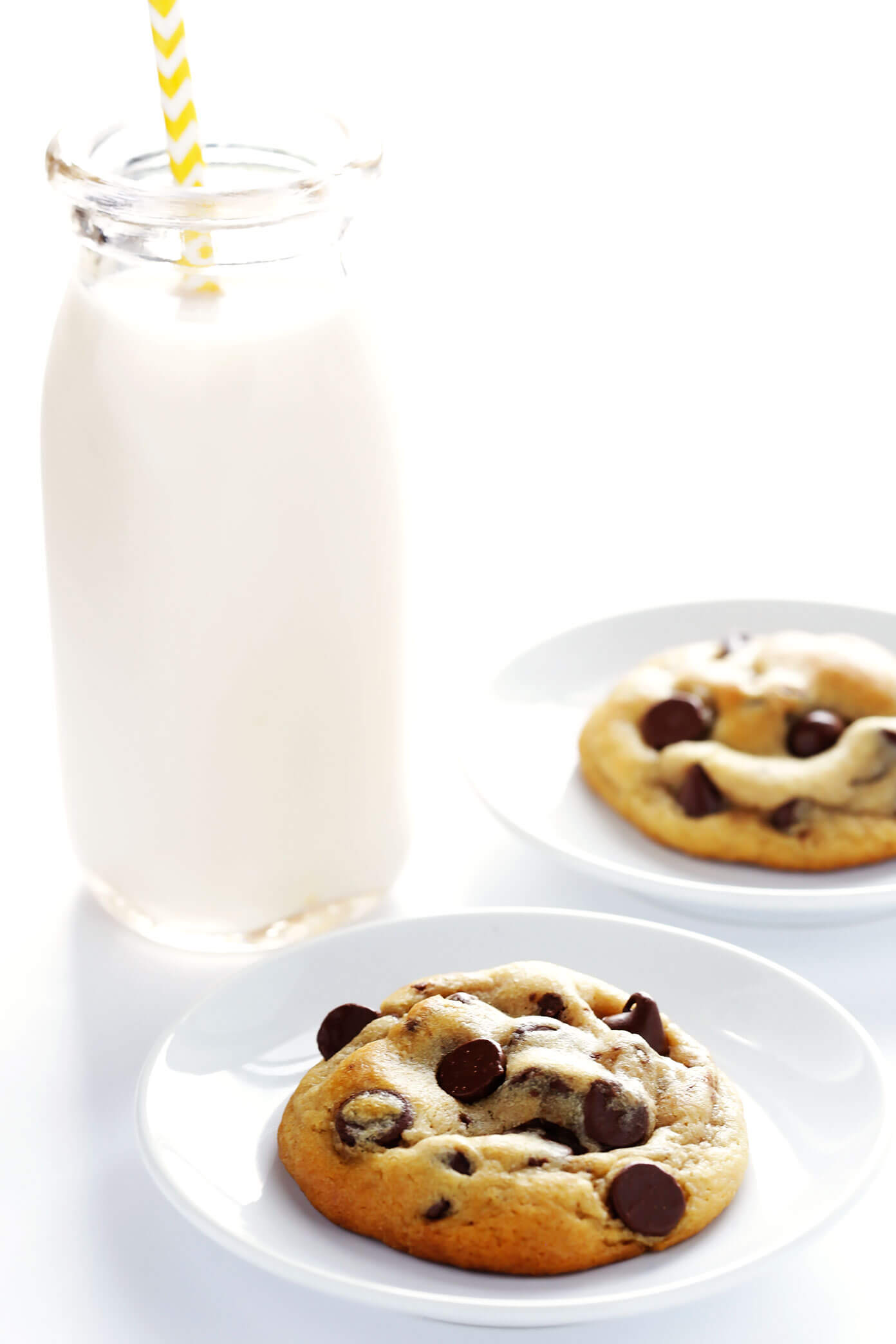 More Favorite Cookie Recipes:
asdf
asdf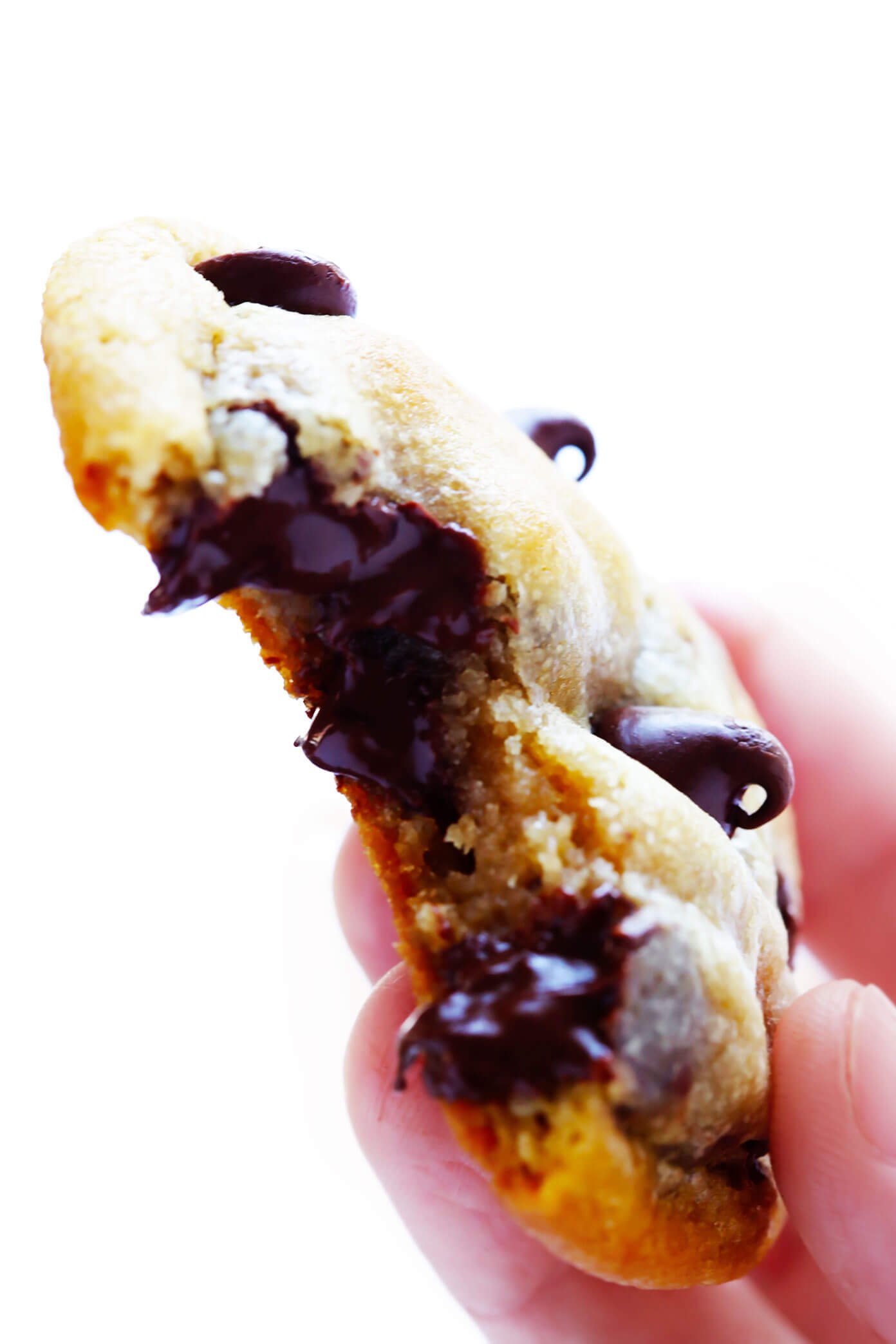 The BEST Chocolate Chip Cookies!
Hands-down the BEST chocolate chip cookies recipe!  These cookies are perfectly soft and chewy, loaded up with chocolate chips, and absolutely delicious.
Ingredients:
1/2 cup butter, softened to room temperature
1/2 cup brown sugar, packed
1/3 cup granulated sugar
1 egg
2 teaspoons vanilla extract, store-bought or homemade
1 1/2 cup all-purpose flour
2 teaspoons cornstarch
1 teaspoon baking soda
1/4 teaspoon salt
1 cup semisweet chocolate chips
Directions:
Preheat oven to 350°F.  In the bowl of a stand mixer, use the paddle attachment to cream together the softened butter and sugars on medium-high speed until light and fluffy, about 3 minutes.  Add egg and vanilla, and mix until combined, about 1 minute.
Add in the flour, cornstarch, baking soda and salt, and beat on medium-low speed until combined.  Fold in the chocolate chips by hand until just combined.
Shape the dough into balls that are about 1-inch in diameter, and place them on a parchment-covered baking sheet.  Chill in the refrigerator for at least 10-20 minutes, or until the dough is chilled through.  (This will help prevent the cookies from spreading out too flat when they bake.)
Bake for 10-12 minutes until the edges are just set. The centers may look slightly undercooked. Cool cookies on the baking sheet for about 5 minutes, then transfer to a wire rack to finish cooling. Serve immediately or store in a sealed container for up to 1 week. You can also freeze the cookies for up to 3-4 months.
All images and text ©Gimme Some Oven
If you make this recipe, be sure to snap a photo and hashtag it #gimmesomeoven. I'd love to see what you cook!
This post contains affiliate links.