Shaved Brussels Sprouts Salad-thinly shaved brussels sprouts with apple, dried cranberries, sunflower seeds, Parmesan cheese, and a simple maple mustard dressing. This easy Brussels Sprouts Salad is the perfect side dish for Fall or the Holidays.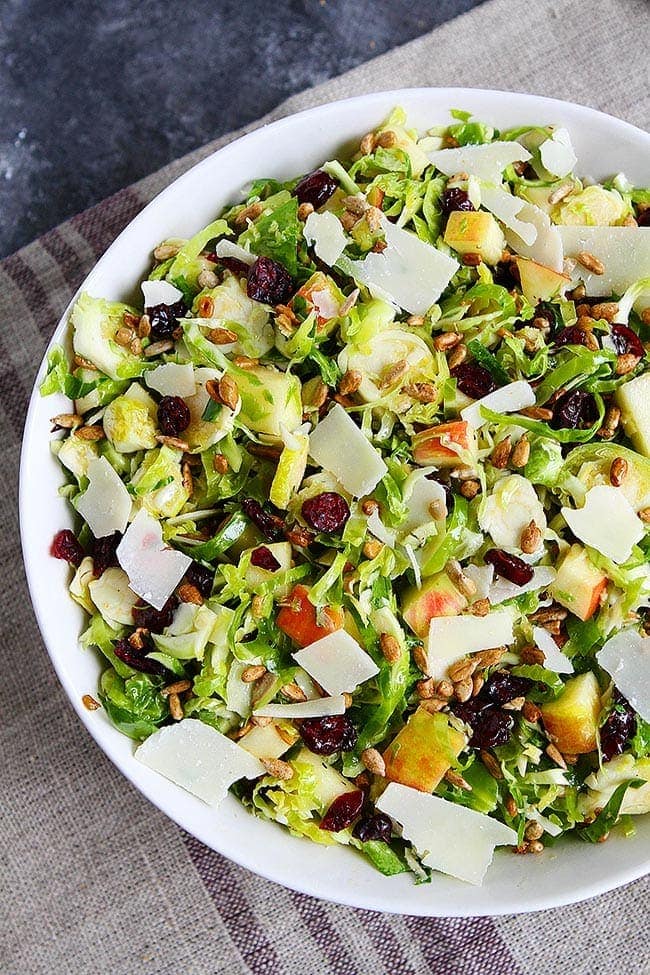 Brussels Sprouts Salad
If you are looking for the perfect salad to serve at your Thanksgiving or Christmas dinner, you are in luck because this simple Brussels Sprouts Salad is always a holiday favorite! I make it all fall because I love it so much, I can't wait for the holidays, but I always make sure it is on our Thanksgiving and Christmas menu. The flavors are incredible, it is pretty to serve, and it holds up well so you can make it in advance. Plus, our friends and family love it! It's a winning salad!
How to Make Shredded Brussels Sprouts
To make a brussels sprouts salad, first you have to shred or shave the brussels sprouts. Don't worry, it is easy! You can use a food processor, mandoline, or sharp knife, all methods work really well.
First, wash the brussels sprouts really well and remove any leaves that are damaged. Trim off the ends with a sharp knife.
To shred brussels sprouts in the food processor, use the slicing attachment and pulse the brussels sprouts until they are shredded.
To shave the brussels sprouts with a mandoline, make sure you are VERY careful. Use the guard or even better, get a cut resistant glove. Use the thinnest blade on the mandoline to thinly slice the brussels sprouts.
To shave the brussels sprouts with a knife, use a sharp knife and slice the brussels sprouts as thin as possible.