Mashed Cauliflower-a delicious low-carb side dish that is flavored with garlic, herbs, and butter. This easy cauliflower mash will remind you of mashed potatoes! Serve along side your holiday meal or any meal!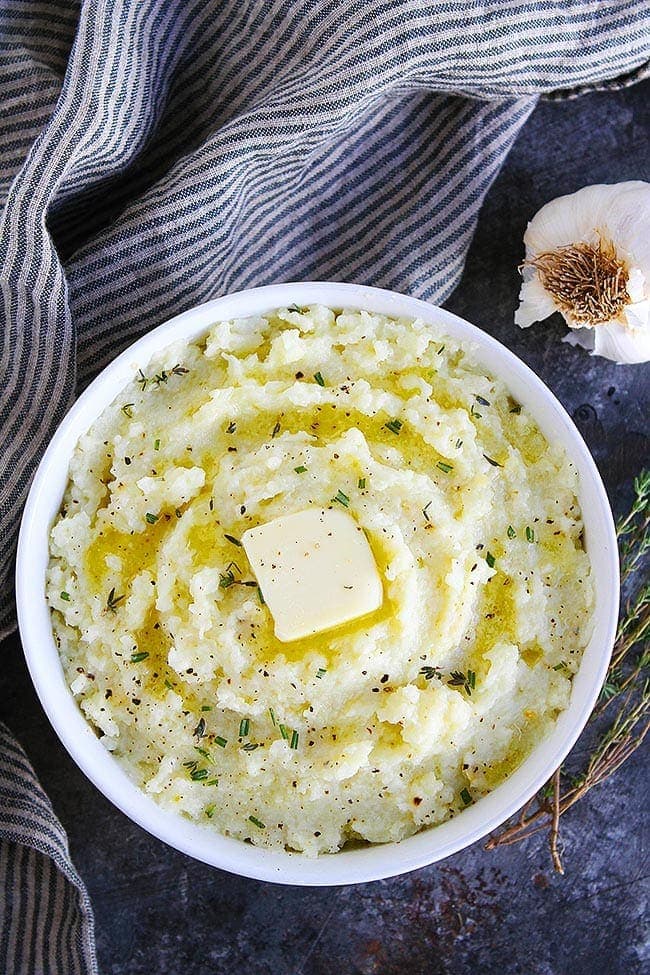 Cauliflower Mashed Potatoes
Cauliflower is one of my all-time favorite vegetables. I love it roasted, in salads, in grilled cheese, in chowder, in tacos, and the list goes on. Cauliflower is a wonderful vegetable because is can be used in SO many ways! It is kind of a magic vegetable, you can even use it to make Cauliflower Mashed Potatoes. Yes, cauliflower mashed potatoes! It's a thing and it's a VERY good thing. Cauliflower turns into a creamy cauliflower mash that will remind you of mashed potatoes. If you don't believe me, ask my boys. They love cauliflower mashed potatoes…and they claim they don't like cauliflower:)
Mashed cauliflower is not as starchy as potatoes, but you still get a creamy and delicious texture that is similar to mashed potatoes. This low-carb alternative to mashed potatoes is a great healthy side dish to serve at Thanksgiving, Christmas, Easter, or any meal!