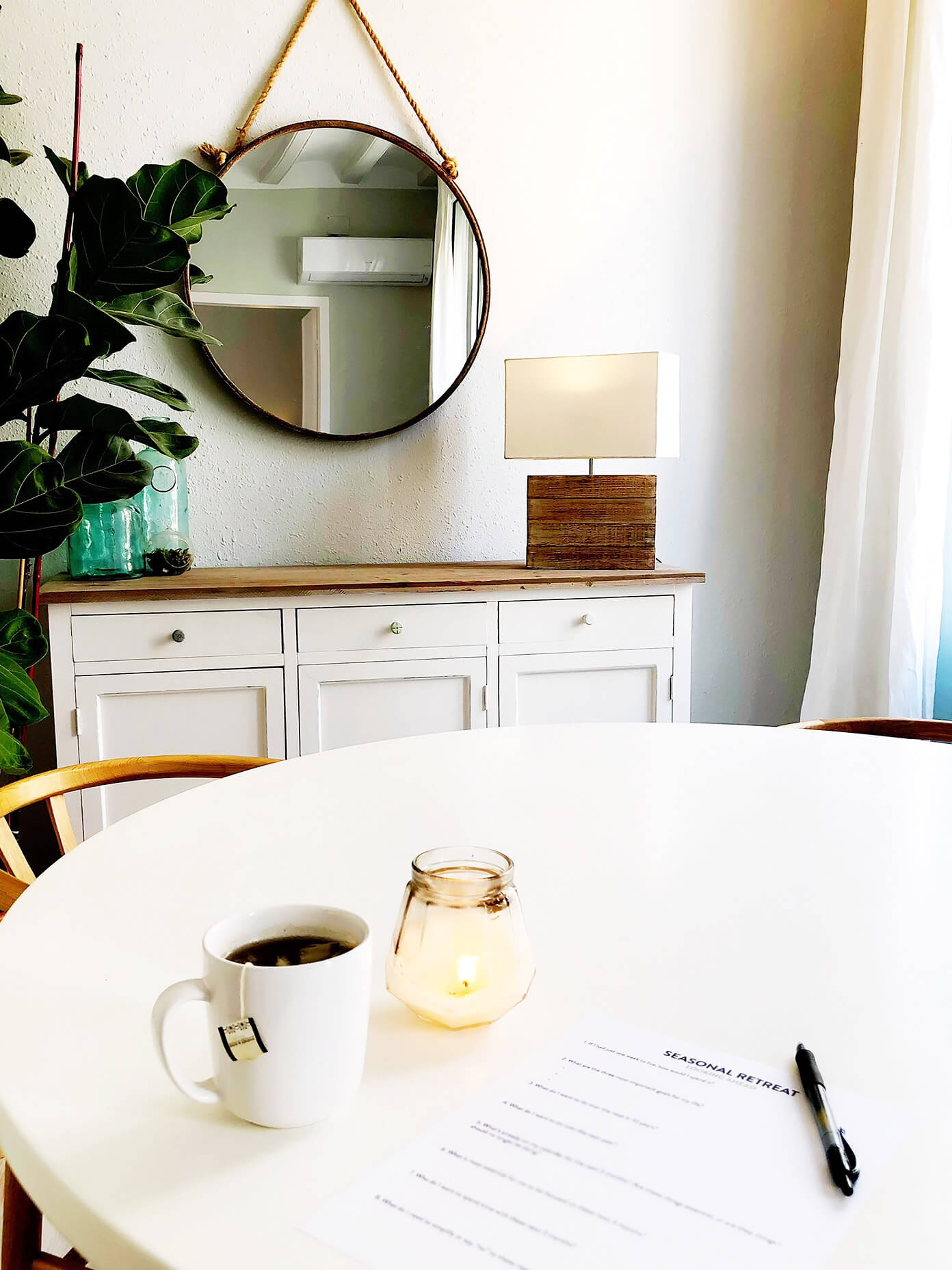 A few years ago, I read the book Essentialism, which I loved for many reasons.  But perhaps mostly so because it introduced me to the idea of the "quarterly personal offsite."  I know, the name sounds ultra-corporate, but the practice itself is actually really simple — taking time once every three months to pause, reflect on a list of questions about how life's going lately, and think intentionally about what's ahead.
I've adopted the practice and schedule it my calendar every three-ish months or so, and over time it has turned into one of my all-time favorite self-care rituals.  ♡
Granted, over the years I have tweaked it a bit to fit my vibe.  Starting with the fact that I nixed the corporate-ese and prefer to refer to this practice my own little "seasonal mini-retreat."  And while it's awesome to get away for an entire day, most of the time my mini-retreat is realistically just an hour or two tucked away in a coffee shop, soaking up sunshine at the park, or cozied up at home with a candle.  Because — let's be real — I've found that comfort and convenience are the two keys to making this practice actually happen for me.
I have also adapted the long list of Essentialism reflection questions down to two short, simple, printable pages of questions that work for me.  They're nothing fancy — just 12 simple questions that help you move from big-picture values and dreaming down to next-three-months details and planning.  And I'm telling you — it's amazing how helpful, clarifying, grounding, restoring, energizing, and motivating a few short hours journaling through them can be.
I'm also convinced that the every-three-months-ness of this ritual is key.  The past three months are fresh enough to reflect upon clearly, both intellectually and emotionally.  And when looking ahead, three months also seems like the perfect amount of time to set some realistic goals and plans, without having the pressure of sticking with something for twelve full months ahead (like, ahem, famously unreliable new year's resolutions).  Plus, hey, a quick solo coffee date every three months is something I can totally fit into the calendar.
Anyway, I shared on Instagram yesterday about my seasonal mini-retreat this fall, which was nothing glamorous by the way — just me, home alone for the morning in my pjs, mug of hot cinnamon spice coffee nearby, candle burning, thinking about the end of our first year in Spain and the beginning of our next.  And tons of you responded that you loved the idea of a quarterly ritual like this, and would love a copy of the questions.  So I thought I'd pop in quickly this morning to share them with you!
Again, if you're thinking about giving this mini-retreat a try, all you really need is an hour or two.  Which makes this perfect for a weekend morning, a long lunch break, or whenever in the week might work for you.  If you're anything like me, these may just turn into some of your favorite hours of the year.  ♡
Here's the scoop: