The amazing "Holy Mole" sauce celebrates all of the delicious flavors traditional Mexican mole sauce.  But thanks to a few shortcuts, it's easy to make in about 20 minutes yet tastes like it has been simmering all day.  Perfect for drizzling on tacos, enchiladas, burritos, nachos, chicken, poblanos, veggies and more.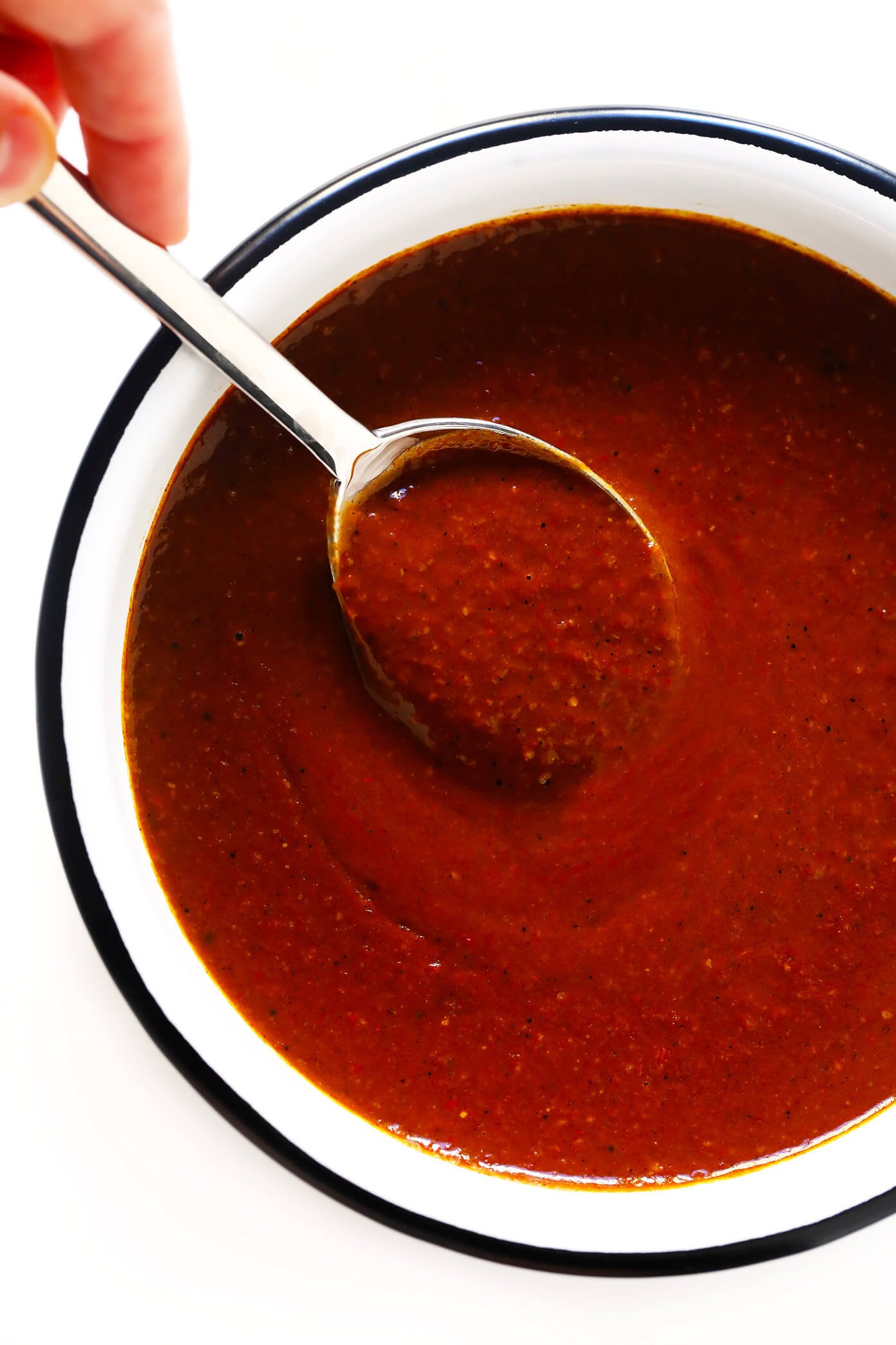 For years and years now, you guys have been asking for a mole sauce recipe here on the blog.  And for years and years now, I have referred you onto other sources because this famously delicious but super-labor-intensive sauce has never really been my style.
Don't get me wrong — I've been a big fan of Mexican mole sauce (pronounced moh-lay) ever since I was first introduced to it in high school.  I've actually even taken two Oaxacan cooking classes over the years specifically to study the authentic art of mole, and have tremendous respect for the tradition behind the sauce and the cooks who so patiently and lovingly make it.  But as much as I love mole, I've gotta be honest — any sauce that requires dozens of ingredients and many hours (or even days!) of work is realistically just not going to be an everyday recipe in kitchen.
However, a 20-minute version that still tastes amazing that I can easily whip up on a weeknight?!
Game-changer.  ♡
Friends, allow me to introduce you to my new aptly-named "holy mole sauce" recipe.  It's features all of the rich, layered, nutty, chocolate-y, savory, and slightly sweet flavors that I love in a good authentic mole.  But thanks to a dozen shortcuts, it can magically come together on the stovetop in record time.  It's also naturally vegan and can be made gluten-free, if you'd like.  It's easy to customize with your desired level of spiciness and sweetness.  It can be drizzled on everything from tacos to enchiladas, nachos, burritos, poblanos, baked proteins, veggies, rices and more.  And it is downright irresistible.
Now, I'll be the first to say it — 20-minute mole will never be truly authentic mole.  But if you're looking for a killer new 20-minute sauce to add to your repertoire, holy moly, I recommend that you gather the ingredients and make this one stat.  I think you're going to love it.