This classic pumpkin roll recipe is made with a delicious pumpkin cake and heavenly cream cheese filling…and it's surprisingly easy to make.  See the video below for a visual on how to assemble your pumpkin roll!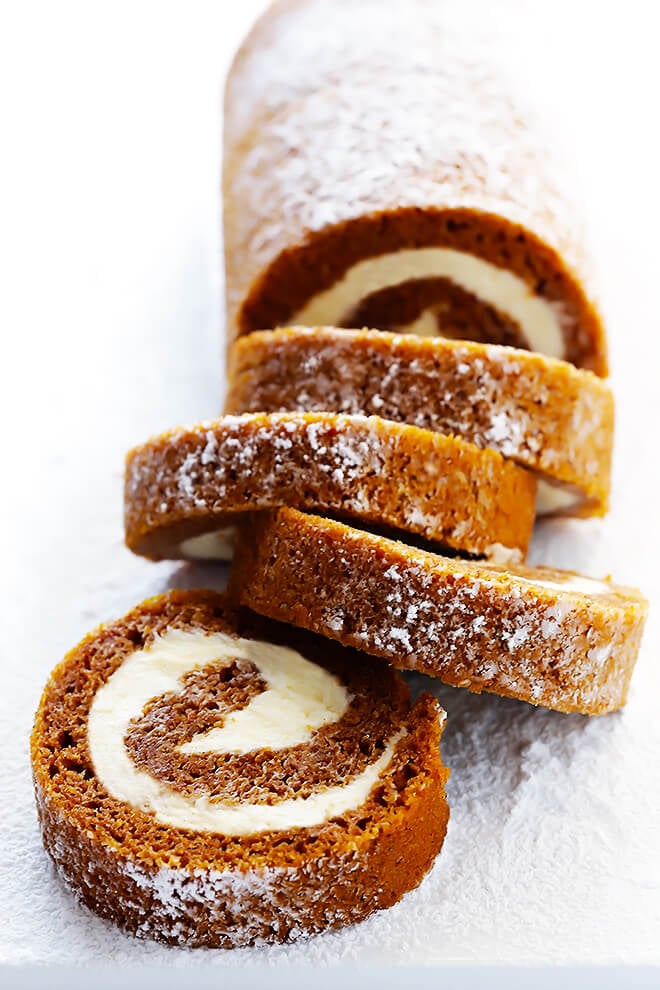 Happy fall, everyone!  In honor of the calendar officially flipping over to the new season this week, I thought I would bump my favorite fall dessert recipe to the top of the blog again.
Yep, I'm talkin' about a good, old-fashioned, deliciously-indulgent, classic pumpkin roll. ♡
I have had a tradition of making pumpkin rolls every fall for at least a decade now, and always look forward to the cozy, comforting, delicious fall vibes that they bring.  But I have to say that this year, during our first September living abroad, this small tradition has been especially nostalgic and comforting.
Even though it now requires making a special trek across town to the one store in Barcelona that sells canned pumpkin puree, plus an extra trip to a different store to purchase a brick of "Philadelphia" (the name for cream cheese here in Spain, so cute), and some major tinkering with my tiny Spanish oven — the rhythms and feels and smells and flavors of this ritual feel just as familiar as ever.  And the second I slice off a beautiful round of that perfectly-paired pumpkin cake swirled with cream cheese filling, it tastes just delicious as ever.  And the world feels wonderfully, magically, comfortingly small for a moment.  Feels like fall.
Anyway, if you also happen to have a nostalgic craving hit this season for a classic pumpkin roll, this recipe has been my go-to for years.  It calls for all of the classic ingredients (thanks, Libby's!), but it's updated with my method for rolling up the cake in parchment paper, which I have found to be simpler and more reliable than the classic towel method.  If this is your first time making a pumpkin roll, don't fear — it's much easier than it may seem.  Plus, I've included a handy step-by-step video below to take any of the guesswork out the equation.  And if your friends and family are anything like mine, they are going to love it.
Let's make a pumpkin roll!