My favorite method for how to cook steak in the oven.  Oven-roasted steak is surprisingly easy to prepare and cook to your desired degree of doneness, and just as delicious as ever!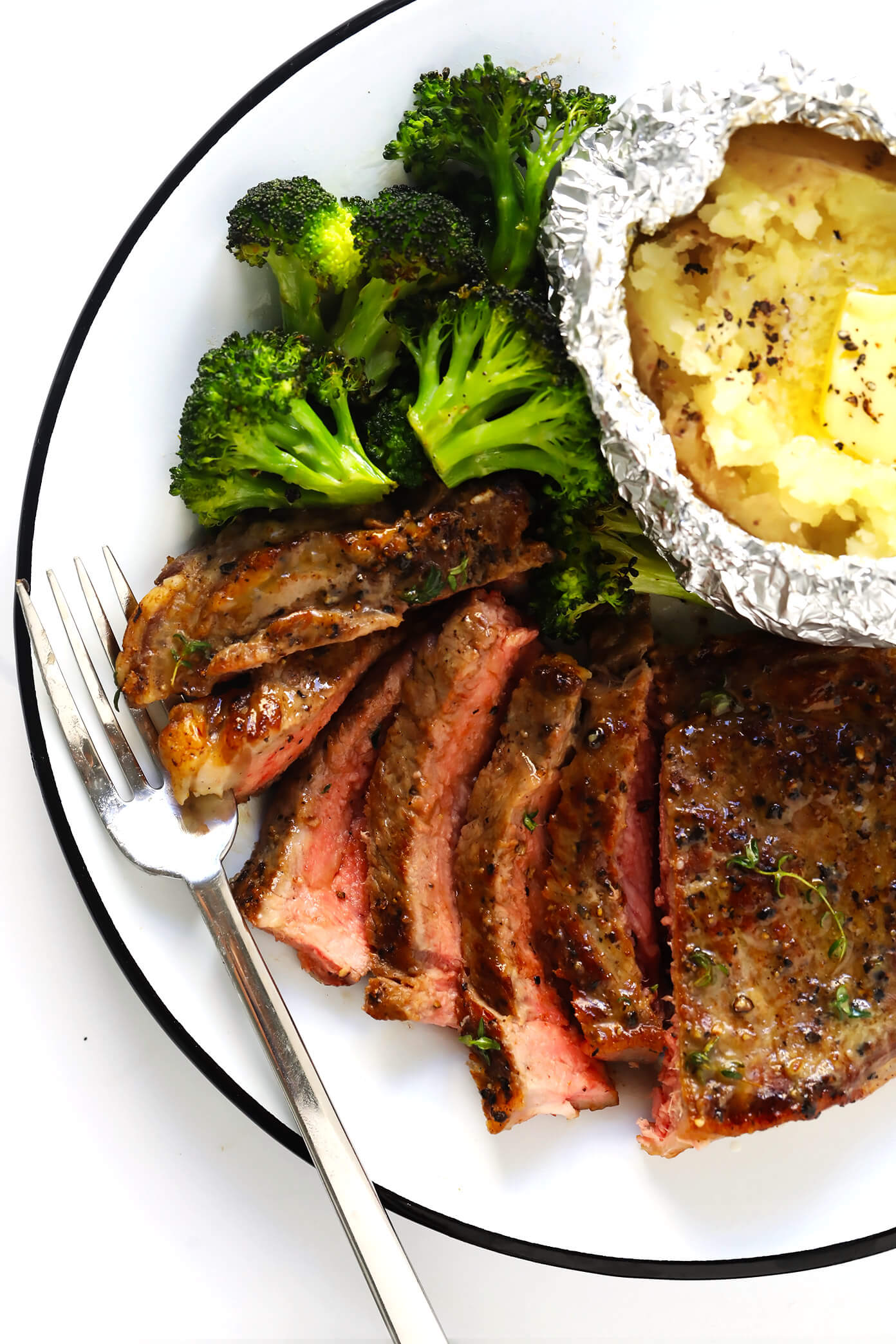 One of the random downsides about our apartment here in Barcelona?  We're not allowed to have a grill.
I didn't think it would be a huge deal when we moved in.  But of course, the second you can't have something, it instantly becomes the thing you totally crave — right?!  Especially during these warmer months, I've been craving all of my favorite grilled skewers and burgers and peaches like crazy.  So instead of missing out, we decided to get crafty this summer, and up our indoor roasting-everything-in-the-oven game.  (Which — hey — seems apropos for the girl who named her blog Gimme Some Oven.) And of course, squarely in the middle of the things-I've-always-grilled-but-now-cook-in-the-oven category is one of my faves:
STEAK.
I actually eat very little meat nowadays, and try to reserve it more for just special occasions.  But when I do go for it, my favorite protein will probably forever and always be a nice, juicy, perfectly-cooked steak.  What can I say — I was raised in the Midwest and still love a good meat and potatoes meal every now and then.  Especially when the steak is organic and grass-fed.  Especially when it's well seasoned.  And — since steak is already a special occasion food for me anyway — especially with a generous melty pat of butter on top.  Total treat.
That said, after cooking steaks on the grill my entire life, I will be the first to admit that I was very skeptical that steak could be cooked properly in the oven.  But as it turns out, it actually works really well!  It nails that perfectly seared and crispy crust on the outside, and still lets you choose your desired degree of doneness on the inside.  It's only takes about 10 minutes to make, and it's easy to customize with your favorite seasonings or steak marinades.  And hey — during those cold winter months — it's a comfortable way to cook steak from the comfort of your kitchen, instead of having to bundle up and go outside.  A win-win-win in my book.
So let's do it!  Let's talk all about how to cook steak in the oven. (more…)