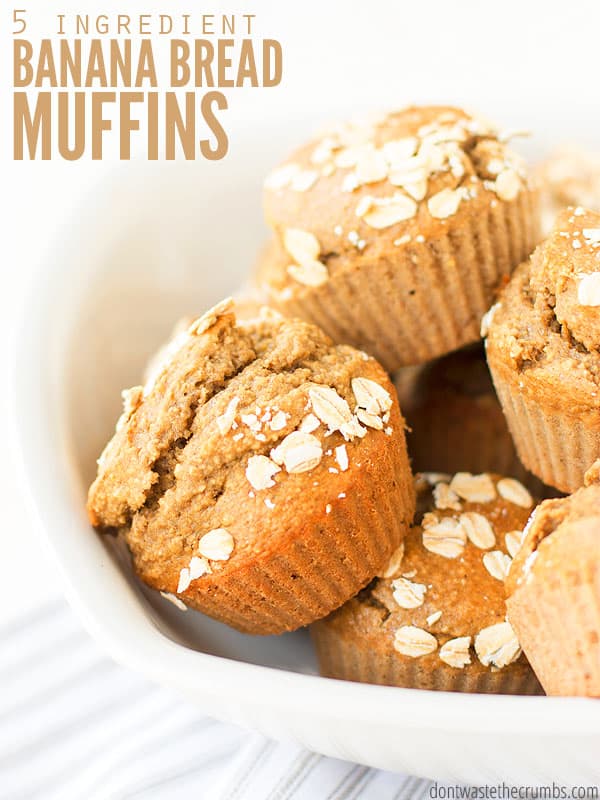 School is in full swing and that usually means a triple or quadruple batch of cinnamon blender oatmeal waffles or easy almond flour pancakes or oven-roasted hash browns or coconut oil and cinnamon granola on Saturday morning so that we have enough leftovers for quick breakfasts during the week.
However, sometimes I like to surprise the kids with a fresh breakfast during the week. I've been making peanut butter chocolate chip muffins, but I wanted to add another super quick muffin recipe to our list of quick and easy breakfasts.
Enter 5-ingredient banana bread muffins!
Why should you make banana bread muffins? Oh goodness… why shouldn't you?! They are a dream come true for the busy mom trying to get real food on the table:
Make in the blender, so you're not having to wash a bunch of dishes afterwards
Just 5 ingredients – need I say more?!
Can use green, yellow or brown bananas – no need to shop for new, or wait for old.
Naturally sweetened – no refined sugar in sight!
Minimally sweetened (just ¼ cup for the whole batch!)
Naturally gluten-free and incredibly delicious
Easy to double or triple, based on how many muffin tins and silicone muffin cups you have
Freezer-friendly (hence the reason to double or triple!)
If these aren't reasons enough, these banana bread muffins taste JUST LIKE banana bread, except in fun and convenient and portable muffin-size.
That means instead of reaching for a Pop Tart or a store-bought granola bar when you're already 10 minutes late getting out the door, reach for a couple muffins from the freezer and toss them to the kids in the back seat.
Minimal mess (if any), food that will do their bodies good and you avoid the mom guilt that often comes with the convenience food short cuts.
5-Ingredient Banana Bread Muffins
This recipe is inspired by Pinch of Yum, but I made a few modifications based on what I normally keep in my own pantry and my own experience in baking with oat flour.
Oat Flour
Please don't buy oat flour. Ever, ever, ever. It's too expensive and it's SO easy to make your own!
Take any kind of rolled oats – traditional or instant – and stick it in your blender. Give it a whiz for about a minute and BOOM… you have oat flour. If you need the official tutorial, here's how to make oat flour.
I have this Blendtec blender and we use it every single day… but you can use a regular blender too if that's what you have.
There are two catches when baking with oat flour.
First, it's naturally gluten-free so it doesn't have the same rise factor as all-purpose or whole wheat flours. We'll get a good rise thanks to baking soda, but just know that these muffins will be a bit more dense than a traditional muffin.
I actually think that's for the better though. These banana bread muffins feels more like a healthy, hearty breakfast that will actually hold you over until lunch, rather than some shallow, fluffy baked good that tricks you into feeling good for 5 minutes and hungry again in an hour.
Second, because oats absorb liquid really well (and really fast), you need to add them at the very, very end of the recipe. You want everything to be ready to go before you add the oats to the wet ingredients… oven pre-heated, silicone liners in the muffin tins… cookie scooper ready to portion the batter evenly into the muffin cups… all of it.
Honey
The original recipe called for one cup of dates, and while I use dates for homemade pumpkin larabars and no-bake blueberry coconut pie, dates are that cheap and I don't ALWAYS have them in the pantry.
I definitely have honey in the pantry though.
We're using honey as our sweetener, but you can use maple syrup if you'd like. Or if that's what you happen to have. They can both work interchangeably as liquid sweeteners in most of my baked goods (like pumpkin donuts or strawberry lemonade donuts or zucchini carrot apple muffins).
You can usually taste honey when you bake with it, but since we're usually just ¼ cup FOR THE WHOLE RECIPE, you can't taste it at all.
(Did I mention that there's just ¼ cup of sweetener in the whole recipe? That's just 1.3 tsp of honey per muffin. How awesome is that…  FOR A MUFFIN!!
Bananas
I love finding recipes that call for brown bananas. We usually use them up in smoothies or freeze them for later or even make a batch of banana chocolate chip muffins.
But sometimes I want to make something that's pretty cheap and DOESN'T require brown bananas because I just don't have any!
Use whatever bananas you have for this banana bread recipe – green, yellow or brown.
Bananas get sweeter as they ripen, so a batch made with brown bananas will be slightly sweetener than a batch made with green bananas. However, I tested it both ways and you're not sacrificing flavor at all.
The only tip I have for using non-brown bananas is to give them a whiz in your blender first, since they aren't as soft and don't dissolve into a lovely banana puree as easily.
So it's basically one more minute of prep that you don't have to do. Not too shabby!
I topped these banana bread muffins with rolled oats because I think it looks pretty, but you don't have to do that.
If you use silicone liners (I have these), the muffins are super easy to pop out once they're cool. Store them in a freezer safe container for up to 3 months. I like to pull them out for breakfast the night before so they have time to come to room temperature, but you can enjoy them cold too!
Given the fact that these have 5 ingredients and can be made in your blender, these should be on your weekly make-ahead list. In fact, make a double batch!
5-ingredient Banana Bread Muffins
Ingredients
3 bananas
2 eggs
¼ cup honey
2 cups rolled oats
½ tsp baking soda
½ tsp salt (optional)**
½ tsp cinnamon (optional)**
Instructions
Preheat the oven to 350F. Line muffin tins with paper or silicone muffin liners.
In a blender, combine the bananas, eggs and honey. Blend on low until everything is mostly smooth.
When the oven is preheated, add the rolled oats and baking soda to the blender. Add salt and cinnamon (both optional), if using. Blend again on low for about one minute until everything is well combined and smooth.
Immediately divide evenly among 12 silicone muffin liners. Bake for 15-20 minutes, or until a toothpick inserted into the middle comes out mostly clean.
Allow to cool completely before removing for storage.
Notes
** I've made these muffins both with salt and cinnamon, and without. Neither ingredient is necessary, but I personally prefer the taste of both.
What do you tend to reach for breakfast on busy school mornings? Leave your ideas in the comments section below!
Continue Reading…5-ingredient Banana Bread Muffins