This baked ginger chicken recipe is perfectly cooked and full of great flavor, then topped with the most delicious, juicy, fresh peach salsa.  It's the perfect sweet and savory recipe for summer.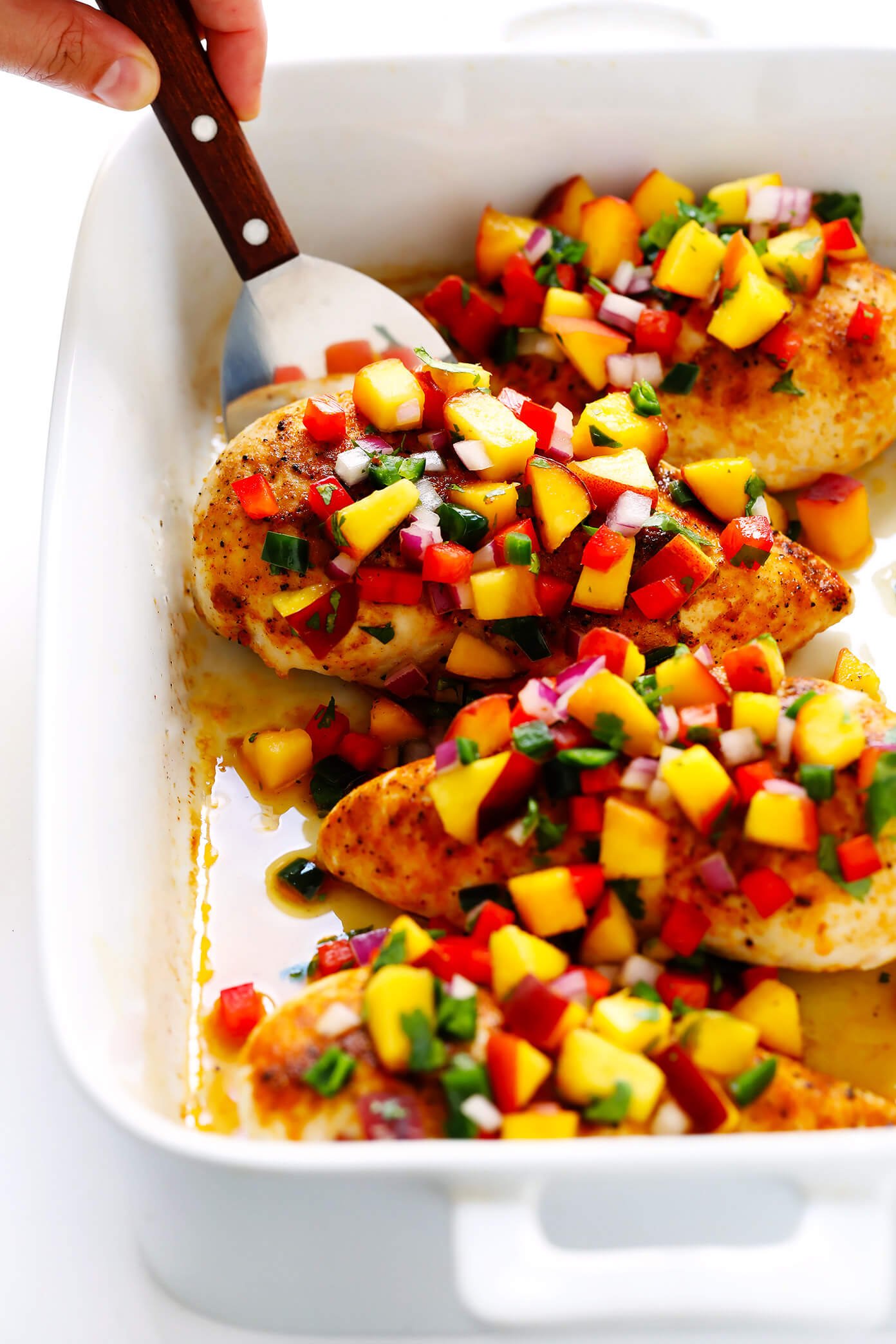 Fun fact that we've learned living in Barcelona — peach season here lasts forever!
Well, at least twice as long as the peach season we were used to back in Kansas City, that is.  Which pretty much feels like forever.  Which is pretty much a dream come true for this peach lover.  ♡
We've been bringing home peaches by the dozen (especially Spain's favorite paraguayos, often referred to as "donut" or "Saturn peaches in English) since the beginning of May.  And word on the street has it that they typically stay in season here until October, which means that my peach salsa kick of 2018 gets to continue for at least a few more months.  I've been a bit obsessed this year, happily chopping or blending our leftover peaches into a fresh salsa all summer long.  Most of the time, the salsa disappears in a single happy hour with a bag of chips and a few margaritas.  But I also love sprinkling it on top of roasted or grilled proteins for a quick weeknight dinner, like with this delicious ginger chicken situation.  The fresh and juicy peach salsa is the perfect sweet compliment to the savory baked chicken.  And when prepared with my foolproof method for making perfectly-baked, tender, moist chicken, this recipe is a total summertime win-win!
That said, if you happen to pass by this recipe on Pinterest during a time of year when peaches aren't in season, you could totally sub in canned peaches instead.  And if chicken isn't your thing, this ginger seasoning would also taste great on pork, steak, fish, shrimp or tofu.  You know, you've got options.  Let's get to it!
(more…)