You can make amazing restaurant-quality Pad Thai from home, in under 30 minutes! It's everyone's favorite Thai dish and it's packed with fresh ingredients and a simple homemade pad thai sauce you will love.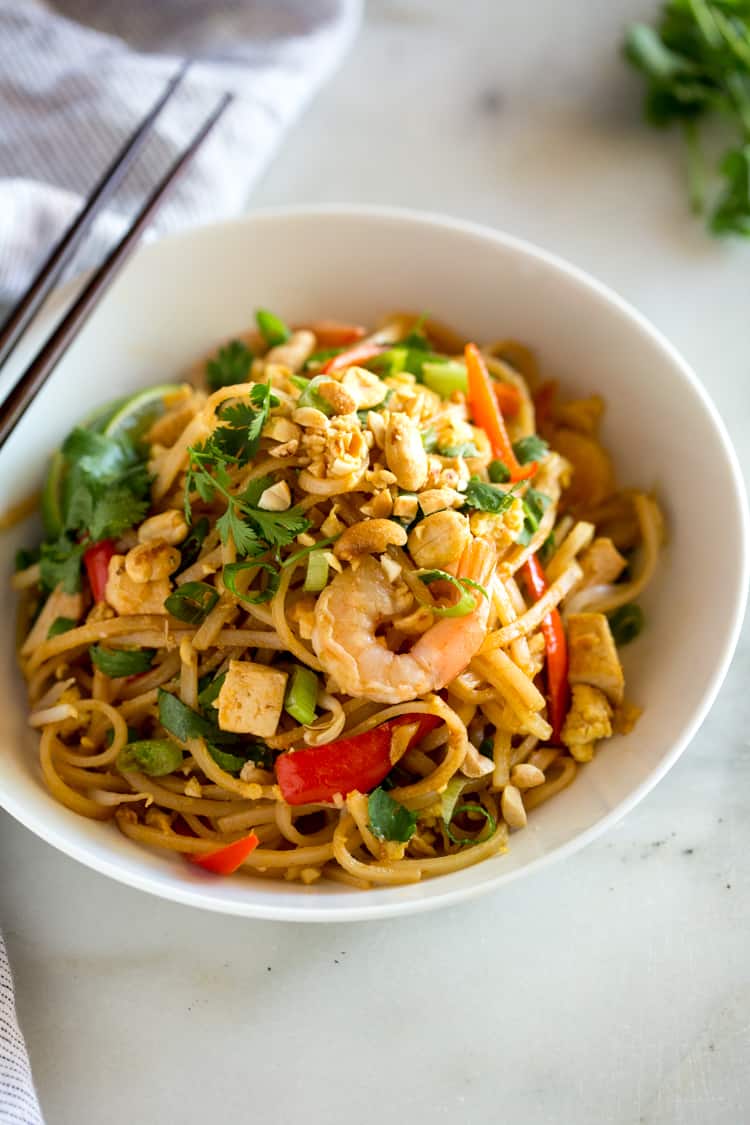 Pad Thai
Hi everyone! It's Lauren, back from Tastes Better from Scratch, here to share my love of Thai food! When I get to choose a restaurant for date-night, 9 out of 10 times I'll pick a Thai food restaurant. I love the bold flavors and all of the options, from curry to pad thai. I also LOVE to make Thai food from home because most of the dishes are really simple, and it's fun to mix up the dinner routine!

What is Pad Thai?
Pad Thai is a Thai stir-fry dish made with rice noodles, shrimp, chicken, or tofu, peanuts, scrambled egg and bean sprouts. The ingredients are sautéed together in a wok and tossed in a delicious pad thai sauce.
Traditional pad thai recipes call for tamarind paste but since it's not easily found at your local grocery store, I substituted for ingredients most people have. However, if you would like to use tamarind paste to make the sauce authentic, substitute about 2 Tablespoons in place of the rice vinegar in this recipe.
How do you make Pad Thai?
Cook or soak the rice noodles, according to the instructions on your package, until they are tender.
Make the Pad Thai sauce by combining the fish sauce, soy sauce, rice vinegar, brown sugar, sriracha and peanut butter.
Stir fry the chicken, shrimp, tofu, bell peppers and scrambled eggs.
Add the noodles, sauce and bean sprouts to the pan and toss everything to combine. Top with peanuts, green onion, cilantro and limes.
More delicious Thai recipes from Tastes Better from Scratch:
Pad Thai
Ingredients
8 oz flat rice noodles
3 tablespoons oil, divided
3 cloves garlic, finely minced
8 oz uncooked shrimp, uncooked chicken (cut into bite-size pieces) or extra firm tofu (cut into small cubes)
2 eggs, beaten
1 cup bean sprouts
1 red bell pepper, thinly sliced
3 green onions, chopped
½ cup crushed peanuts
2 limes, cut into wedges
½ cup chopped fresh cilantro
For the sauce:
3 Tablespoons fish sauce
1 Tablespoon light soy sauce
5 Tablespoons brown sugar
2 tablespoon rice vinegar
1 Tablespoons sriracha, or more to taste
2 tablespoons creamy peanut butter, optional
Instructions
Cook or soak rice noodles according to package instructions, until tender.
Mix the sauce ingredients together. Set aside.
Heat 1½ tablespoons of oil in a large saucepan or wok over medium-high heat.
Add the shrimp, chicken or tofu, garlic and bell pepper. The shrimp will cook quickly, about 1-2 minutes on each side, or until pink. If using chicken, cook until just cooked through, about 3-4 minutes, flipping only once.
Push everything to the side of the pan. Add a little more oil and add the beaten eggs. Scramble the eggs, breaking them into small pieces with a spatula as they cook.
Add noodles, sauce, bean sprouts and peanuts to the pan (reserving some peanuts for topping at the end). Toss everything to combine.
Top with green onions, extra peanuts, cilantro and lime wedges. Seve immediately!