This Chicken Enchilada Casserole recipe is everything you love about chicken enchiladas…stacked into delicious layers instead of rolled up. And made with the best homemade enchilada sauce recipe.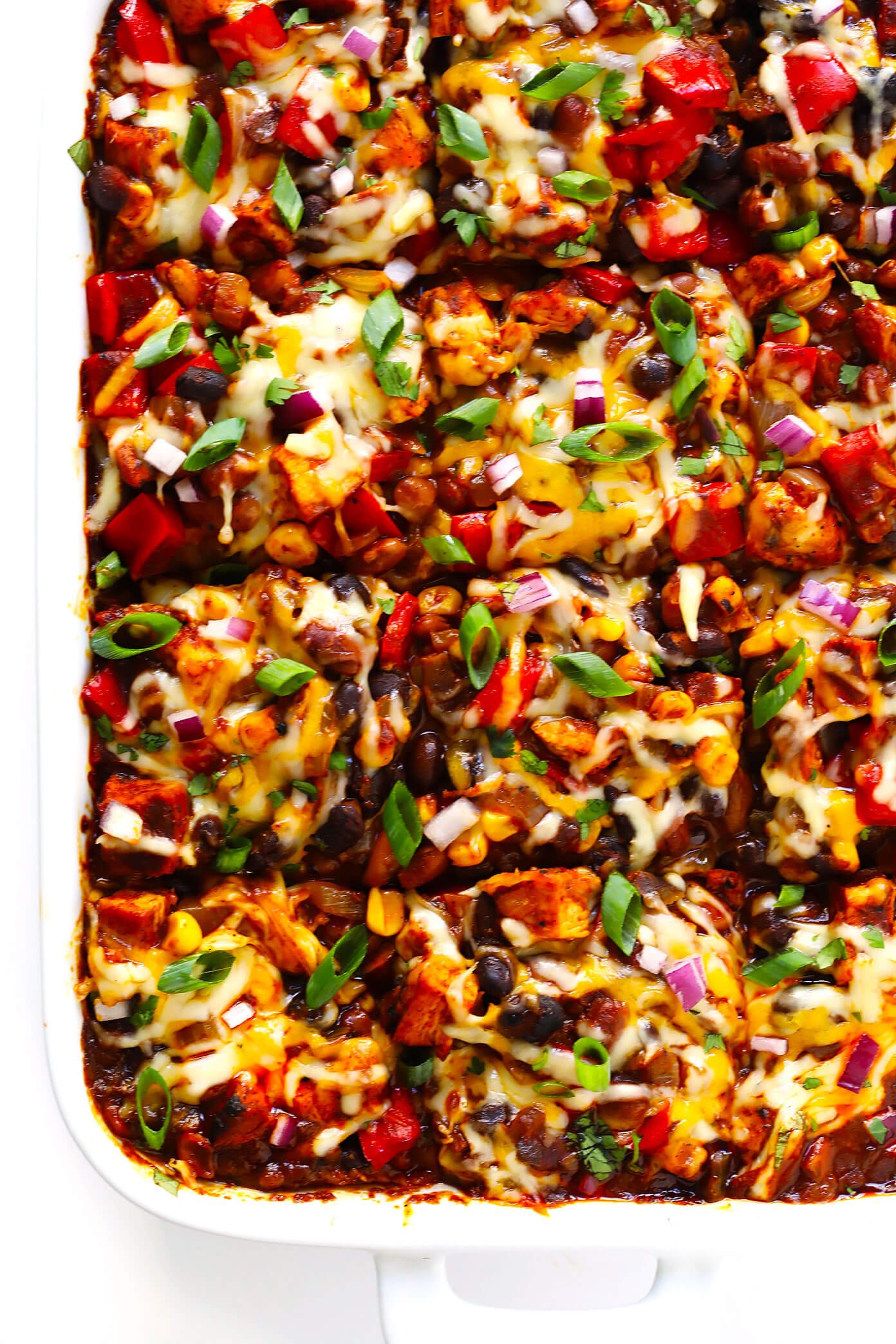 Whenever anyone asks what food I miss most in the States, my instant answer is still the same as it was on week one after moving to Europe — Mexican food.
Oh my goodness.  I've been away from my favorite Mexican restaurants back home (with their glorious tradition of complimentary chips and salsa that we will never ever take for granted again) for going on eight months now.  And while I had wondered whether the Mexi cravings would begin to subside with time, they instead seem to be getting stronger and stronger.  Which means that the friendly owner of the Latin American grocery (where I make special trips to stockpile tortilla chips) now knows me by name, our food processor has now become known as the "salsa machine", all of our Spanish friends have officially been introduced to our favorite margs, and I find myself digging back into the blog's archives weekly to make my favorite Mexican dinner recipes.  And the latest fave?!
This easy chicken enchilada casserole recipe.
I first shared it on the blog about four years ago, as a stackable casserole riff on my favorite chicken enchilada recipe.  And in the years since, it has continued to be a regular in my rotation, as well as a total fave with family and friends.  It's made with my favorite easy homemade enchilada sauce, which automatically bumps any enchilada recipe up a mega notch.  It's easy to customize with any of your favorite enchilada fillings.  It makes a big batch, which is perfect for a party, or wrapping up to take to a friend in need, or just having extras for leftovers.  It's made with corn tortillas and is naturally gluten-free.  And it is downright delicious comfort food, wherever in the world life may find you.
I've tweaked and updated the recipe a tad on my own over the years.  So today, I thought I would bump this chicken enchilada bake back to the top of the blog and give it a quick refresh with some new photos and recipe tweaks.  Because in case you've never tried it…it's time.  🙂