Sometimes cooking dinner at home can seem like such a unicorn. We aspire, plan, and fully intend to do it, but can never quite make it happen. After working late, running errands, and picking up the kids, the last thing you want to do is spend an hour on your feet in the kitchen, chopping endless vegetables and washing a tower of dishes. I get it. Complex, multi-step, "main + two sides" meals aren't for every day. Sometimes you need fast, easy, but still really good food. And if you don't have time to spend all evening in the kitchen, you certainly don't have all day to search out quick and easy recipes.  I've compiled this list of 19 Quick and Easy Weeknight Dinners, so you can crush your goals, eat better, save money, feel like a super hero, and still have a little time to put your feet up at the end of the day. 😊
The criteria for making this list includes: short ingredient list, fast (about 30 minutes), and comprised of mostly pantry staples, so you can whip them up on the fly. And by "pantry staples" I mean items that are shelf stable so you can keep them on hand without worrying they'll spoil. This can be dry goods (actual pantry), refrigerator items that have a long shelf life, or items that can be stashed in the freezer for a rainy day. These 19 quick and easy weeknight dinners rely heavily on these pantry staples, but may use one or two fresh items, like meat, dairy, or maybe a single vegetable, just so it doesn't feel like you're eating dinner out of a box. Sometimes just a little freshness makes all the difference!
Make sure to familiarize yourself with your browser's bookmark feature, you're going to want to keep these quick and easy weeknight dinners handy!!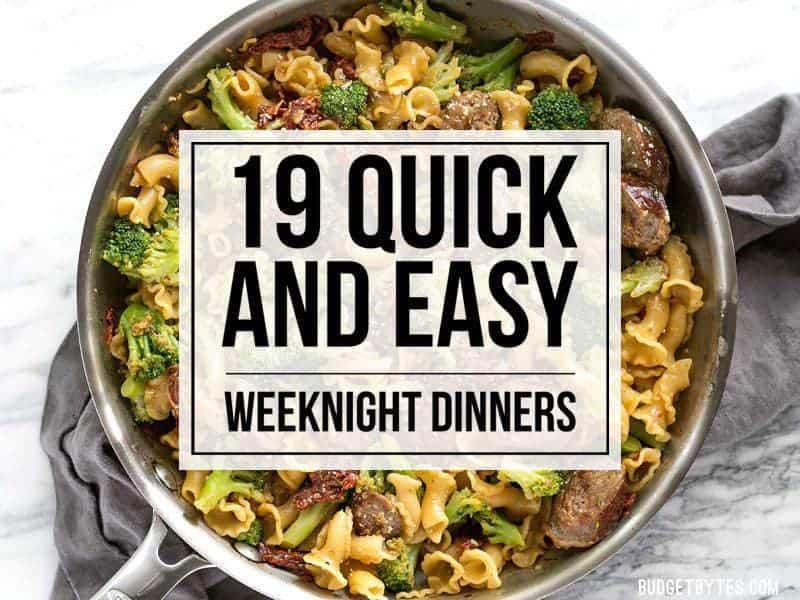 19 Quick and Easy Weeknight Dinners
Weeknight Black Bean Chili – Chili is such a classic and total family pleaser. You can keep almost all of these ingredients on hand, ready to go, and make use of anything you might have leftover in the fridge for toppings, like sour cream, shredded cheese, green onions, or tortilla chips. Total Time: 35 min. Number of Ingredients: 12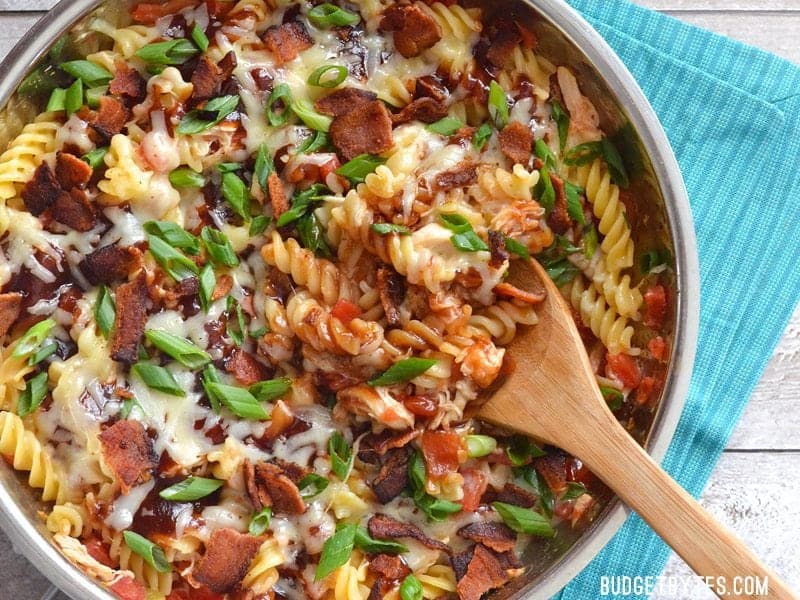 Monterrey Chicken Skillet – If you're the type to buy a rotisserie chicken to use throughout the week, this quick skillet meal is one of my favorite uses for rotisserie chicken. I also like to slice packages of bacon into 3 or 4 oz. portions and freeze them for use later, in recipes like this. The bacon cooks quickly in the skillet, straight from the freezer! Total Time: 25 min. Number of Ingredients: 8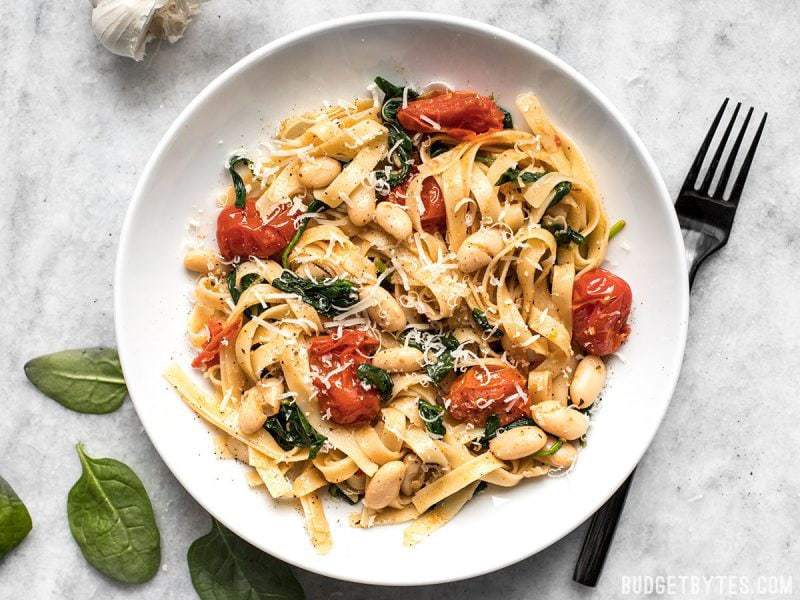 Tuscan White Bean Pasta – No time to thaw meat? No problem. This Tuscan White Bean Pasta is still packed with protein, but utilizes a shelf stable can of white beans instead of meat! Total Time: 30 min. Number of Ingredients: 11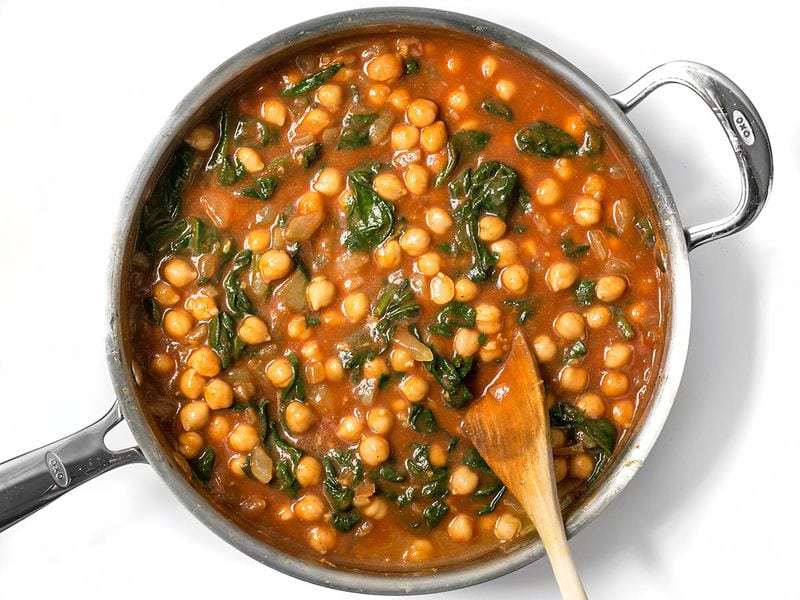 Curried Chickpeas with Spinach – You won't believe the flavor in this dish, despite the incredibly short ingredient list! And to top it off, it's one of the fastest hot meals you can make. No time to make rice to go along with it? Serve this with pita or naan bread to make things even easier. Total Time: 25 min. Number of Ingredients: 8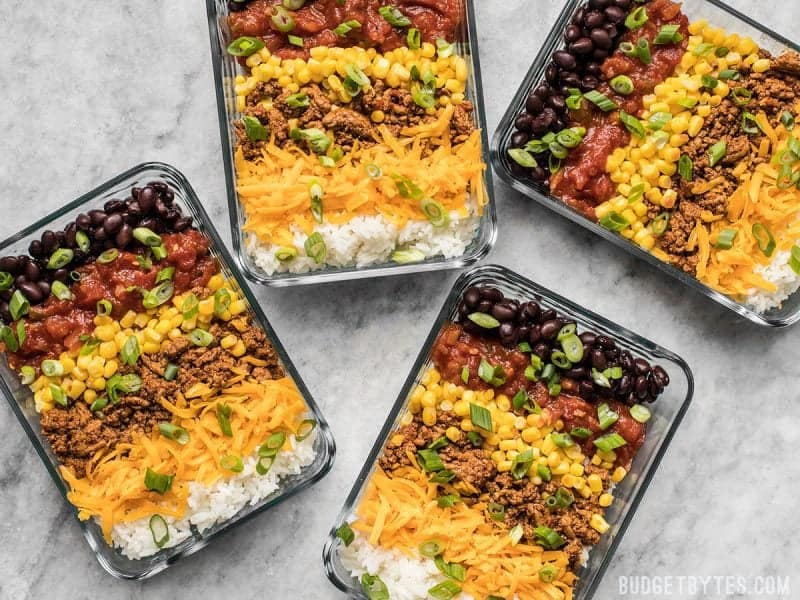 Easiest Burrito Bowl Meal Prep – Sure, I originally posted this as a meal prep idea, but there's no reason it can't just be made and served for dinner for a family of four! No special containers necessary, just pile everything into a bowl and eat! Total Time: 30 min. Number of Ingredients: 8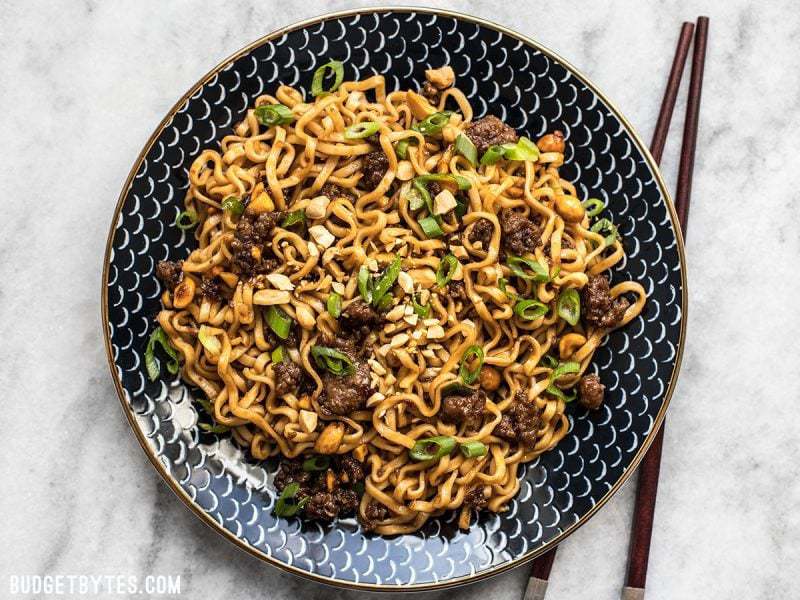 Pork and Peanut Dragon Noodles – Seriously, forget take out. You can do better at home, with only SEVEN ingredients and 25 minutes (it takes longer to order delivery anyway, ammiright?). You can easily adjust the spiciness of these noodles, or toss in any extra vegetables you might have in your fridge. Total Time: 25 min. Number of Ingredients: 7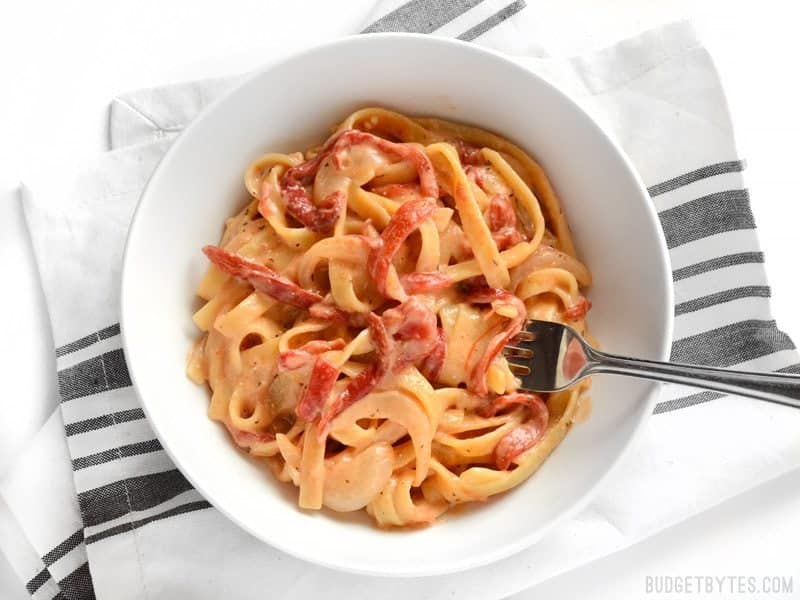 One Pot Roasted Red Pepper Pasta – If you like creamy and easy, this super simple ONE POT Roasted Red Pepper Pasta is going to be your new fav. The pasta cooks in the broth with all the other ingredients, which means it soaks up a TON of flavor, and leaves you with one less pot to clean. #win Total Time: 30 min. Number of Ingredients: 10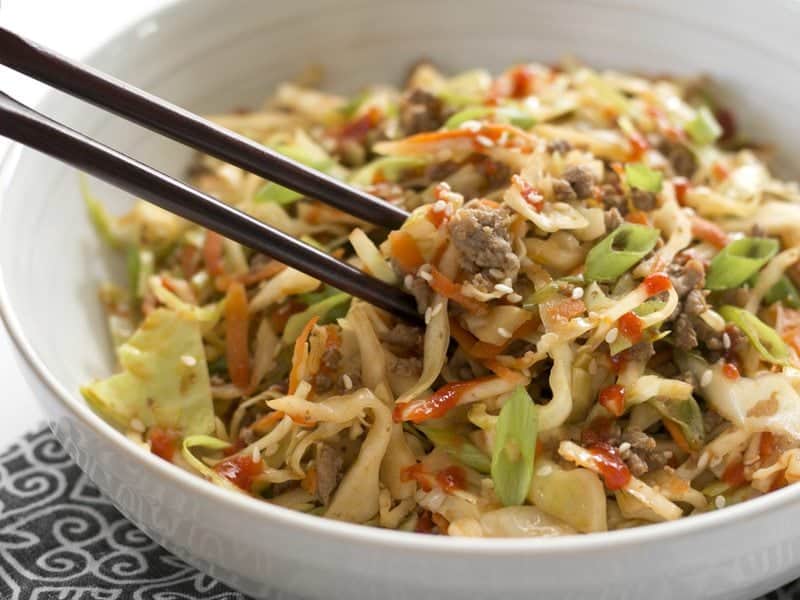 Beef and Cabbage Stir Fry – Stir fries are the epitome of fast weeknight dinners! This Beef and Cabbage Stir Fry has gone viral because it's incredible flavor and easy prep. To make things even easier, grab a bag of coleslaw mix (shredded cabbage and carrots) so you can just toss it in the skillet and skip all the chopping! Total Time: 30 min. Number of Ingredients: 14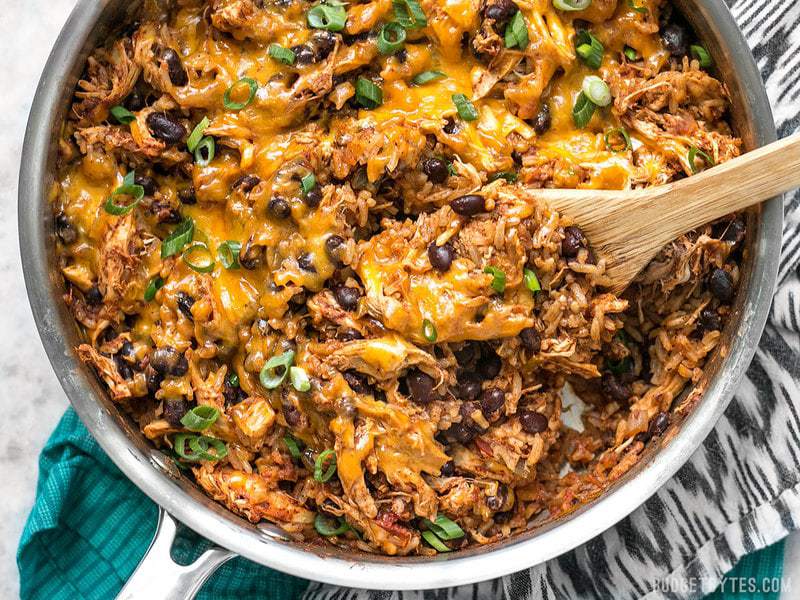 Southwest Chicken Skillet – This is another great "rotisserie chicken helper" type meal. It comes together quickly, is full of flavor, uses just a handful of ingredients, and is as satisfying as that burrito bowl you were going to order from Chipot… er… that restaurant. Total Time: 25 min. Number of Ingredients: 8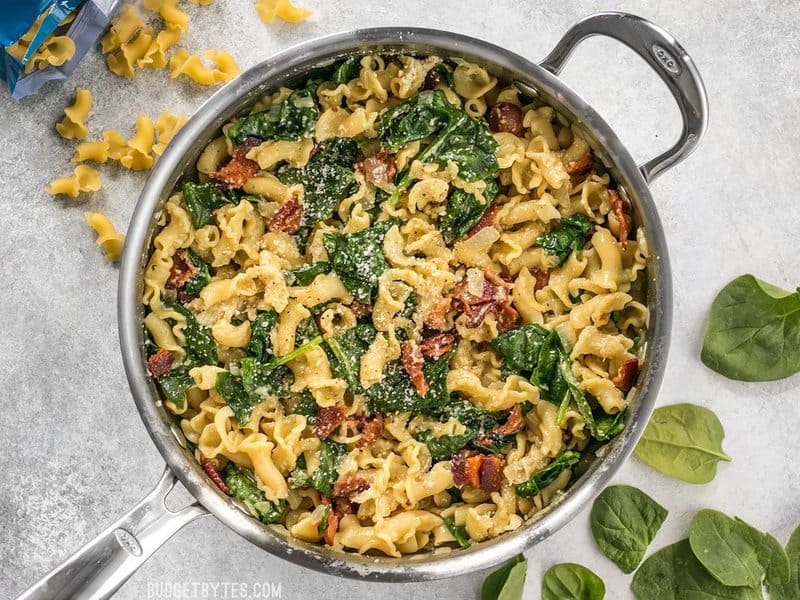 Bacon and Spinach Pasta with Parmesan – It's amazing how just a little bacon and Parmesan can transform plain pasta into something crave-worthy. And I like to throw in a little spinach just for good measure. 😉 Total Time: 30 min. Number of Ingredients: 6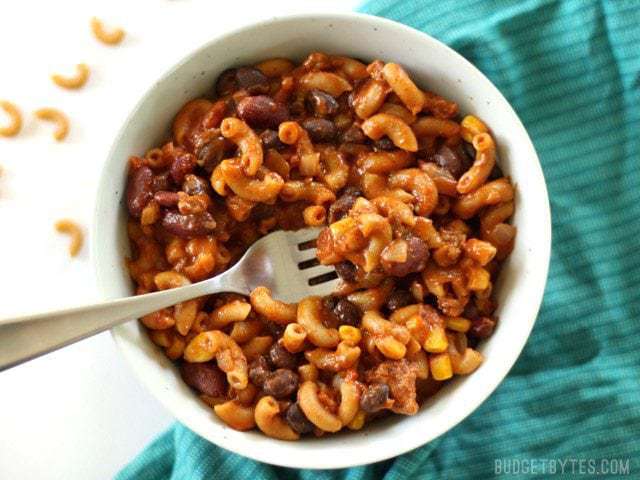 One Pot Chili Pasta – It's like homemade hamburger helper, the classic American comfort food! Except made pretty much from scratch, so you know exactly what's in there. No mystery powders. Added bonus: this makes a HUGE batch so there will be plenty of leftovers for lunches throughout the week. Total Time: 40 min. Number of Ingredients: 14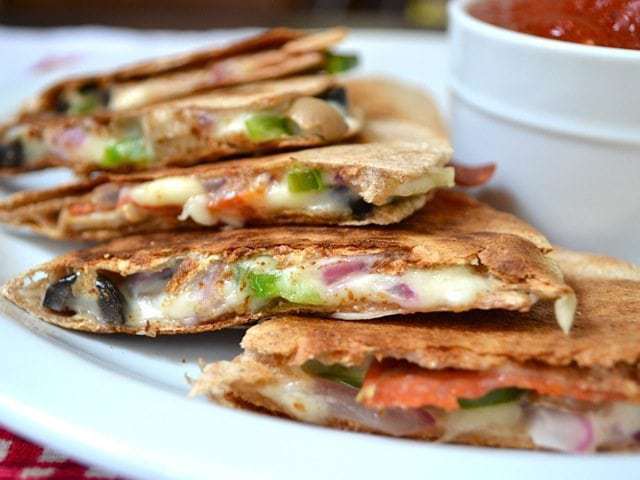 Pizzadillas – I like to think of these as the lazy girl's pizza. When you don't have time to mess with real pizza dough, grab a tortilla, fill it with your favorite pizza toppings, fold, heat, and DONE. For extra easy pizzadillas, grab a handful of vegetables from your grocer's salad bar to use as toppings! Total Time: 20 min. Total Ingredients: 8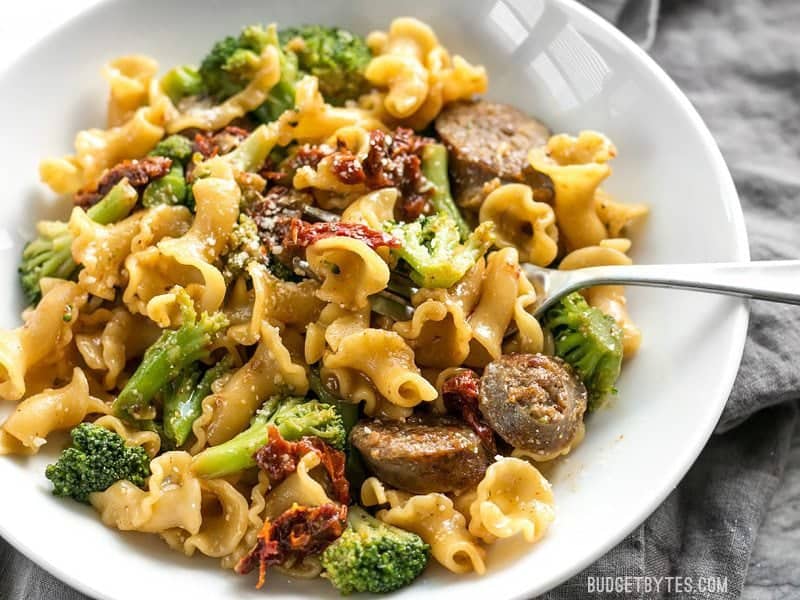 One Pot Sausage and Sun Dried Tomato Pasta – You'll feel like you're eating dinner at a fancy bistro with this one, but really you can whip up this masterpiece at home in just ONE pan, and in 30 minutes. And there's no waiter to tip. 😉 Total Time: 30 min. Number of Ingredients: 9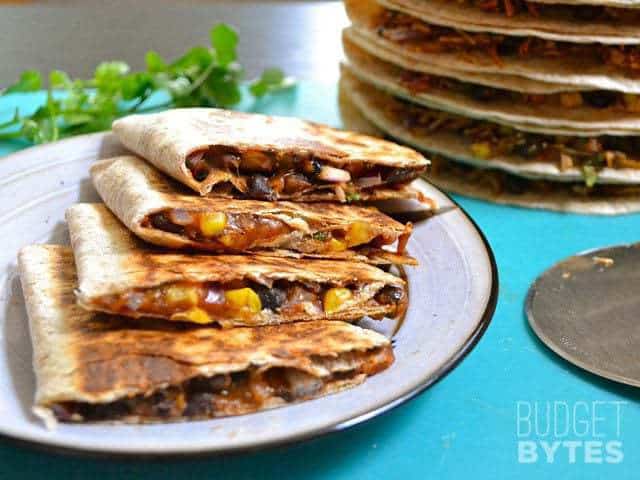 Hearty Black Bean Quesadillas – This has been a reader favorite recipe for the seven years since I first posted it! These quesadillas make an excellent fast and light dinner, and you can even freeze them after assembly so all you have to do is reheat quickly in a skillet on extra busy nights! Total Time: 15 min. Number of Ingredients: 8
Creamy Tomato and Spinach Pasta – Super simple and satisfying, this creamy tomato and spinach pasta hits all the marks for a weeknight dinner. If you want to punch it up a bit you can always add some chicken or Italian sausage! Total Time: 25 min. Number of Ingredients: 14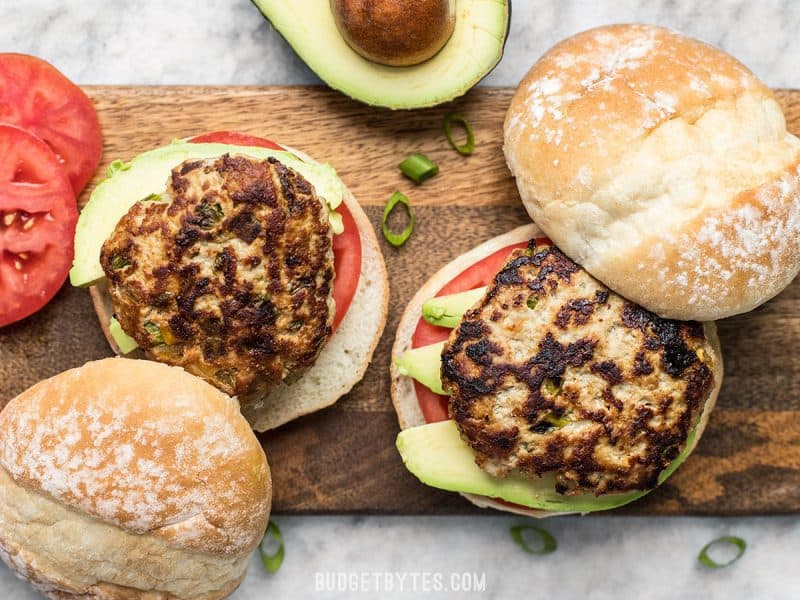 Green Chile Turkey Burgers – Burgers aren't just fast and easy when you get them from the drive-thru. They're incredible simple to make at home. These burgers get extra flavor from green chiles and cheeeeeese! Total Time: 30 min. Number of Ingredients: 10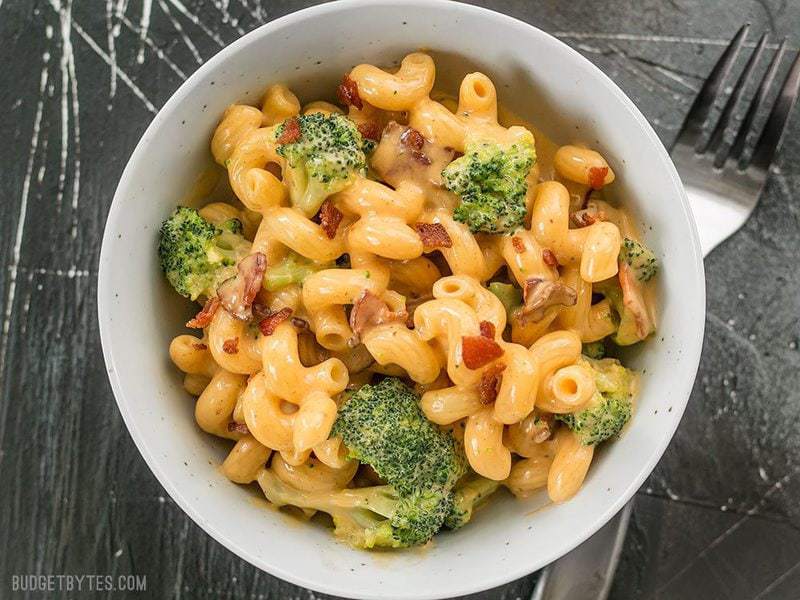 One Pot Bacon Broccoli Mac and Cheese – If cheese sauces intimidate you, this recipe will be a life saver! This no-roux sauce comes together in just a few minutes and gets an added punch from bacon and smoked paprika. I swear, it's almost as easy as boxed mac, but 100x better. Total Time: 45 min. Number of Ingredients: 9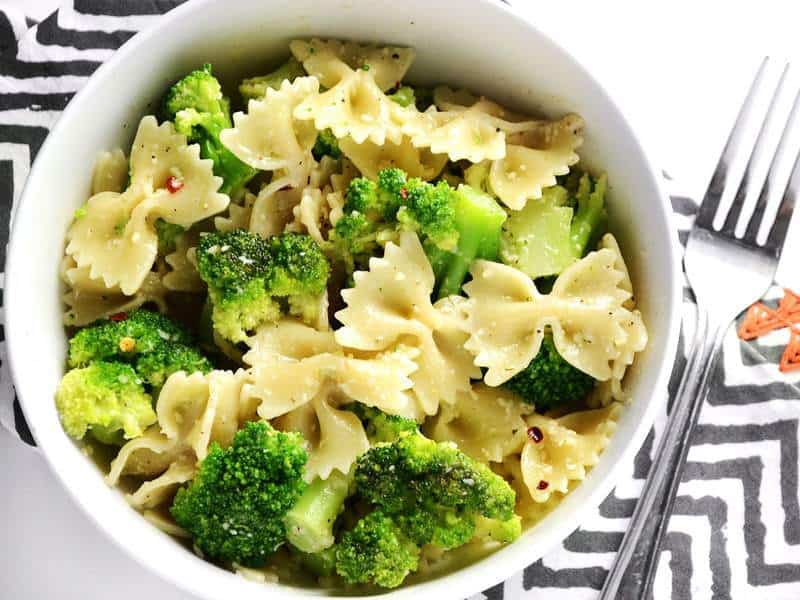 Bowties and Broccoli – This recipe has been my savior for YEARS. It's so incredibly simple, but plenty satisfying for those nights when I'm so tired that I can barely stand up. And if you want to take it up a notch, a little Italian sausage would be a wonderful addition! Total Time: 15 min. Number of Ingredients: 7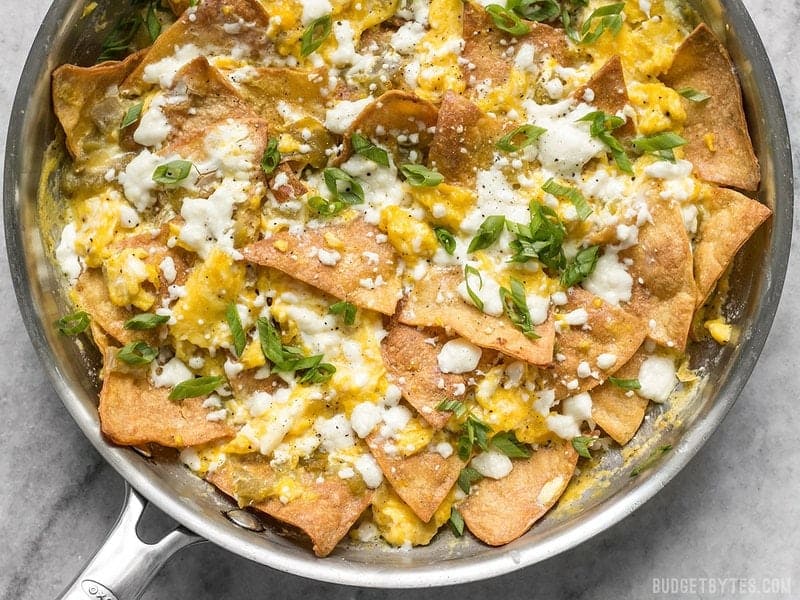 Green Chile Migas – And don't forget about breakfast for dinner! Breakfast dishes are usually pretty fast and easy, so it makes sense to utilize them for dinner every once in a while. This easy migas (scrambled eggs with tortillas) is one of my fav's! Total Time: 35 min. Number of Ingredients: 9
And those are my top 19 Quick and Easy Weeknight Dinners! Feel free to share your go-to weeknight dinner recipes for other readers to enjoy in the comments below. 🙂 The more the merrier!
The post 19 Quick and Easy Weeknight Dinners appeared first on Budget Bytes.